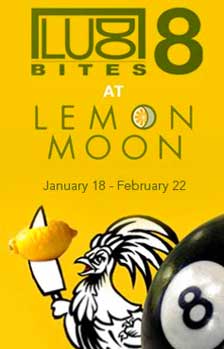 It's all my friend Jo's fault. She brought me to LudoBites 3.0 at Royal T in Culver City just over 2 years ago. I had never heard of Chef Ludo before and really wasn't that into food, but I was happy to go along for the ride. This was still in the early days of the "pop-up" phenomenon – where a chef takes over a restaurant not normally open for dinner for a night or, in Ludo's case for a few weeks. At that point it/he was still a novelty, so getting a table was still possible and not left up to the whims of fate. I learned quickly that while dining with foodies you are required to share plates (something I'm still not always a fan of) and at least try everything that is put in front of you – unless it will kill you. Ludo hooked me with my first bite of his food – a foie gras beignet – and sealed the deal forever with his crispy fried chicken. (Now thankfully available on a regular basis from his food truck. Find it. Eat it. You will never think of chicken the same way again.)

Now whenever a new version is announced, our household goes into the same tizzy as the rest of the food community in Los Angeles, wondering if we're going to get a reservation. We have to get in. It's no longer an option. For LudoBites 8.0, his wife Krissy (the organizational brains behind the Man) switched reservation systems from a computer free-for-all, keep-clicking-in-the-hopes-you-get-thru to a 24-hour, enter-at-your-own pace, lottery where you honestly had just as much of a shot in hell of getting a seat, just without the frustration, angst and sore finger. Lucky for us, we got a reservation.
Then an even bigger quandary set-in. Who were we going to take to dinner? You always have to bring at least another couple along. Eating the entire menu is sort of de rigueur, so not only do you need to bring adventurous, non-picky people, but real eaters as well. This is not a night where you want someone across from you complaining about their LDL numbers or counting calories. You wear your fat pants and swab every plate clean. The portions are sized to share with everyone getting at least 2-3 bites, but believe me when that 8th dish makes its way to the table, you need to know that all forks are still on deck. (Speaking of forks, people are apparently stealing them from the restaurant at a rapid clip. Sure, they're cool, but seriously?)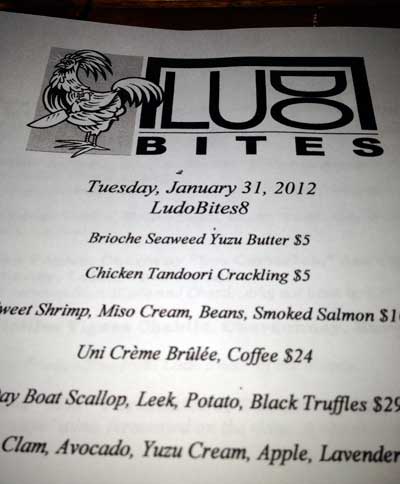 This incarnation, currently ongoing thru February 22, is at Josiah Citron and Raphael Lunetta's new breakfast/lunch joint called Lemon Moon, which is the largest space to ever hold a LudoBites. You'd think that would mean more chances to get a reservation, but demand is so high only 5% of those who signed up for the lottery got a slot. Like all LudoBites there are walk-up seats available (6 this time around), but I'd show up before 6pm if you want to score one and even then it may not be a slam dunk. Lemon Moon is bright and airy with the requisite open kitchen so diners can watch the Chef in action, which believe me is all part of the show. As Jo proclaims, chefs are the new "rock stars", so they are now required to not only create beautiful, tasty food, but to "perform" a bit for their fans as well. No more hiding in the kitchen. With his name on the line Ludo is front and center, working the room in-between courses, making sure his supporters stay firmly in his camp.

Our two guests this time around, studied up before the evening began, in an effort to craft some sort of game plan for attacking the 16-item menu (3 are desserts). My husband prefers not to know. He's a go-with-the-flow type of guy so he let us choose. While certain dishes are featured for the entire run, others, depending on freshness of ingredients and seasonal availability, come and go. Prices run from $5 to $29. If you try even half the dishes the evening is going to cost you, but no more than any of the other top restaurants in town. Black truffles, uni, foie gras, tuna and veal don't come cheap. The menu is always filled with unique combinations of ingredients you've heard of, but never quite encountered together before. Ludo pushes the envelope and that makes for an evening filled with anticipation and excitement. Most meals you forget the minute you're over, but Ludo's you remember.

Did I love everything I ate at Version 8.0? No. And neither did our guests. We all had dishes that missed the mark for us, though we didn't agree on which they were. Like wine, everyone's palate is different. Not even a chef of Ludo's caliber could overturn my lifelong hatred of pickles (they were served with Monkfish liver and mustard seeds), but I did give the dish a shot. The two starters - Brioche with Seaweed Yuzu Butter and Chicken Liver Mousse Cracklings - were so good I can still taste them.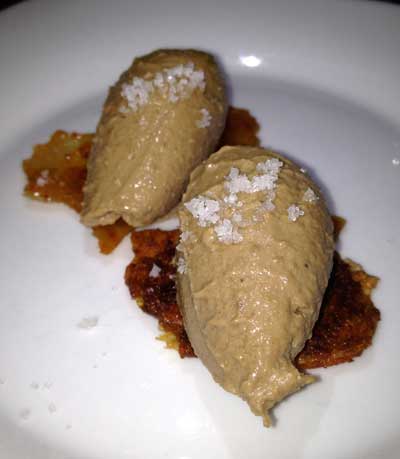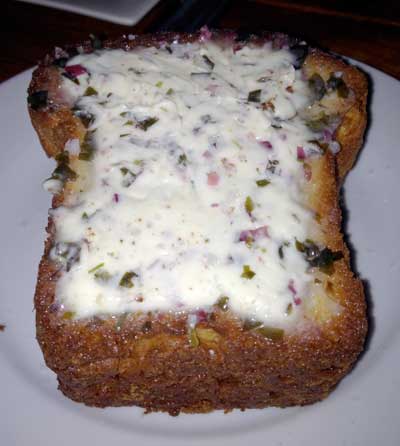 Other standouts were the Sweet Shrimp with Miso Cream, Beans and Smoked Salmon; Big Eye Tuna (cooked all day under a heat lamp, yes a heat lamp) with Tahitian Vanilla, Somen and 7 flavor vinaigrette; John Dory with Spelt Risotto, Fennel and Tonka Beans; Jidori Half chicken (his chicken always rocks) with Celery Root Soubise; and Veal with a Black Olive Tapenade Crust and Caramelized Endive.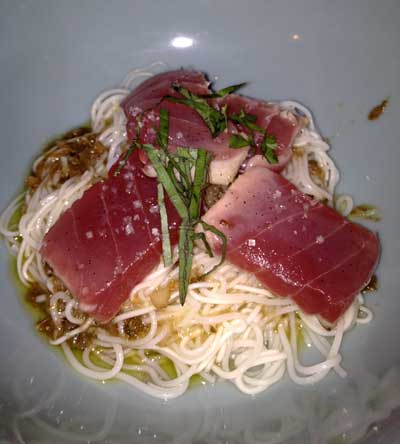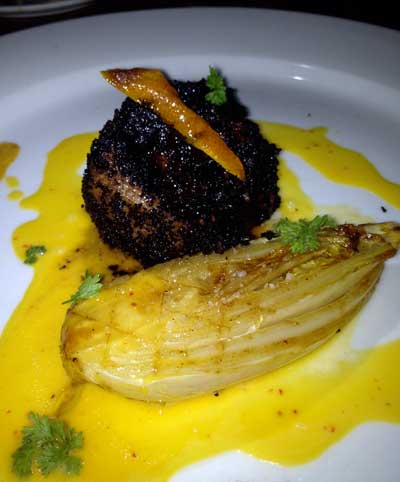 While not a huge fan of the Goat Cheese Profiteroles (I thought it would be more sweet), his deconstructed Lemon Meringue with Poppy Seed Crumble and EVOO blew me away. I normally don't eat dessert and dislike meringue but this had me going back for bite after bite. It was so good we ordered two. One of our dinner companions refused to share, so we had to get a second one for the table. We ordered the veal again as well.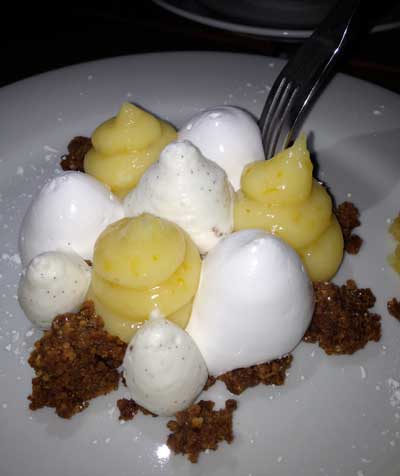 That's LudoBites for you. Sometimes you just have to repeat a dish, because once you leave, the chance is gone for good. (He almost never repeats a dish from one run to the next. The one exception: the amazing Squid Ink Foie Gras Croque Monsieur from V2.0 we got to try in V4.0.) I'm not usually a fan of deconstructed, modern cuisine, but he manages to make his food seem comfortable despite its fanciness and unusual methodology.

Our guests, LudoBites virgins though consummate food lovers, were blown away by the meal and the graciousness of the Man himself. It makes the evening more fun when you can share an experience like this with people who understand what it takes to produce food at this level. Krissy and the LudoBites staff make it look and feel effortless, but it's clear the logistics of a 6-week run are more complicated than one could imagine or want to take on yourself.
Now I know what Jo felt all those years ago when she brought me to 3.0. Seeing someone's face light up with pure pleasure after they take their first bite is magical. I never knew food could be like this until I met Ludo and for that excitement and delight I will gladly pay every time I manage to score a seat.

Lisa Dinsmore is a writer, web programmer, movie and wine
lover. She currently runs two review websites to share her passions: www.crazy4cinema.com and www.dailywinedispatch.com. She is also the Managing Editor of One for the Table.