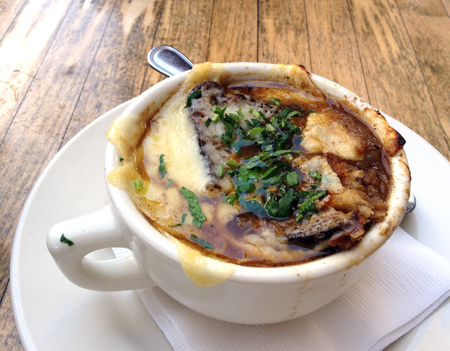 I haven't been to Paris in a while, but I've been to the next best place: Encino.
There are two reasons why I go to Encino, a small city (or enclave or district or borough or cluster or whatever it is) in the San Fernando Valley, north of where I live. One is that I have a superior dentist there. The other is that I know a fabulous cook who lives there, and I like to take advantage of every opportunity to eat at her house.
Last time I dropped by ("Oh, is it dinner time? Who knew? What's cookin'?") Suzanne offered me a sample of her French onion soup. While my memory is admittedly badly impaired, I don't recall eating a better version of it, ever.
For those of you who do not want to go to Encino because you are too busy visiting more glamorous places like, say, Cleveland, I have managed to procure the recipe for Suzanne's soup. If you know what's good for you, you will make it.