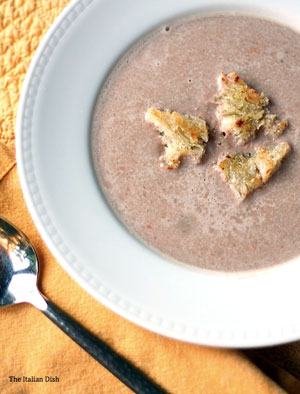 Do you ever look at chestnuts at this time of year and wonder what to do with them besides add them to stuffing? When I was a kid we used to simply roast them over the fire and they were fun to eat.
A couple of years ago, Brian and I were at a dinner party and the hostess served a first course of this soup. No one could guess what it was and it was absolutely delicious.
This soup is not a beautiful soup to look at, but I guarantee you will be amazed at how delicious it is. It would be a great first course at your Thanksgiving dinner. I topped the soup with croutons that I made using the method out of Thomas Keller's new book, Ad Hoc at Home.
These are the croutons they make at the restaurant and they are intense – garlicky, oily, and crunchy, a perfect topping for the soup. Chestnuts, nutritionally, are similar to brown rice. They are gluten free, cholesterol free, and nearly fat free.