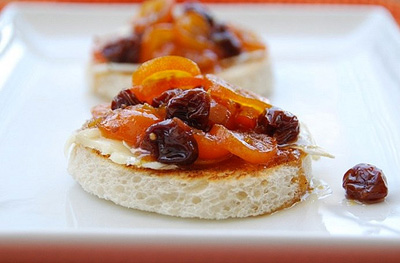 There are some products, where the name really does matter. For me, Ile de France cheese is one of them.
I have been buying their products for years now and have never been disappointed, which is why I enthusiastically accepted their offer to review their Camembert cheese. Ile de France's Camembert is a soft-ripened cheese with a luxuriously creamy texture and mild, nutty flavor. It's ideal for cheese platters when paired with olives, fruit, crackers, and toasts.
Today's recipe for Camembert and Kumquat Chutney Toasts contrasts the pleasantly mild cheese with a tart, tangy fruit and spice chutney. I have served this appetizer for dinner parties twice now to rave reviews. To save time, both the chutney and the toasts can be made ahead of time. Then just before your guests arrive, assemble the toasts with the cheese, and you're good to go. Serve them with some chilled Riesling, and trust me, they won't be disappointed.