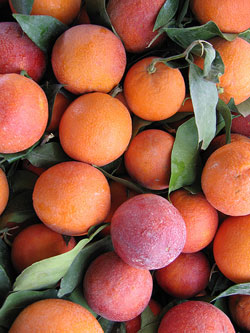 It rained here for the last three weekends. As a result, the Sunday farmers' market was nearly empty. (Southern Californians don't go out in the rain.) So, it's been just a few farmers, some die-hard vegetarians, and a handful of New England transplants.

This all changed yesterday. It was the quintessential San Diego day - sunny, with a light breeze. You couldn't move at the farmers' market. People were clamoring for colorful rainbow carrots, luscious Meyer lemons, and tart pink grapefruit.

The biggest attraction was the exceptionally juicy, tangy blood oranges that beckoned market-goers with their ruby-colored flesh. One poor farmer handing out samples nearly got trampled on by a gaggle of Red Hats who were visiting. And there I was without my camera. Ugh.

So what's all the fuss about? Anthocyanin, the same chemical that makes blueberries blue and cranberries red, gives blood oranges their characteristic "bloody"color. It can range from bright ruby red to deep burgundy and has an exceptionally pleasing sweet-tart flavor unlike any other orange.