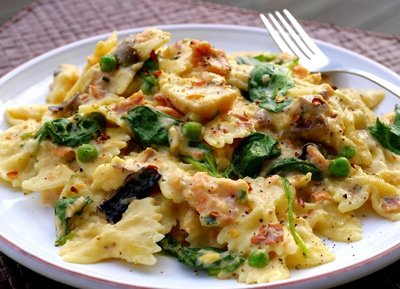 Now that the holiday feeding frenzy is over (well, sort of) we are left with hunks and wedges of cheese and packages of smoked salmon. I swear my cheese drawer looks like a graveyard of half eaten-half scooped items. But there is no reason to let them go to waste and they are easily re-purposed into something amazing.
We were lucky enough to have smoked salmon around this holiday season. But don't worry, this recipe would work well with any leftover salmon or fish you have now or throughout the year.

I shredded up some wedges of cheese, about 3-1/2 to 4 cups total. I used Parmesan, Dubliner, Pepper Jack and Monterey Jack and I had about 1-1/4 pounds of leftover smoked salmon.

To make things even easier, I used a can of Progresso Recipe Starters Creamy Three Cheese Cooking Sauce as part of the base for my sauce. Have you tried these yet? They are so great to have in the pantry when you are needing a quick meal.