Urban Family Public House
by Kathleen Alluise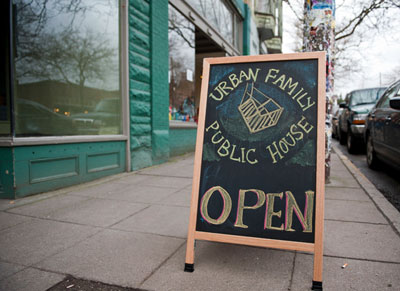 About a week or so ago, the husband, pup, and I went to Seattle to see my family and spend some time in the (rare) Seattle sunshine. We went to the Ballard Farmer's Market, a plethora of fresh produce, handmade jewelry, talented street musicians, and just about anything you would want to see. The Ballard Farmer's Market is the quintessential example of why I love Seattle down to my very core. If a stranger ever asked me for the perfect Sunday morning activity, I would tell them to first, a latte at Caffe Vita and then stroll along the street, past the boutiques, thehotcakes shop, and the antique stores to the farmer's market. Oh yes, and follow it up with a cupcake.
As we ended our foray into the market, after making about three loops past the Danish pastries, the bunches of vibrant flowers, and the hand crafted necklaces, we stumbled across a chalkboard sign inviting us to eat and relax on a deck... with our dog. Now, I know that Seattle is down with the doggy friends, we've been to Norm's and have wanted to check out Shorty's in Belltown, if it wasn't for our mutual fear of the clown decor. But nevertheless, the opportunity to sit back, savor the sunshine, and grab a bite with our four legged friend is something we will not pass up.
And that's how we found the Urban Family Public House. Snugly tucked in beside Staple & Fancy on Ballard Avenue, the pub was the perfect setting for some quiet conversation, a filling and tasty sandwich, and of course, a cold IPA.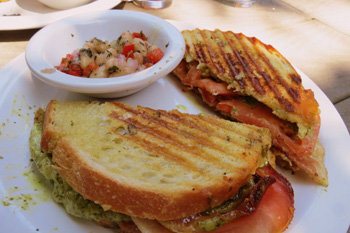 When we ventured in, we asked the bartender (because maybe someone had made a mistake) whether dogs were indeed allowed in. He said "sure, inside, outside, wherever!" Magic to our ears, my friends, magic to our ears. We promptly ordered two prosciutto paninis, which were accompanied by a cannellini bean salad, a match made in heaven in my opinion. The prosciutto was crisp and salty, the pesto warm and smooth, and the cheese, well I cannot say enough about the cheese.
While we were there, we nodded hello to a few other patrons, also overjoyed to be sitting outside, on a deck, in Seattle. Keep in mind this is not something that happens very frequently. It truly is like Christmas. A sweet middle aged couple sitting next to us were doing exactly the same thing, closing their eyes and munching on their paninis in between sips of an ice cold IPA. And of course, our dog was there the whole time.
Urban Family Public House, 5329 Ballard Ave. N.W., (206-783-BEER) or (www.urbanfamilypublichouse.com)
Kathleen loves Italian food, bold flavors, homemade pies, fresh berries, and farmer's markets. When she's not trying to figure out how to make a pie crust with less butter, she spends time with her original taste tester/husband and their labrador, Molly. Her blog is Sage and Sound
Los Angeles


by

Ben Chinn





After watching Ludo Lefebvre on Top Chef Masters I knew I wanted try out his food. Around the same time his episode aired he opened up a "pop-up" restaurant at Bread Bar on 3rd St. On Tuesday...

Read more...

Washington


by

David Latt





On a recent food tour of Spokane and Northern Idaho, enjoying the beautiful scenery with clear running rivers and crystal blue lakes, I discovered a handful of restaurants that are living up to...

Read more...

London - British Isles


by

Ilene Amy Berg





What is it with all the Queen's men? In an earlier piece on great sandwiches in London, I mentioned my British friend Craig, who now lives in LA and told me "there are no great sandwiches in...

Read more...

Los Angeles


by

Charles G. Thompson





In many places in the world a bakery is often the nexus of a neighborhood. A place where the locals meet to buy baked goods and bread. Bread, the so-called 'staff of life,' is inexpensive...

Read more...