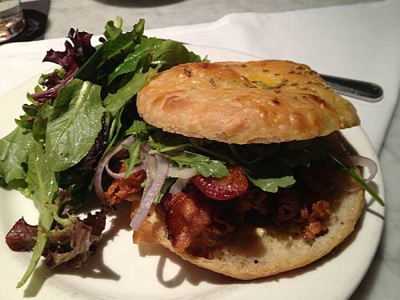 Here's how Dilusha and I decide where to go. She sends a text, "I'm hungry, let's eat," and then I have to find the place. We always get lucky in Cambridge and so we did at Russell House for "classic American fare." Where this tavern is, once sat the Wursthaus. From 1917 to 1996 it catered to the likes of Derek Bok, the Aga Khan and Robert Reich among others. The Cambridge Historical Society also says Wursthaus closed because of "non-bratwurst eating masses of the '90s." True, and even in the unenlightened '80s it was hard sidestepping platters of meat.
We're downstairs in the dark marble bar. Dilusha orders cast iron seared fish of the day, striped bass, and it's plated on grilled bread with heaps of greens. Her salad is slathered with onions and oranges, pickled something we can't identify, and the green aioli doesn't hurt. She is nuts about it. Mine is a fried clam roll, very crispy it turns out, with arugula, bacon and a salad of pickled fennel, greens and onions. (We pick off onions.) This is not your usual clam roll; it's so good we eat it with the roll and we never ever eat the roll.
Russell House clams Another day, another lunch. I'm at the upstairs bar this time with a busy, genial bartender who tells me they specialize in New England beer taps. Yes, I see that and can't help noticing the Cambridge crowd's so not shy about big cocktails for lunch that he's busier than the shucker.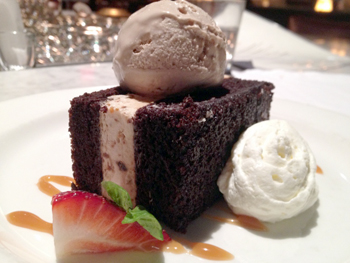 I met the Island Creek guy on my way in rolling a dolly piled with oysters. (He's bold, double-parking in Harvard Square.) Right now they're showing Virginia Misty Points along with Island Creeks from Duxbury, MA. I stop him so I can inhale summer, ocean and mud all bagged up. He urges me to have some but I'm having snapper with a salty, lemony outside, hard to duplicate at home and it's piled on toast with salad and onions.
It's lunch, there's no beer or cocktails for us yet it's not time to leave. Dilusha says "dessert" and she is the best picker. Look what she ordered: This is gianduja ice cream from hazelnuts, chocolate cake, strawberries, fig and honey mousse plus whipped cream. It's easily the best eight bucks we spend all month.
If you're shopping, schooling, librarying or sightseeing in Harvard Square, and if it ever gets warm, we'll see you on the patio to give those Island Creeks a shot.
RUSSELL HOUSE TAVERN: 14 JFK Street, Cambridge, MA 02138 / 617-500-3055
Kitty Kaufman is a Boston writer and business organizer. You can see more of her food adventures at Corporate Edge. Photos by Dilusha De Tissera