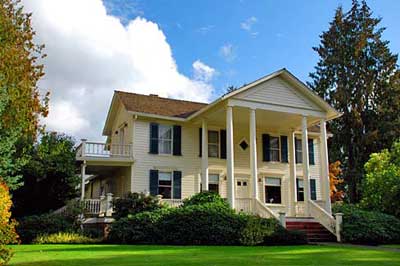 I know it was April when we ate at The Joel Palmer House, but with fall finally upon us in Los Angeles, I keep thinking back to that perfect, mushroom-filled meal. The actual house, which is on the National Historic Register, was built in 1858 by Joel Palmer, a pioneer and leader who founded the town of Dayton, Oregon in 1848 after traveling over the Rockies several times from Indiana.
The current owners are the Czarnecki family who purchased the House in 1996 and moved their successful mushroom-centric cuisine out West. They are obsessed with the fungi in every form including it in almost every menu item. Even the desserts. Personally I was in heaven. Mushrooms and Pinot Noir, all local, what could be better? The family business was started in 1926 in Reading, Pennsylvania by Joseph Czarnecki, the great-grandfather of the current chef/owner Christopher Czarnecki, who took over from his parents in 2008 and continued the traditions his family had long established.
While there aren't many restaurants in this section of the Oregon Wine Country - especially high-end ones - to choose from, what brought me through the door was the beef stroganoff. I just can't resist it. It was one of the favorite meals my mother made when I was growing up. I have her recipe, but I have never been unable to recapture just the right texture and flavor of her version. Since I live 3000 miles away from her I am forced to hunt for it elsewhere. When I saw it on the menu, I had no choice in the matter but to come. The House is beautifully restored, the dining areas fairly formal and intimate. Think your grandmother's house, but more tables. There were almost too many servers, always bringing something, always taking something away, but at least they seemed to care about our experience, which is a plus coming from LA. They were also friendly and knowledgable yet not overly chatty, which I hate. Be pleasant, answer questions and don't make me wait for my meal while you joke with your co-workers. That's all I ask.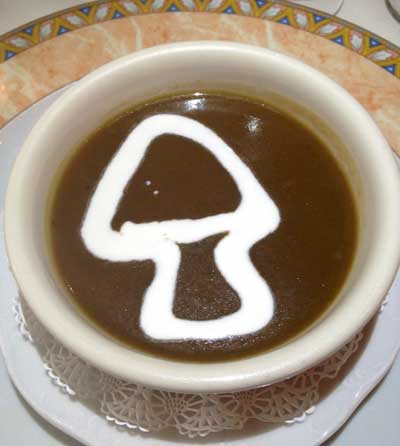 After drinking wine all day it was nice to see some carefully-crafted cocktails on the Beverage list. To cleanse the palate, I kept it simple with a Kir Royale. Yeah, still technically wine, but something a bit sweet and bubbly really hit the spot.
Though we had been tempted to order the Mushroom Madness Menu, the thought of eating 8 courses was overwhelming so we went a la carte. They start everyone off with an amuse of Wild Mushroom Risotto with White Truffle Oil. It was light, flavorful and gone in a flash. I could've happily eaten an entire plate of it.
Having done my research, I knew we just had to get the Wild Mushroom Soup (with a cute mushroom cartoon made of creme fraiche on top) and Heidi's Three Mushroom Tart. Both have been on the menu since the restaurant opened and are there to showcase the essence of the freshly foraged wild fungi.
I preferred the soup, which was just one intense spoonful of mushroomy goodness after another. The tart was OK but not memorable. Probably my least favorite item of the night. Perhaps after all these years it needs a bit of reinvention.
We received a bit of a surprise when the Scallop Quenelles arrived at our table. It wasn't something we ordered so we were initially confused, but then our server told us it was complements of one of our wine country friends. It was one of his favorites things on the menu and since he knew the chef, he called ahead to make sure we tried it…on him. Quite a classy move.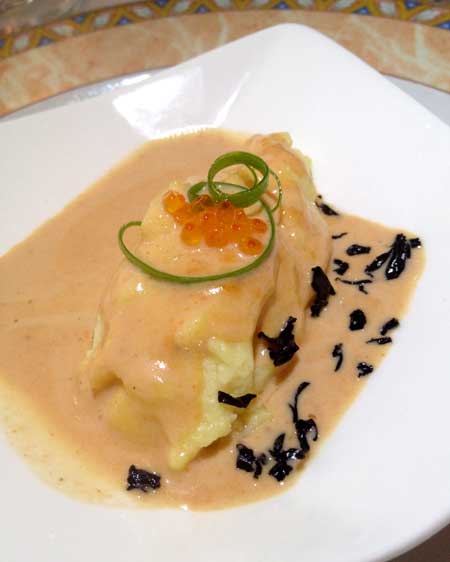 I am not usually a big seafood fan, but this dish I could eat everyday, though my arteries would not be able to survive. I don't want to know how many calories were in this dish, which was pureed scallops poached and served with a lobster mushroom-tarragon cream topped with black trumpet popcorn and trout caviar. Though assuredly calorie-packed, it wasn't as heavy as I expected, the flavors just melting together in your mouth. One of my favorite seafood dishes of the year.
For dinner I had to have a glass of Pinot Noir. The Man was driving so a bottle was out of the question. I was unfamiliar with all my By-the-Glass options since it was all from Oregon, which until this trip was completely unknown to me. I was thrilled to learn the Sommelier was a woman, still a rarity these days. Andréa Fulton-Higgins has been working in the industry for over 30 years and have I to give her props. She nailed exactly what I wanted from my description of the style I was looking for. Believe me that is not an easy thing to do. And it wasn't the most expensive glass either. She clearly knows the list, which is seriously impressive considering how extensive theirs is.
About the wine list: Pinot isn't cheap, from anywhere but certainly not in Oregon. If you don't want to pay a significant markup, bring your own bottle with you. The $20 corkage is a little steep, but fairly standard in restaurants of this type. You will still most likely save a lot of money. Hell, you're already out wine-tasting, it's not hard. Plus at least you know you already like the wine.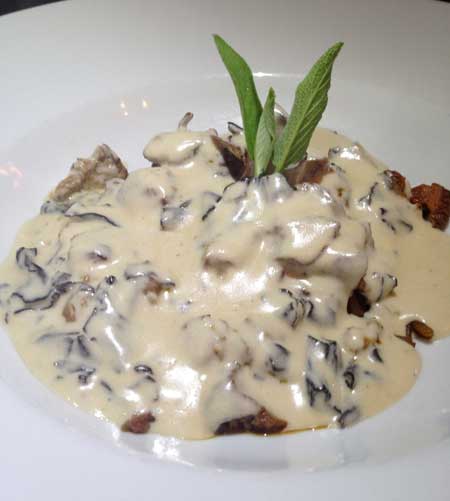 Even though we both wanted the Beef Stroganoff I was almost full and glad I opted for the Pan-Seared Duck Breast. I have to say I enjoyed the lightness and flavors of my entree which came with cilantro pesto, kale and Schezwan pepper scented Jasmine rice; however, the Stroganoff was pure bliss. As a couple, we've instituted an "order and switch" policy over the last few years that has been working quite well for us. Especially when there's several things on a menu you're dying to try. I am fairly certain I could not have finished a whole bowl and it was seriously too good to waste.
I asked Chef Chris about the recipe when he visited our table (something he does for everyone) and he told me it was a long-standing family recipe that they've been making since his grandfather's original fine-dining restaurant in Pennsylvania. You could taste the care and history in every bite. While it's certainly a bit old-fashioned, that's exactly what I was hoping for.
I can honestly say we throughly enjoyed our meal here. It's an old-school place in the best sense of the word: quiet, controlled, intimate, classy. You can actually hear your dinner companion speak. You won't be finished in an hour. You will spend a significant amount of money (entrees are $25-$45), but in this instance I was happy to part with it. It's not remotely modern - from the service to the menu to the dishes - and that's OK. There are plenty of other places out there that fit that bill. This is a home and they made me feel welcome. I left satisfied, which is all you can ask from a night out.
A Caveat: They are pretty clear about their culinary mission, so if you crave mushrooms you will love this food.
The Joel Palmer House
600 Ferry Street
Dayton, OR
Lisa Dinsmore is a writer, web programmer, movie and wine lover. She currently runs two review websites to share her passions: www.crazy4cinema.com and www.dailywinedispatch.com. She is also the Managing Editor of One for the Table.