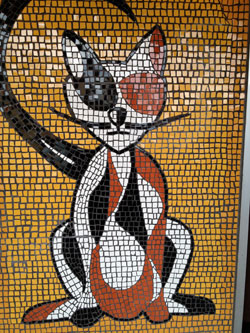 When all of our friend's heard we were heading to Portland, they immediately began giving us advice about where we just HAD to eat. No matter how many times I reiterated the fact that this was a wine-focused trip and not a foodie foray, they just couldn't help throwing out recommendations. Of course, all of them were for dinner. Not helpful when ballast is needed before a full day of wine tasting. Empty stomach + vino = serious trouble.
I wasn't worried. Breakfast is my favorite meal of the day and I had been researching local joints for months. My biggest problem was whittling down the plethora of interesting choices to only two or three. Apparently, the people of Portland are as obsessed with this meal as I am, as well as biscuits & gravy. Every place serves some version of this, at least in my mind, Southern classic. It's omnipresence still has me confused. I can, however, not deny them their comfort food. Perhaps it's the eternal gloom that causes them to crave it.
My first choice was The Country Cat, located in Southeast Portland. It was chosen partly because of its proximity to the airport ( I knew I would NEED breakfast the minute we landed), partly because we're "cat people" and I like the name and because their website had nice pictures.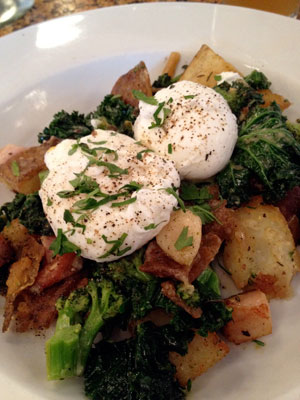 I was also intrigued by the idea of their Smoky Bacon & Broccoli Hash. Sounded filling and not completely bad for me. I figured the broccoli would offset the two poached eggs, almost pork-belly-like chunks of bacon and the pile of perfectly crispy, home-fried potatoes. (This was vacation and we weren't eating again until dinner, so don't judge. You can't soak up wine with granola, fruit and yogurt.) The Man choose "The WT": Two fried eggs on a biscuit dressed with sausage gravy and a pile of home fries. Someone had to try them. They're a Portland "staple." The food was as good the photos made it out to be, the coffee was great, the service quick and friendly and the place wasn't too busy.
This fact would lull us into a nightmarish Sunday breakfast excursion that could have turned truly ugly.  I forgot how much hipsters love their brunch. Yes, I'm talking about you. We rarely go out for breakfast at home and when we travel we usually always eat before 9:30am on the weekends. No meal is worth waiting more than 15 minutes for. None. The older you get the more important time becomes and I'm not wasting it hanging around for home fries. Not even truffle-covered ones. (These do not exist as far as I know in Portland, but if they did I might reconsider.)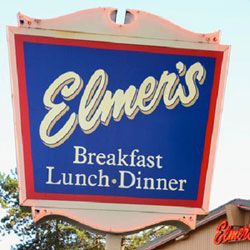 Since we were coming from the wine country, we arrived at prime brunch time. There were lines of people everywhere. The Man was starving and getting crankier by the second. Navigating a new city, filled with one-way streets, on an empty stomach wasn't easy. Coffee and a jam sandwich does not a breakfast make. This is where my obsessive-planning gene came in handy. I had read about a chain called Elmer's and had considered going there, but wanted something more unique than "Denny's-style" fare. Founded in 1960, the current 25 locations are all locally-owned and mostly located in the Pacific Northwest, though there is one in Palm Springs. At the time, we just figured the chain-aspect was a good thing and that we wouldn't have to wait long or could at least sit at the counter. Thankfully, we were right.
Elmer's began as a family business and they are apparently still famous for their German pancakes. Not a sweet breakfast person, I opted for the Bacon & Tillamook Potato Cakes & Eggs. Couldn't resist the local cheese. Plus, it's considered a "Signature Item." I didn't take a picture because they looked just like you might expect, but they were so much better than I anticipated.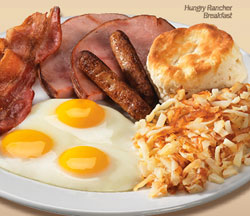 Well, the description sounded good: "Griddle-browned potato pancakes filled with bacon, Tillamook cheddar cheese and onions, topped with a dollop of sour cream and sprinkled with green onions. Accompanied by two farm-fresh "AA" eggs, Daily's Smokehouse bacon and applesauce. However, I was surprised by how delicious they really were. Perfectly crisp on the outside, soft on the inside and not at all greasy. The cheese, bacon, onions, sour cream and apple sauce were a perfect combination of sweet and savory. They initially looked too large for me to finish, but I ended up eating both of them happily and quickly.
The Husband had the Hungry Rancher Breakfast. (see photo) Yes, he ate it all. He was hungry. An unexpected stop that filled our bellies in no time at a very affordable price with quick and friendly service.  
Monday morning we hoped that everyone else would be back at work and we could get a table at one of my other choices. After seeing a tweet by Beesaw's I almost changed our plans. I checked out their website and saw they have my favorite sandwich on their menu: the Croque Madame. However, they were too far out of our path, which needed to keep us near the airport. Next time I am so there.
Alberta Street seems to be the haven for breakfast, so I knew we'd be able to find someplace open and fairly empty to fill our bellies. Helser's looked cute and they had a Pepper Bacon and Cheddar Hash that called my name. Yes, it's somewhat similar to my first breakfast in Portland, but without the facade of potential healthiness.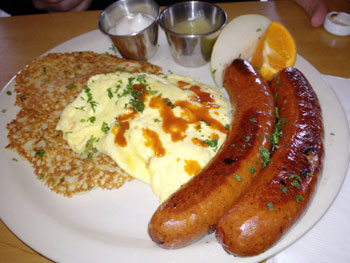 Despite the similar ingredients, the dishes did taste quite different thanks to the Tillamook Cheddar. It was oddly reflective of the Elmer's breakfast, though more loosely constructed. Clearly, I was in the mood for cheese and potatoes. I guess that's my comfort food. Perhaps if the sun had ever shone I would have ordered something lighter.
Since I didn't allow the Man a single bite of my potato pancakes at Elmer's, he ordered some with his Louisiana Hot Links Sausage Breakfast. He was a bit wary about the sour cream and applesauce combo - clearly this is not a staple in our home - but after the first bite he understood the magic.
And the size of those sausages? He certainly got his monies worth. Even the decaf coffee was delightfully rich and flavorful, which is not easy to accomplish.
There's just something about a big, hot breakfast that makes me happy. I like to get a good start in the morning and all three places truly delivered.
THE COUNTRY CAT: 7937 SE Stark St., Portland, OR 97215
ELMER'S: Locations Vary.
HELSER'S ON ALBERTA: 1538 NE Alberta St., Portland, OR 97211
Lisa Dinsmore is a writer, web programmer, movie and wine lover. She currently runs two review websites to share her passions: www.crazy4cinema.com and www.dailywinedispatch.com. She is also the Managing Editor of One for the Table.