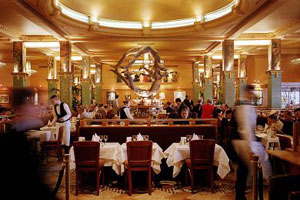 Sure it's a cliche, but Paris really is a tremendously romantic city. The grand brasseries like the art nouveau Bofinger or the art deco La Coupole don't just transport you to another place, but another time. They are joyful places where you want to be extravagant and order bottles of wine and big platters of seafood. When I think about my time in Paris with my husband-to-be at the time, I remember the feeling of indulgence and even decadence as if nothing beyond those gilded dining rooms mattered at all. And I remember the seafood, those big multi-tiered platters brimming with oysters, clams and lobster.
Anyone who has been through it will tell you, getting married is not nearly as stressful as the wedding itself. The relatives, the seating charts, the guest list, the cost. Oh I could go on and on. But I won't. Instead I'll tell you about the night before I got married. After weeks of handling last minute details, celebrating a birthday, entertaining and seeing to the needs of out-of-town guests and relatives, it felt like the night before our wedding was the first moment we had alone in ages.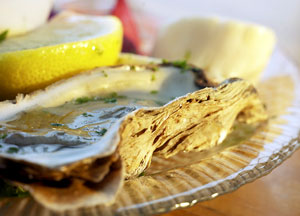 For our final night before becoming man and wife, we went out for a cozy seafood dinner for two at a local French bistro called Plouf, which is basically "splash" in French. It's located on the tiny and picturesque Belden Alley in San Francisco, tucked between major downtown streets, but closed to traffic. We ate raw oysters on the half shell and big pots of mussels and frites and were alone at last.
Perhaps because it reminds me of Paris, eating oysters makes me happy. I love the bracing freshness, the briny slurp of the sea. Were raw oysters a good pick the night before our wedding? If we'd gotten sick it would have been a disaster! But we didn't. And I remember that soft Summer night and dinner away from all the hullabaloo as the most romantic meal ever, rivaled only by dinner at one of the great brasseries in Paris.
Amy Sherman is a San Francisco–based writer, recipe developer, restaurant reviewer and all around culinary enthusiast. She blogs for Epicurious , Bay Area Bites and Cooking with Amy .