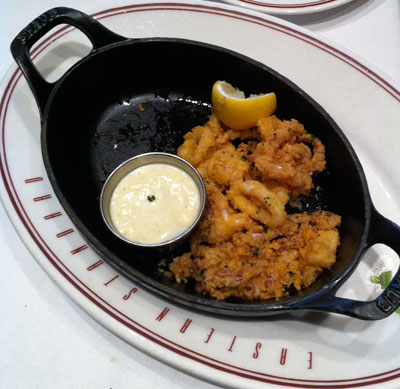 These guys are pros at brasserie: noisy, friendly, and day or night, busy. If you're upstairs at Boston's Hotel Commonwealth, nix room service and come on down when breakfast rolls at 7 with granola, fruit, oatmeal, bagel and lox, home fries, eggs any way and French toast with berries and bacon. Lunch takes over at 11:30. After 2:30, the raw bar is in full swing and if you're in the mood for salads, sandwiches, a burger, meat balls, mussels, or steak, it's all there smack in the middle of the afternoon.
Fried calamari appetizer is my personal taste test. Eastern Standard's is lightly breaded with a side of lemon aïoli, never messed with peppers, tomato sauce, garlic or peanuts. Of all the fried calamari I've had, this is five-star. It pairs with their Bibb salad and of course they're able to find perfect heads I rarely see in the best markets.
Dilusha is the best orderer. She chose Faroe Island salmon and there were dueling forks over the bean salad. In November, Julie started with mushroom soup that came with brioche croutons and lucky for me, two spoons. She complemented her moules provençal with Kiralyudvar Tokaji Furmint Sec (KEE-rye-oohd-var), a white Hungarian grape. Our waiter also poured tastes of Hirsch Grüner Veltliner that she loved. Other by the glasses: Cristalino Brut Cava, Wimmer Czerny Blanc de Noirs, Nicolas Cole Merlot-Cabernet, and Henri Milan Grenache-Syrah.
That's not all: on draft, there's Peeper Ale from Portland, Notch Session from Ipswich, Anchor Steam and 21st Amendment from San Francisco. I counted nine Belgians, four Germans, five vintage brews, bottles from Stingo, Brooklyn Lager, Left Hand Milk Stout from Colorado, Hop Notch from Salt Lake City, Stone Ale from Escondido and 30 other beers.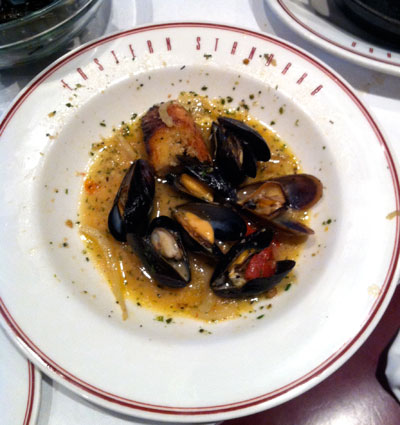 Another day we'll be back for Standard's plat du jour: lemon shrimp Mondays, scallop Wednesdays, lobster gnocchi Fridays, plus everything we haven't had like oysters, sauteed trout, grilled cheese, seared cod, and Hudson Valley foie gras (with lentils for good measure).
In good weather we like the patio when we bring le bébé. Last visit she discovered bread baskets. Neither the server nor the guys at the next table were put off by our resident flinger and the birds were truly grateful.
Service is leisurely, friendly and nearly immaculate. In addition to the wine tastes we got Florentine almond cherry squares and no, they're not on the menu. Even better, they know from grownup music. We can think of hundreds, no thousands of places that should stop in for a tutorial on what music goes with food.
Since the hotel offers 24-hour room service, you can get served in the restaurant 'till one am. Next time in I was thinking we should start with dessert. (I know someone who does this.) How could we not with toffee pudding, pear tart, crème brûlée, and ice cream that's "churned daily."
Kenmore Square is never boring and we're sure the agile New York vibe is intentional.
EASTERN STANDARD: 528 Commonwealth Ave, Boston, MA 02215
Kitty Kaufman is a Boston writer with Corporate Edge. You can see more of her food adventures here: Let's Eat @ Corporate Edge Photos by Julie Moffatt.