Maytag Blue Cheese. Newton, Iowa - the seat of Jasper County. Newton is home to the cowlick salt block salty, rolling thunder and lightening stinky blue cheese that is produced by Maytag Dairy Farms. Fred Maytag II - grandson of the Maytag founder - was president of the wash machine company when he decided in 1941 to start another company that made blue cheese. Now Newton is at least temporary home to every presidential candidate that wants to carry Iowa in the Presidential caucus on January 3rd.

Iowa was a Red state in 2004 and has been considered Republican since Eisenhower. Fred Maytag II was the Jasper County Delegate to the Republican National Convention in 1960. What many people don't know is that Maytag Blue Cheese may make a Red state Blue and determine who is the next president of United States. And it just may be a Democrat - Let me explain how cheese and politics intersect.

I've just returned from Newton, Iowa. I was born and raised in Newton but had never taken a tour of the Maytag Dairy Farms until now. Growing up, I never had their blue cheese. It stunk. None of my friends or family ate it. Now I feel pretty stupid for depriving myself of one of the great blue cheeses of the world all of those years.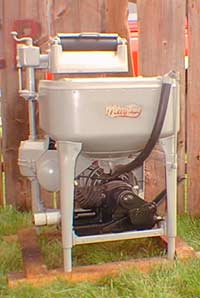 Everything and everyone in Newton was connected to Maytag. I worked at Fred Maytag II's mansion keeping up the estate when I was a high school senior in 1974. Fred died in 1962 but his widow remarried a Swedish doctor and they lived there at the time. (I thought it was funny that Whirlpool bought out Maytag in 2006 because I knew that Mrs. Maytag secretly had a Whirlpool wash machine in their laundry room back when I worked there.)

My mom and dad both worked at the Maytag factory from the 1940's to 60's.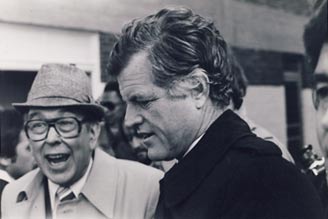 My father, Gurnea Cormicle, eventually ran for Jasper County Clerk of Court as a Democrat and was elected to four terms. When a Democratic presidential candidate - like Teddy Kennedy did in his 1980 run - came to town seeking votes they knew to come to dad.

On the guided tour of the Dairy Farms we watched a nine minute video about its history that may need updating unless Dwight Eisenhower is indeed a recent President. (Eisenhower carried Iowa in 1952 and 1956 no doubt due to his appearance at the Dairy Farms.) We learned about the process of making cheese using milk from a co-op of local dairy farmers. About a million pounds of blue cheese a year is produced. We were then taken to another part where we could look through a glass wall as twelve female workers of all ages sat at a table and hand wrapped the wheels and wedges of blue cheese in silver colored foil while wearing protective hairnets, gloves, and booties. At the end of our tour we had a tasting of their various cheeses - blue, white cheddar, edam, swiss, aged cheddar, and gouda - all goud except the gouda. But their blue is the one cheese that reigns supreme. Their blue is not necessarily better than a Spanish blue like Valdeon or Cabrales but it does have a combination of sweet, salty, and punch that puts it in a special category all its own.

Democratic Presidential Candidate John Edwards, while popular, is notorious in Iowa for being late to his campaign appearances. I think I know why - he's spending too much time savoring cheese. Edwards has been to Newton. All of the presidential candidates have. They all are looking for a way to connect to the voters. Only Edwards may be taking the cheese route. In fact, Edwards loves his Maytag Blue Cheese soooo much (in fragrante delicto?) that he had to have a wheel of the cheese on his campaign plane. According to our tour guide, one night Edwards and his aides did not finish their wheel - even the most rabid admirer of this into-the-deep-end blue needs a breather - and the flight cleanup crew threw out the leftover because it stunk and they thought the cheese had gone bad.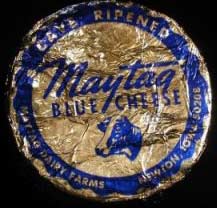 They didn't know with this cheese stink is good. The cheese's disappearance threw Mr. Edwards' aides into a panic when they returned on board the plane. Would the pursuit of the nomination have to be abandoned? Their candidate had to have his Maytag Blue. Rest assured. The Dairy Farms said they would immediately send another wheel overnight and it was waiting for Mr. Edwards at his next stop. The campaign could continue. Maytag Blue Cheese had found its candidate

Well, my cousin Carl thinks Huckabee on the Republican side will come out of Iowa with the nod and Edwards will on the Democratic end. I don't know what Huckabee's views are on cheese. All I know is that if Mr. Edwards is sworn in as our next President, I fully expect his oath to be taken with one hand on the bible and the other on a wheel of Maytag Blue.
Bruce Cormicle is an attorney, writer, and chef who works in Beverly Hills and recently started his own catering company called "You've Been Served".