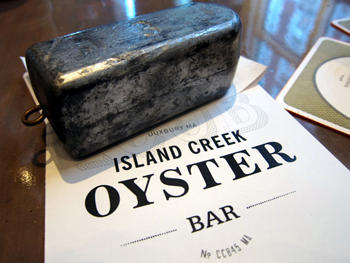 Since 2010, Island Creek Oyster Bar's holding the corner at 500 Commonwealth in Kenmore Square. Any time after four, you'll find 175 of the happiest people in Boston. When I go by on my walk, it's packed and this isn't 7:30. It's five o'clock and it's busy, busy. I call on Monday morning to reserve two seats at the bar. Even for the bar you need a reservation, even on Monday.
Something's happening as soon as you walk in. The host is happy to see you. Island Creek staff gets interesting training: everyone spends a full day working the oyster farm in Duxbury, MA. Yes, they grow their own and most of everyone else's in town too. Later, when I ask what's in the gribiche that comes with the crab cake, the bartender recites the ingredients. So the staff's been to culinary as well as charm school.
Oysters are us. The menu lists not only where they're from but who grew them: Island Creek owner Skip Bennett raises in Duxbury. Cape provenance: Barnstable, Dennis, Eastham, Plymouth, Wellfleet, Chatham. Out of state varieties come from Virginia and Washington State. Everyone at the bar has oysters.
The shellfish ragoût on Friday (lobster ravioli, shrimp, calamari and mussels) is in lobster broth. French bread's for mopping and when it's gone, order the puff pastry biscuit for four bucks that's layered and drizzled with honey like baklava. It blew me away and I don't even like honey. Andrew, our bartender who remembers us from an earlier visit, puts us on to Michel Delhommeau Muscadet.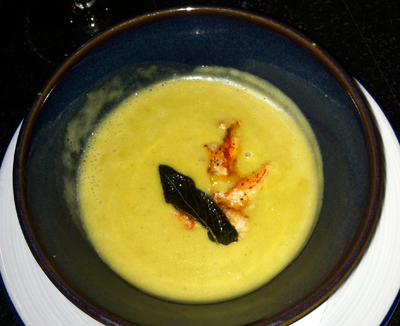 Monday, the house poured potato leek soup with brown butter and lobster knuckles. It's serious soup in a vegetable base with a touch of cream. You could, if you want, make a meal of it adding oyster sliders and a pour of Nino Franco Rustico prosecco, clean with touches of peach. I know what happens. You watch those oysters going by and you'd have to have them too. Oysters and beer at the bar are my go-to and you have to see this bar. It's glass-backed and six stories high with bottles and glasses. At the top I think there are lobster traps but maybe not. (Must get the name of their decorator.)
Three guys shucking don't stop for a minute. Paul, our Monday server, keeps an eye on the bar without breaking a sweat. He's full of surprises and suggests Reissdorf Kölsch beer for me. It's poured into its very own glass, tall and thin, that keeps this light tasting beer icy cold. It matches my Louisiana catfish. I'm a catfish fan but it turns out I haven't had it until I eat it here, Southern style with blue grits, tasso ham and rapini. (The next day I have leftovers straight from the fridge and it's still a knockout).
Virginia striped bass this night is served with black rice and fresno, a mild chili pepper. Julie's eaten the whole thing before I know it. This is her first time and she's taken with the modern decor and sound baffles that keep the noise in hand. You can hear yourself think. Although there are tunes, it's not blasting mostly. I hear Chattanooga Choo Choo and the Mamas and the Papas. Then we hear jazz that's loud enough for us to notice. Oh, well.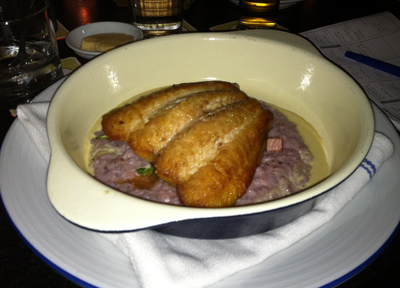 Whites: Pierre Péters Grand Cru Blanc de Blanc, Simonnet-Febvre Sauvignon Blanc, Leitz Out Riesling, Domaine Bonneau du Martray Grand Cru, Domaine J A Ferret Pouilly-Fuissé, Jean-Marc Pillot Chassagne-Montrachet. Reds: Santa Barbara Pinot Noir, Perrini Salento Rosso, Vietti Castiglione Falletto Barolo, Sinskey Los Carneros Pinot Noir Napa, Krutzler Perwolff Blaufränkisch Bergenland, Domaine Daniel Rion Vosne-Romanée. We're glad there's prosecco left to wash down the house ganache right before we leave.
Beer notes are more detailed than the wine listings. They start with Maine (Mean Old Tom American Stout and Pilsner), Nantucket (Sankaty Light Lager), Westport (Pretty Things Saison Americain), New York (Brooklyn Belgian Ale) and Delaware (Dogfish Head IPA). Moving west, Minnesota (21st Amendment pale ale and Black IPA), and Colorado (Left Hand Stout, Avery IPA, English Brown Ale), California (American Porter). Belgium (golden ale, Dupont Farmhouse ale, Tripel) Germany (Kölsch, Hefeweizen, Weizenbock). And with beer I want more tiny oyster sliders that give sliders back their good name.
We like ICOB's commitment to sustainability; they choose fish that's "caught or harvested . . . hook and line or by hand." Still, they're able to offer a variety of oysters from the East and West Coast. Their wines salute the grower as well as the winemaker plus there's an ICOB pilsner from Westport, MA by Will Shelton.
Conviviality at the bar big time. Each time we went, everyone on either side or standing behind talked to us. It's like being in a club, that bar. One busy Friday night we got the last two seats and I got chatting with a woman standing next to me. We introduced ourselves and so I asked her what she was drinking and it was a cocktail made just for her. She offered me a taste and yes, I took it.
Why are you still sitting there? This is your new favorite place for food, fine company and a smart, chic atmosphere. It's my private club and you're invited.
Island Creek Oyster Bar
500 Commonwealth Avenue
Boston, MA 02215
617. 532. 5300
Kitty Kaufman is a Boston writer at http://www.corp-edge.com.