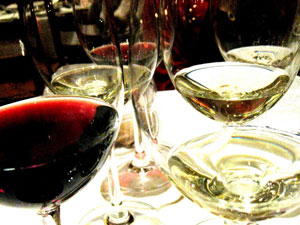 We had planned to spend New Year's Eve with friends and family but the flu and changes in schedules left us on our own. The New Year deserves to be celebrated, so we organized a dinner the first week of January at Il Fornaio in Santa Monica.
We enjoy coming to Il Fornaio for many reasons: their good food, affordable prices, and their Passporto program that rewards diners who come frequently during the Festa Regionale. During the first two weeks of every month, Il Fornaio presents a menu featuring the dishes and wines of a particular region in Italy. January's region is Trentino-Alto Adige, which borders Switzerland and Austria.
We met at the Santa Monica Il Fornaio, our favorite, because of the cozy setting and the friendly, attentive staff. Because the Regionale pairs food with wine, we came hungry and thirsty. Since we had a large group, we could order a good sampling of dishes.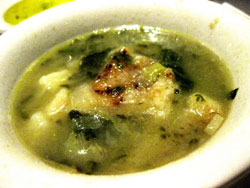 The Potato and Leek Soup (Zuppa di Patate e Erbe di Campo) had layer upon layer of flavor. The creamy texture was complimented by the Swiss chard's edge. The soup was topped with a grilled slice of Il Fornaio's focaccia bread that slowly dissolved, adding even more flavor. The soup was paired with a Pinot Bianco Dolomiti, Alois Lageder (2007) . Light, crisp, and delicately flavored, the Pinot Bianco was an excellent way to begin the evening's tasting.
We enjoyed the focaccia so much, we ordered a plate of the Grilled Focaccia Topped with Goat Cheese and Radicchio (Crostini con Radicchio). Focaccia can come in so many ways. They are at their best when the grilled bread is complimented with contrasting textures and flavors. The Crostini had those in abundance.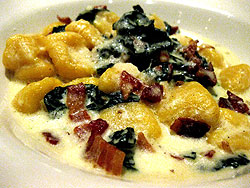 Because some of our group were vegetarians, the soup served them well. For the second course, they had the Butternut Squash Gnocchi without the pancetta (Gnocchi di Zucca e Cicoria). For those of us who enjoy meat, the crispy pancetta was an added treat. The consensus at the table was that these were some of the best gnocchi we had ever eaten. Creamy and sweet. The menu paired the gnocchi with the Pinot Bianco, so we asked for more just to show that we were paying attention.
The second pasta was only for the meat eaters: Pasta with Pork Tenderloin (Rigatoni alla Castellana). The tenderloin was accented by crisp bacon and shiitake mushrooms, the pasta coated with a parmesan-fresh thyme sauce. A heavier dish required a more substantial wine, so we had the Pinot Noir, Kris (2007).
For our meat course we could choose from chicken breasts, grilled Scottish salmon and oven roasted veal. We wanted to try all three, they sounded so delicious, but we had eaten so much of the appetizers and pasta course, we chose just one, the Chicken Breast Sauteed with Speck (Medaglioni di Pollo). As befits a regional menu, the chicken illustrated the cuisine of Italy's far-northern area. Borrowing from its Austrian neighbor, the dish was served with mashed potatoes and slow-cooked, braised red cabbage. Chicken breasts require a deft hand. These were tender, moist, and flavorful, perfectly complimented by a generous helping of porcini mushrooms and Marsala sauce. The red cabbage was so delicious, we asked for more. For the paired wine, we had a Tramin Pinot Grigio (2007) another of the region's full-flavored wines.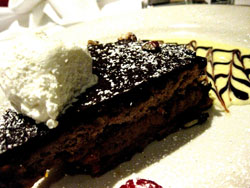 Dessert was a Sacher Torte, again illustrating the region's proximity of Austria. One plate was enough for our group. We were too full to think about any of the other sweets on the dessert tray.
Although we missed seeing everyone on New Year's Eve, our tasting at the Santa Monica Il Fornaio more than made up for it.
Il Fornaio
1551 Ocean Avenue, Santa Monica, CA 90401
Phone: 310.451.7800
David Latt is an Emmy-award winning television producer who turns to cooking to alleviate stress. He shares his experiences with food and his favorite recipes on his blog Men Who Like To Cook.