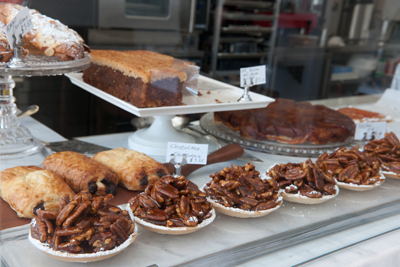 I try really hard to be a health-conscious dancer. I go to the health food markets and buy spinach and avocados and turkey breast and trail mix. But the truth is, I am a carb monster. "C stands for cookie. That's good enough for me."
But for me, the real C stands for croissant, and I just couldn't find the perfect one. Until one day I was walking around the neighborhood and saw it. Tarte Tatin. In that little mini-mall on Olympic and Oakhurst. Yep; the one with the frozen yogurt place and the nail salon.
Owner Kobi Tobiano (the former pastry chef at Charles Nob Hill in San Francisco) makes everything in-house from all natural ingredients. It's perfect. Clean, cozy, and filled with croissants! Their almond croissant has become an almost daily indulgence for me--buttery and rich, made from real almonds, not that disgusting paste everyone else in town seems to be using.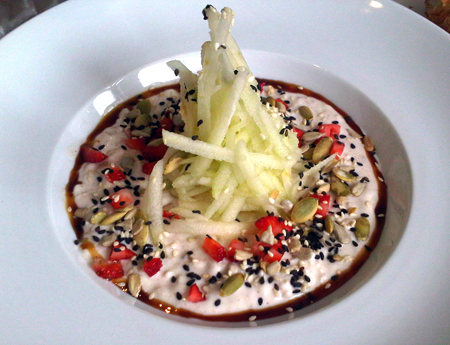 Tarte Tatin muesli
If you are a freak of nature and almond croissants just aren't your thing, try the cinnamon vanilla swirl or the fluffy, powdered sugar covered brownie (or if you are like me, maybe you should get all three).
Their egg salad is light and fresh, made with homemade mayo and on fresh baked bread.
Their muesli is nothing short of a work of art.
Their Israeli breakfast comes with as many side dishes as you can fit onto one of those little tables (their regulars will tell you they have a whole system down as to the "right" way to eat it).
Their tarte tatin is always fresh out of the oven. And in a town full of battery acid espressos (ahem, Intelligentsia), their coffee is perfect.
Now I just need to figure out a way to keep looking like a ballerina while eating here all the time!
Tarte Tatin Bakery
9123 West Olympic Blvd.
Beverly Hills, CA 90212
(310) 550-0011
Maia Harari is a writer and choreographer, born and raised in Los Angeles. You can follow her on twitter at www.twitter.com/maiacalypso