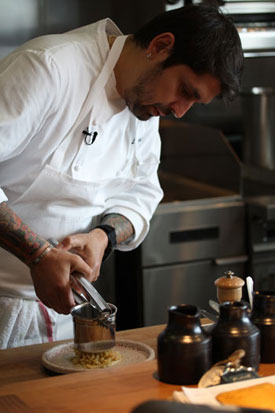 Before Trois Mec opened, being able to claim you attended one of Chef Ludo Lefebvre's infamous LudoBites pop-ups was sort of a badge of honor amongst Angelenos. An elusive and super cool experience that you couldn't stop talking about, even if it made your foodie friends more than a little jealous. The locations were somewhat off the beaten path, the food completely unexpected, at least for newbies to the world of haute cuisine like me. The community vibe and air of excitement while dining, palpable. What makes this new endeavor of a permanent space even more exciting is his partnership with Animal owners Jon Shook and Vinny Dotolo. I've only have the pleasure of eating at Animal once, but it was as exciting and memorable as any LudoBites. When it comes to fine dining with a twist, no one in LA is doing it better than these three.
While this is a partnership - Jon and Vinny have two other restaurants to run - this is Ludo's kitchen. Located in a strip mall on Highland in a converted pizza joint - they still haven't changed the Raffallo's sign - it's not much to look at from the outside. Yet once you cross the threshold and are welcomed with a hearty "Bon Soir!" by the whole staff, you know you've come to the right place. All the great things about LudoBites have been carried over to Trois Mec, but somehow it feels different. More refined, yet more relaxed. Since it's a permanent space, the frenetic nature of having to prepare the food in three hours is gone, but the intensity in the kitchen, the "just make happen" attitude has not diminished one bit.
After experiencing Trois Mec twice, once very early, once after it officially opened, I have to say his food is better than ever. Simpler in a way, though just as inventive with the complex flavors he's come to be known for. It seems cleaner and more vibrant, taking the essence of an item and cranking it up to 11. The presentation is beautiful as well, each course served on a different piece of pottery or antique French plates, designed to showcase just that particular dish.
The hand-thrown pieces were made by local potters in a collection curated by Adam Silverman of Heath Ceramics, making the experience even more unique and visually interesting. Even the cutlery and glassware are perfectly suited to each wine / course and extremely classy, though not fussy, if that's possible. The service is both personable and polished, and never hurried, the pace exactly as it should be. Long enough to linger and discuss, short enough so your palate is never left wanting.
Unlike LudoBites, there is no 20 item menu where you pick and choose what you want to have that night. Here, Chef Ludo presents a 5-course, pre-set dining menu that is a mystery until you sit down. (There is a vegetarian option made available as well. Vegans need to head elsewhere. They use butter here. Lots of butter.) You are not allowed to bring your own wine, which makes me somewhat sad, except that they've put quite an extensive bit of thought into their list and the beverages that accompanies each course, if you are so inclined. We were and were not disappointed, but you'll need an open mind and adventurous palate because you won't be getting any chardonnay or cabernet here. The wine list is all French and filled with unusual varietals and tiny producers. It's all about impressing with the flavors, not with the labels. The pairing is $49 extra. Wines are available by the bottle and glass if you want to choose something for yourself.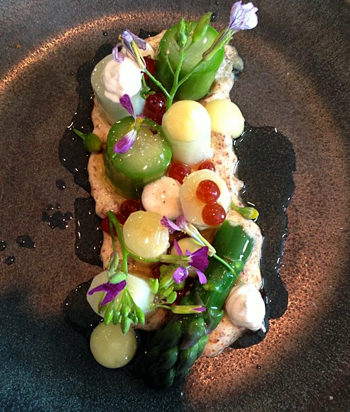 Usually this would throw me into a tizzy as I am an uber-planner when it comes to dining, but with Ludo I just don't care. Whatever he creates, I'll eat. Of course, I have experienced his food and know how extraordinary it is. Seriously, it makes all other food you eat for several days after seem boring and bland. Just seeing a photo of a dish you've eaten brings all the flavors back…and makes you wish you were eating it again. For me, there's a certain anticipation, yet calmness that appears when you sit down in front of a master. He is trying to impress you. He has a reputation on the line. So who cares what it is, just bring it on….
The evening starts out with a palate cleanser - Elderflower and Mugwort Beer - and quickly heads into a series of small snacks: a delicate and pretty herb and flower tart, buckwheat popcorn (odd, yet addictive), and the obligatory, amazing, and in the case of our dinner, a boneless Tandori chicken wing. It's not a proper Ludo dinner without chicken. I could have eaten twelve more.
Keeping to the seasonal mantra, the first course was a white and green asparagus salad with yuzu, lardo and salmon roe. I am not usually a fan of roe, or caviar of any kind, but just a touch of the salty, briny flavor, along with the lardo, hello, complemented the crisp, herbal notes of the asparagus with the yuzu giving it a lingering citrus kick. The borage flowers added a pretty Spring touch.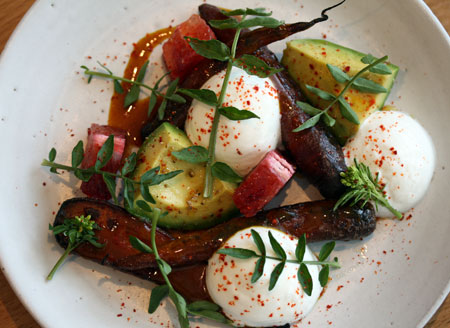 The pizza place came with a wood-burning grill that they decided to keep and utilize. After a quick lesson from grill master Adam Perry Lang on how to cook with wood, Ludo has mastered this form as well, using it to craft one of the menus early signature dishes - BBQ carrots with orange, avocado, watercress, yogurt and a touch of curry. Because every seat is practically in the kitchen, you can smell this dish long before it reaches your table…and I mean that in a very good way.
By the time it arrives, your taste buds are desperate. Even though it seems like just carrots, they were the best carrots I've ever had in my life. I am not a big fan, but I would eat wood-fired carrots every day of the week. When mixed with every ingredient on the plate, they become otherworldly, creamy, tart, smokey, spicy. They hit every note. A combination that seems so simple and one that you could imitate at home - none of the ingredients are hard to come by - if you had a wood-fire grill, which is what takes it to the next level.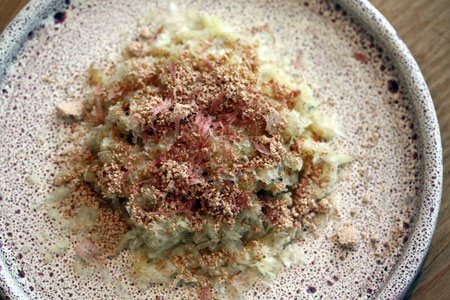 This was followed by the other dish that haunts my dreams: Potato pulp, brown butter, bonito, onion soubise and Salers (a semi-hard, French cheese from Auvergne.) It's this sort of, extremely homey, simple dish that showcases both Ludo's talent and creativity. It's potatoes, onions and cheese, yet by using the best ingredients and unusual techniques he takes them to a whole different place. The quintessential potato. Creamy and hearty but not heavy or cloying. I hope this never goes off the menu. I wanted the entire pot to myself.
It's not until the fourth course arrived - a pork chop with chorizo, mustard and cornichons - that I realized it was the first major piece of protein that had been served, besides the chicken wing. What's surprising is that I didn't care. The flavors of the plates before this were so intense and intriguing the fact that they were vegetables was the last thing on my mind. As good as this course was, it wasn't my favorite. Who knew he'd make me love vegetables more than meat?
The dessert - Strawberry, almond ice cream, rose ice and olive oil cake - just blew everyone's mind. Usually an after thought as a course, this had to be the best tasting strawberries I've ever eaten. So fresh and sweet, yet countered perfectly by the floral notes of the rose ice and the savory note of the cake and almonds, it was light and complex and a perfect finish to the meal, leaving the experience on a high note. As we were paying the bill (the meal is pre-paid, beverages are paid for onsite), one more bite made it to the table. A tiny, one-bite caramel mousse tart with cumin and a pinch of habanero sea salt that again hit just the right sweet / spice balance.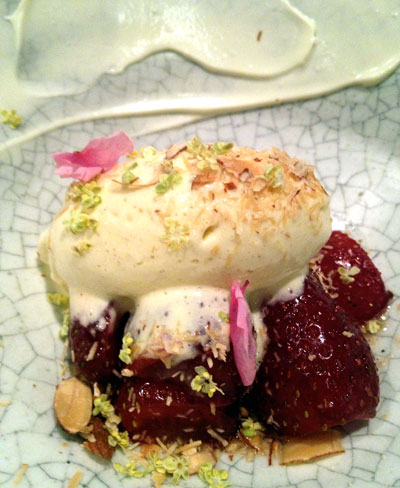 The first time we went the dessert was just the strawberries with the almond ice cream (pictured here) and a hit of creme fraiche, which we devoured with great pleasure. The fact that a mere three weeks later, Ludo was able to make it even better with the addition of the rose ice and olive oil cake is a testament to his constant need to make every dish as perfect as possible, pushing himself past the point where others would stop. The same goes for the carrots which were much simpler as well, no orange or avocado. They tasted amazing, but the final touches put them over the top. Sad to say, with the seasonal nature of what they are cooking, I'm sure many of these dishes will be gone before I make it back in. As sad as I am by that, I'm equally as excited to eat what will replace them. Especially the vegetables. They sneak-peeked a piece of grilled corn a week or so ago on their website. Summer here we come!
Like most of Lefebvre's pop-ups, this is a small space with just 4 tables along the wall and 8 prime seats at the bar, directly overlooking the action. I'm not sure any "Chef's Table" in the city gives you this close and personal a view. They can have only 24 people per sitting, so with just 48 covers a night, trying to get into Trois Mec isn't as hard as LudoBites, but it's still not an easy feat. No walk-in's are allowed. To ensure that each seat is filled every night - the restaurant is only open Monday thru Friday - they have implemented an online reservation system, somewhat akin to buying a seat at a concert or sporting event, which this sort of is. This is meant to be a dining experience, not a quick meal.
While it's not a lot of money per se -- it comes out to around $100 per person including tax and tip for the food -- it's understandable that some people are displeased with this set-up. Frankly it's the only way they will be able to survive. No shows would kill their bottom line. You can transfer the tickets to other diners if you can't make it after all, so it's not really that big a deal. Forcing Los Angelenos to commit is not an easy task, but they've had no trouble selling out, so clearly the system is working.
All I can say is you need to go. I will be going back, as soon I can get another reservation. Most things aren't worth the trouble. This meal met my expectations and more. It is an experience worth every penny, which is rare in the LA dining scene. I left not only fully satisfied, but excited about how wonderful food can actually be.
TROIS MEC: 716 N. Highland Avenue, Los Angeles. Reservations made available every two weeks via their website.
- Photos by Krissy Lefebvre.