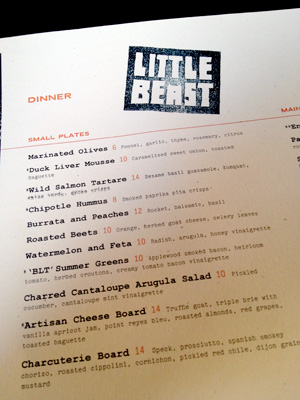 I really needed a night out. Life has been conspiring against us lately, but it could be worse. Tired of being homebound and cooking three meals a day, I was desperate for a a little culinary magic. When a friend called with an invite to the opening night of Little Beast, I jumped at the chance like a drowning person needing a life raft.
This new restaurant was one of her clients, so I figured it had to be good. She's a produce broker and has never steered me wrong. All I knew about the place was that the chef, Sean Lowenthal, was, until he opened this place, the sous chef at Chateau Marmont for a couple of years. It was good enough for me.
Their goal in converting the old Larkin space, a quaint, early 1900s Craftsman house, was to create a dining spot in Eagle Rock to rival the foodie joints found in the more tony neighborhoods to their west like Silverlake and Los Feliz. Their mantra: seasonal, modern, progressive. I don't really know what that means when it comes to food, but after sampling the menu, I know that whatever you call it, Little Beast has raised the bar on this section of Colorado.
Like most restaurants these days, the menu is divided into Small Plates and Mains. Some snacks, some salads, the usual cheese and charcuterie boards. Since there was just two of us, we decided to split some starters and share a main.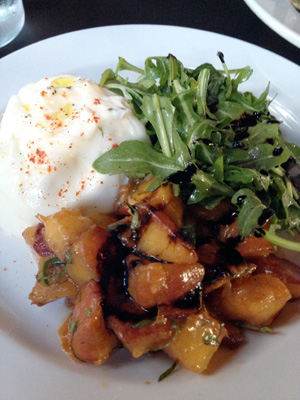 I wanted to try the Duck Liver Mousse. My friend doesn't eat liver. She wanted to try the Salmon Tartare, a no-go for me. So we went with three of the fresh and seasonal salads: the Burrata and Grilled Peaches, the Watermelon, Radish & Feta and the BLT with Summer Greens. We had to see what he was going to do with all the produce she helped them get.
I'm a sucker for anything with burrata, but that salad was one of the best I've had all year. The peaches were so sweet and juicy, contrasting deliciously with the bitterness of the arugula, the creaminess of the cheese and the tangy bite of the balsamic drizzle. Summer goodness on a plate.
I like the combination of the watermelon, feta and radishes, but I wished the dressing had a bit more punch. It was crisp and refreshing which is a priority when it comes to salad.
You can rarely go wrong with bacon in my book, but while the elements of the third salad were good, they proved just a bit hard to get on the fork at once to create the perfect BLT bite, which was what I was looking for from the description.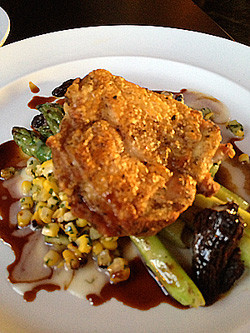 We decided to go with the Pan-Roasted Chicken with Cognac Morel Jus over Roasted Corn and Asparagus. This was just as tasty as it looks. I love a crispy skin and the savory sauce contrasted nicely with the sweetness of the roasted vegetables. Once we started eating, I sort of wished I had ordered my own plate.
We were having such a good time and were still a bit peckish, so we finished with the Artisan Cheese Board. Nicely presented with toasted baguette slices (not too hard, yay!), three cheeses - truffle goat, triple-cream brie & Point Reyes Bleu - toasted almonds, grapes and vanilla apricot jam. I inhaled the truffle goat cheese. Thankfully for me, my friend is not a fan of truffle, though as I was clearly in heaven she gave it a nibble and promptly changed her tune. It was just the right ending to a lovely meal.
There are currently only 6 mains on the menu, but I believe they'll be expanded those options as once they really get up and running.
From the light fixtures to the plating to the wine list to the cozy outdoor patio, the care in everything Rosenthal and his wife Deborah have put into this venture shows. The wine list is small, but well-constructed, eclectic and affordable ($6- $12 a glass). I enjoy a list that makes you think and features smaller producers. Plus the glassware was classy, not too small, and the pours were hearty, all pluses in my book. They also serve beer and artisan sodas for the non-vino lovers amongst us.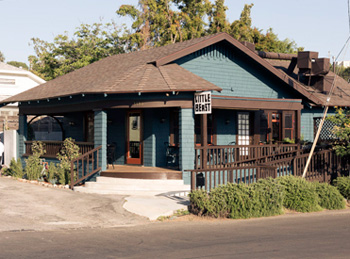 Equally impressive was the service. Our server was friendly and informative and for a first night open to the public, the timing was pretty flawless. They have clearly hired people who want to make your experience a happy one, which is hard to find in LA.
All in all, Little Beast is sophisticated, yet welcoming. Like you're going to your best friend's house for a special sit-down dinner. There are only about ten tables inside, which enhances the intimacy. Being June, we thought it might be a bit chilly on the patio as the night wore on so we stayed indoors, but, believe me, it's going to be a hot spot as the summer wears on.
Eagle Rock just became a lot more interesting. I so wish the place was in my neighborhood.
LITTLE BEAST
1496 Colorado Blvd.
Eagle Rock, CA 90041
Lisa Dinsmore is a writer, web programmer, movie and wine lover. She currently runs two review websites to share her passions: www.crazy4cinema.com and www.dailywinedispatch.com. She is also the Managing Editor of One for the Table.