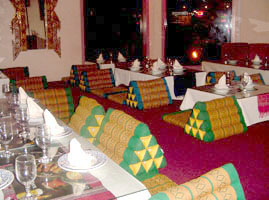 Twenty years ago when I lived in San Diego, my ex-husband and I loved eating at Karinya Thai Cuisine. The restaurant was up the street from our home in Pacific Beach, and it was our "go to" dinner place when we entertained visiting family and friends. We usually requested to eat in the "traditional" dining room. This meant we'd have to remove our shoes before going in, and sit on the floor atop beautiful Thai triangle pillows.
The head chef (an American) had married into the Karinya Thai family. Since we were regulars, the chef always took a few moments to tell us wonderful tales of his trips to the Far East. One of the best was about the first time he visited his wife's family in a remote village in Thailand. He was shocked at the amount of time it took to shop for groceries each day. The entire family, led by the grandmother, would get up very early and drive for hours to pick up a particular type of chili, then go a couple of hours in the opposite direction to buy some galangal, and finally another hour south to pick up fresh kaffir lime leaves. By the time the shopping was done, they had driven five or six hours to get ingredients for THAT evening's dinner. I found it fascinating that each ingredient was so special and distinct, that it was worth all that time and trouble.
The first time we invited our buddy Spencer (who was like a second grandfather to me), he laughed at the idea that he'd have to remove his shoes for dinner. And after that first meal at Karinya, anytime we'd make dinner plans with ol' Spence, he would ask "Are we going to the 'shoeless place'? …if so, I'll have to check my socks for holes."
Two of my favorite dishes at Karinya were the "Gai Rad Prik" (they prepared it with deep-fried chicken covered in a super-spicy chili sauce) and "Shrimp Sarong" (shrimp wrapped with egg noodles, deep-fried and served with a sweet and spicy chili dip).
From my research, it looks like the original owners of Karinya sold the business in 1998. I moved to Studio City in 1994 and halfheartedly tried to find a new Thai restaurant near me (in the San Fernando Valley) to love, but nothing tasted as good or seemed as authentic as Karinya. There were no "foodie" sites on the World Wide Web way back then, so I had pretty much given up on finding a Thai place I could call my own.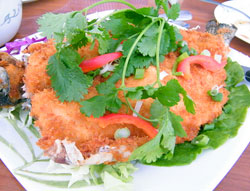 Then on New Year's Day I had lunch at Sri Siam Café. Peter (my husband) and I met up with our far-east-food-expert friend Jeffrey, for an incredible, unforgettable New Year's Day Lunch. Jeffrey is a regular at Sri Siam and has not only eaten at all the best Thai places in Los Angeles but all the best Thai places in Thailand.
The best part about Sri Siam Café (besides the outstanding food) is that I won't be pining for Karinya any longer. I can finally move on… and luckily for me… my new Thai joint is literally just up the street!
Sri Siam Café
12843 Vanowen St.
North Hollywood, CA 91605
818 892-6262
– Originally published on MyLastBite