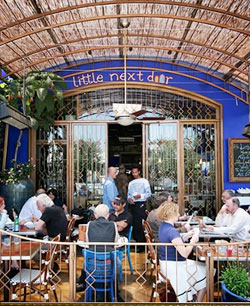 It's 4 o'clock on Sunday afternoon, and like any well-adjusted twentysomething, I'm eating breakfast. More specifically, I'm having brioche french toast and cappuccino at the Little Next Door on 3rd with my friend Gloria. After living in LA for six months, I have determined that breakfast in the afternoon is exactly the sort of reckless behavior Sundays demand.

Typically in New York, Sundays amounted to consumption of greasy brunch complemented by mimosas and black coffee. Following brunch was an inevitable headache, followed by more consumption in the form of excessive window-shopping, followed by an indulgent nap upon what appeared to be a laundry pile, but was in fact my bed.

Upon moving to LA, I resolved to make something of my Sundays. Or at least earn my early evening breakfasts. I run on Venice beach, I hike in the canyons. But making something of Sunday also translates to following that run with a healthy dose of lazy. The Little Next Door, in particular, appeals to me not for its immaculate pastry display (huge brownie points) or French-stripe-donning wait staff (adorable), but because it preserves a sense of European leisure lost on most brunch hangouts. One can idle, nibble and ponder the meaning of life for hours with minimal interruption.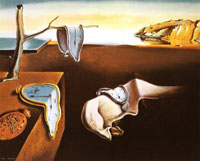 Next on our agenda was the Dalí exhibit at LACMA. Which led to more idling, nibbling, pondering. But we blame the art, because art always leads us to these things. We blame the ambiguous Dalí forms involving crumbling bread loaves, halved pears and tender lamb chops for inspiring not only art criticism but also hunger pangs. We blame the runny Camembert that inspired the Persistence of Memory's melting clocks. Fortunately, LACMA's Pentimento Café was on-hand to save the day with Spanish white wine and an ultra-palatable cheese plate, complete with cubed honey, Marcona almonds and figs.

For me, Sundays are about being both productive and indulgent. And if that means immediately following a strenuous run with French toast, Spanish cheese or even orange-blossom pound cake, then so be it.

Little Next Door
8164 W. 3rd St., Los Angeles, CA 90048
323.951.1010



Pentimento Café
5905 Wilshire Blvd., Los Angeles, CA 90036
323.857.4761

Juliet Seniff hails from Michigan, and has lived in Florence, Seattle and New York City. She currently lives in Los Angeles and works in the film industry.