Snapshot: Za at Kendall Square in Cambridge, MA
by Kitty Kaufman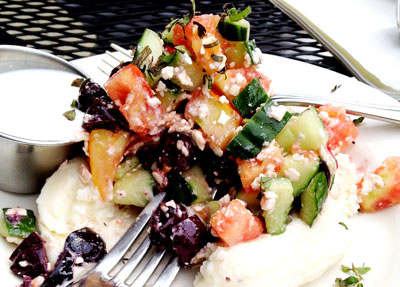 We've had lunches up and down Third Street and we like eating outside. Le bébé is now a contributing eater and she gives Za her approval for whatever she got her hands on which was everything on the table. We agree.
Za's parent is EVOO, right next door. We sat outside for pizza and salad. Listen to this: tomatoes, cucumbers, kalamata olives, radish, feta, and oregano all on a bed of, are you ready, mashed potato. Who ever thought potatoes would outdo crutons; well, it's here and so full we nixed the dressing. Le bébé ate the olives and cucumbers; at this time of year, we agree.
Dilee created our pan pizza (not flat and not quite deep-dish) with bacon and carmelized onion and the 10" splits nicely for two ($10). You can have Black Forest ham, homemade sausage, picked hot peppers, onions, garlic, green pepper, anchovies, chorizo, potabellos and chicken on yours. Mac 'n' cheese pizza fans can roll in it with cream sauce and four cheeses (9.50).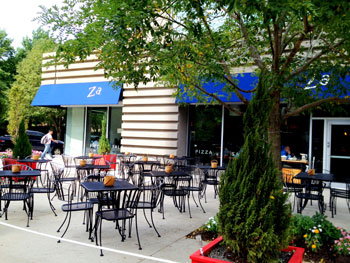 September dessert specials were chocolate goat cheesecake, lemon tart with blackberries, lavender crème brûlée and bourbon pecan pie ($6). The salad that day: watermelon (from Kimball Farm), arugula (Drumlin Farm), radish, ricotta salata and pine nuts ($8).
Everyone's favorites from EVOO's wine list are here. Bar treats too with pomegranate, citron vodka, cognac, jalapeno tequila, rum, bourbon, amaretto and limoncello ($9.50). Beers! Three Heads, Whale's Tale, Berkshire Steel, Fisherman's Kolsch, Slumbrew, Rapscallion, Cisco, Sam Adams, Brooklyn Lager, Sixpoint Brownstone, Wachusett, Narragansett, Woodchuck and Clown Shoes. All local, all here.
We're partial to hosts who support local and organic farms as well as being LEED Gold certified (Leadership in Energy and Environmental Design). Great food doesn't hurt either. Za is za za voom.
ZA has two locations:
138 Massachusetts Ave, Arlington, MA
781-316-2334

350 Third St., Cambridge, MA
617-452-9292
Southern California


by

Lisa Dinsmore





I'm an obsessive travel planner. I leave nothing to chance when venturing far away from my home. I need a lay of the new land to feel safe and happy. I don't always do everything or go to every...

Read more...

Italy


by

Michael Tucker





There are few more beautiful places in the world than the Amalfi Coast. Ancient villages vie with lemon groves for the prime real estate on the cliffs – with views that take you over the...

Read more...

Michigan


by

Ann Nichols





The second of my eating out experiences this week took me to Ukai, a Japanese restaurant in Okemos, Michigan. Chosen by my 11-year-old nephew as the site of his birthday dinner, Ukai occupies a...

Read more...

Los Angeles


by

Juliet Seniff





Marriage is a beautiful thing: the union of two people who perfectly complement one another. So be it with food. And what better way to appreciate them both than at Hatfield's, an epicurean...

Read more...