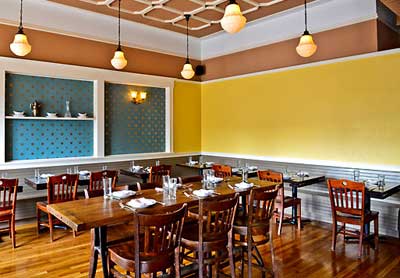 Andrew Foster and Steve Bowman dish contemporary American at Fairsted Kitchen in Brookline. It's a young vibe with a busy bar and communal tables so be ready to party. Why not? Even I have given up thinking I must get in my car to eat. It's not that I eat in the car. It just turns out favorite places or ones I want to try are elsewhere. So it's newsworthy that within walking distance of where I live, there are choices. Andy Warhol said it better: "I have to go out every night. If I stay home one night I start spreading rumors to my dogs."
Julie and I start with sumac-cured salmon garnished with pomegranate. For the record, we never had fruit on our lox at home. This is more lox than I've ever had in one sitting, assuming you're out of cream cheese. It's a time when bread . . . Of course I should have asked our server, Scott. And yes, I'm well aware there's not a chance in the world Nathan Mhrvold, the modernist chef, will be inviting me to a 50-course, lab-prepared whimsical meal anytime soon.
Julie's having what she calls a medium-bodied Malbec with her wilted kale salad that has shallots, apple and pecorino I can smell across the table. (Wilted kale is so big our Whole Foods has a waiting list.) When it comes to salads, we're curious how far inventive chefs will go beyond mesclun. At home, we make lunch a lot with arugula, croutons, Boston lettuce and avocado. You impress, chef Jason Albus, when you do us one better.
I want cod beignets with smoky tomato en confit. I've never had them before; lavender custard, yes; with fish, no. They're crunchy fried, get over it, with creamy fish prep befitting cod's versatility. Confit goes through baking with Roma tomatoes, olive oil, garlic, thyme, salt, lots of pepper and sugar. This carries me nicely, what with the salmon, and I won't need anything more if there's dessert. Beignets are a side dish yet polite eaters may find them to be enough with say, salad.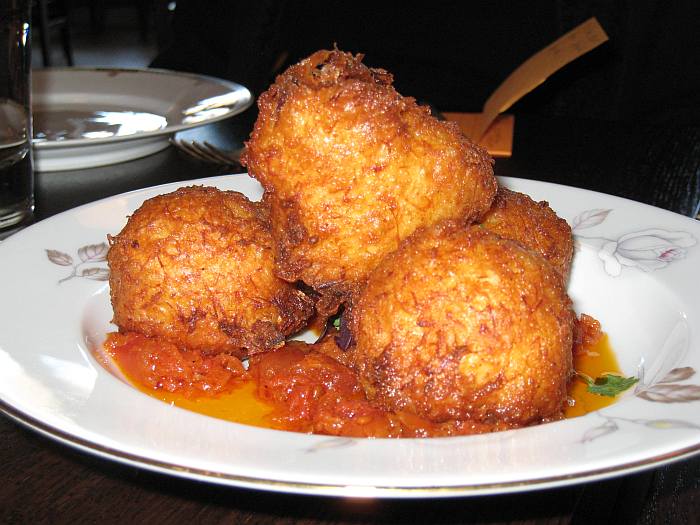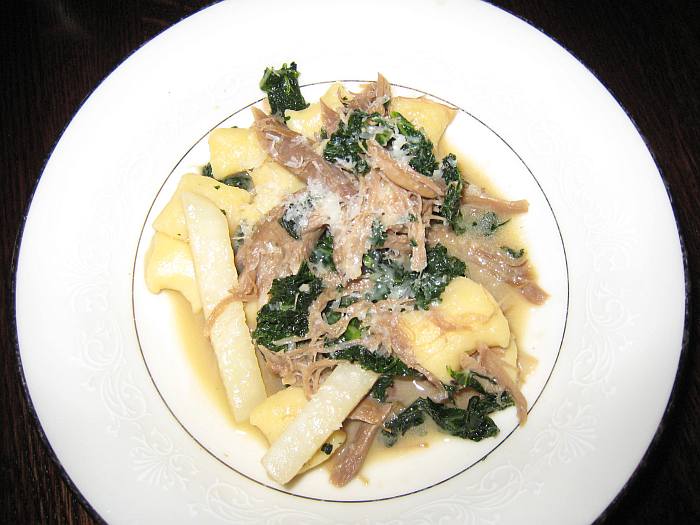 Julie's riccota gnocchi are in company with more kale. Duck confit is included, which she asks for on the side, then hands over. Now I'm happy; your usual duck is plum sauced or smothered in rice. This is neither, plain and sorry, just ducky. When we were kids, we could count on mother roasting a duck every five years. After, she would have the kitchen painted and talk about how we had to move.
There's room enough and time so bring on dessert. Tonight they've baked an apple turnover. It arrives with due fanfare: mint, blackberry coulis and vanilla ice cream in an airy configuration. Did the pastry chef throw in vanilla that mellows sauce worth mopping? Listen when your server lists what's to be had; They know.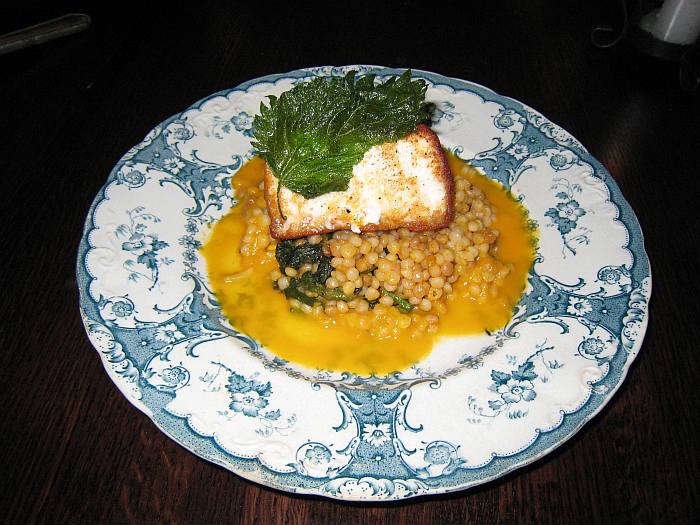 Roseanna, Jim and I are back on Saturday night early; it can't be that early as the room fills up in no time. Jim's a Dirty Martini fan and his Ketel One's here in what we can only term a grandma glass: gold rimmed and gold footed. Today's gnocchi are potato-filled in a rich sauce with peas, favas and fiddleheads. This is one of their small dishes; others include crab cake, the smoked salmon, tuna crudo and scallops.
Roseanna's tender halibut with couscous, nettle and yellow tomato arrives on a plate only a grandma could love. "It's flaky, well salted and beautifully grilled" with appled Israeli couscous. It's interesting, a presentation that brings me back to how professional kitchens are so good at not overdoing fish and how inventive a touch of Middle East can be. Cast iron pans do more for fish than a broiler ever can. Friuli-Venezia Giulia Pinot Grigio is all crisp citrus aromas and for that, thank sommelier Bowman.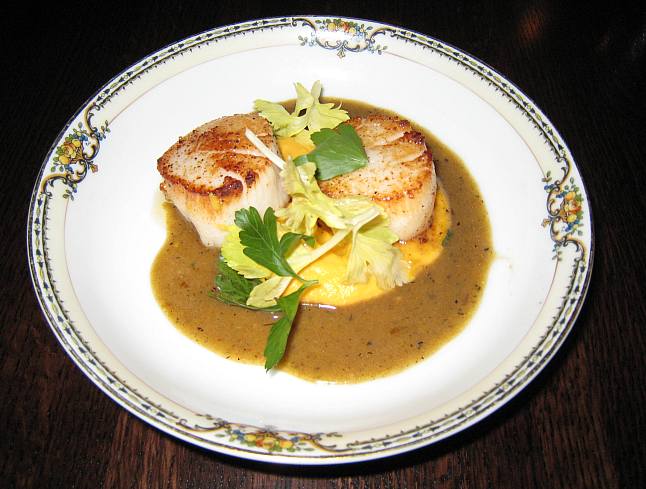 Jim's dinner is smoked duck with a heap of red cabbage and surprise, potato pancake - not exactly like Grandma used to make but still. Duck's as rare as beef with a cover of parsley and skin. Both the halibut and the duck are listed under "large" dishes along with chicken, grilled wagyu and for vegetable fans: cauliflower with eggplant. Our servers, there are several, are enthusastically friendly and they know a lot about what we might like.
I want "seared sea scallop with leeks" and a puree of butternut topped with cashews. It's beautifully done. Kind of sad that it's one of their small dishes since we find ourselves wishing there were more. (Cod beignets, so good last time, I did them again.) If you're wanting more and your group's agreeable, there are dishes meant to be shared, of which there are two right now: stir-fried black bass ($48) and lamb top ($74). The nimbleness of a small establishment lends itself to a menu that highlights seasonality.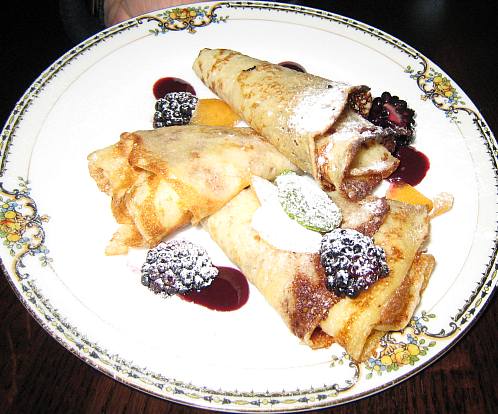 Crêpes right out of the pan with tart lemon curd and berries dusted with sugar. And in a first, there's room for a second dessert. Jim orders pot de crème, rich bitter chocolate with a side of heavy cream. (Mom made this too but only in years that didn't coincide with duck roasting.) Crêpes remind Roseanna of a time long ago when she made Crêpes Suzette, the kind you flambé, hoping to impress her then in-laws. Anyway, when she lit the Grand Marnier, she set the table on fire.
Fairsted's convenient if, say, you prefer other people's kitchens to your own. I mean, it's not like apple turnovers magically appear in my kitchen. You may not notice there's little moderating the acoustics but I did so you'll want to limit secret sharing. It's nothing tablecloths and seat cushions couldn't help. When you're early, ask for a table on the patio.
Fairsted Kitchen
1704 Beacon St.
Brookline, MA 02446
617. 396. 8752
© One for the Table. Photos by Roseanna Spizzirri. Kitty Kaufman is a Boston writer. See more of their adventures at Corporate Edge and follow Kitty Kaufman on Twitter.