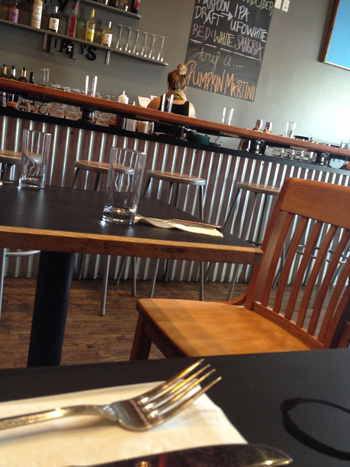 I love the city of Boston. I spent my college years living there and enjoyed myself immensely. My family is from Massachusetts (not Boston, there is a BIG difference) so I get to visit once a year, though my time in the City is usually quite short. This recent trip I had mere hours - after landing and before take-off - to get my food on. I follow as many Beantown restaurants on Twitter as I do LA ones and had hoped to visit a few on my Hit List but timing and opening hours conspired against me. That's how we found Snappy Patty's.
I had wanted to stop in Cambridge at Catalyst for our last East Coast lunch, but driving into and around Cambridge is a nightmare on a good day, even if you know how to navigate the tiny, one-ways streets. I won't even discuss the parking situation. No, we were out of our element, hungry and pressed for time. Getting lost was not an option. (Yes, that's still possible in the Smart-Phone Age.)
So, as we barreled down the highway, I choose a nearby northerly suburb - Medford - guaranteed to have street parking and plugged the town into Yelp. I know, people are hating them right now, but sometimes you just need the best info you can immediately get your hands on. Nothing really stuck out except Snappy Patty's. Clever name, 4 stars, right off the highway? Burgers, beers, a nice little wine selection - we were still on vacation - it was just the type of neighborhood joint I was looking for.
It's not much to look at from the outside, but the interior was simply designed, yet with an artistic, slightly modern flare. It was bright and the music was upbeat, but not blaring. I assume it's a lot louder for the evening crowd. Tables to seat around 20 people not including the bar, just enough for the one waitress working the room. She was a dead ringer for Hayden Panettiere, though with noticeable tattoos and an obvious, yet quaint Boston accent.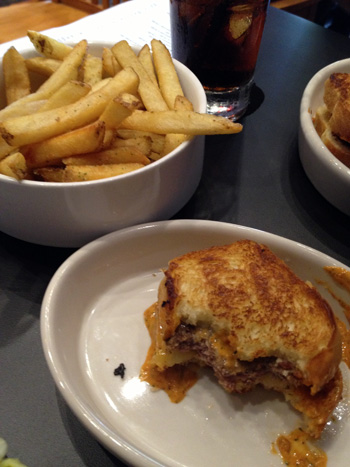 She was friendly and became more so once she found out we were heading back to LA. Everybody's intrigued by Cali, especially the young, inked crowd. Since this was most likely our first and last visit - we don't have much call to be in Medford - we decided to order the Slider Sampler, the BBQ Bacon Burger, and an order of fries. I tried to get the Man to try one of their salads, which were intriguing, but he was having none of that. I didn't think we'd eat the fries, since they were our fourth plate of them in as many days (like I said, vacation), but I was wrong.
The Sliders came out on grilled Texas Toast (sweet!) and were all delicious, each with a distinct flavor combination that surprisingly all complemented the beef really well. We got the BourbonQ, Colby Bourbon BBQ sauce and pickled Red Onion; Califonian, Havarti, Avocado Mayo & Marinated Tomato; and the Texan, Young Cheddar and Bacon Secret Sauce, which was my favorite.
The flavors of the big burger were good, too, but the brioche bun, despite being grilled, was a bit too firm making it hard to get your mouth around. The fries, well, what started as a "we can't waste them and it IS our only meal of the day" type of nibbling… suddenly changed into "I really need to stop eating these." The bottom of the bowl was found quickly enough.
For dinner, they have some heartier fare - salmon, ravioli, steak - in addition to the sandwiches and burgers. Would have loved to tuck into a few of the appetizers as well - pork belly, fish tacos and buttermilk fried chicken - but it was not meant to be.
If we lived in this area Snappy Patty's would definitely be my neighborhood joint. As it stands it was a great, unexpected find on our long journey home.
SNAPPY PATTY'S - 454 High Street, Medford, MA / Open Daily