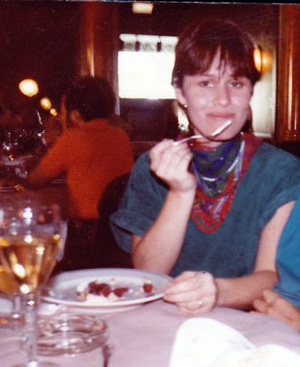 I saw a beautiful fruit tart today, but I didn't buy it. Though one brief glimpse of its light crust, glistening white cream & assorted seasonal berries and our whole intense love affair came rushing back.
It's the mid 1970's. The place: Patrick Terrail's West Hollywood restaurant Ma Maison. An old house on Melrose converted into the most innovative, modern French restaurant of its day. It was so very French and so very Hollywood, and when those two worlds collided on that patio of Astroturf and umbrellas, it was magic.
Big Hollywood deals were made, infamous fights broke out, and occasionally I was lucky enough – if someone with more money was paying—to be there, enjoying the food. That's where it began – an infatuation that would turn into a stalker's obsession. They had me at crème anglaise.
I was there a lot with Jackie Mason, which sounds so random, sort of like my celebrity dreams, but he was a friend of my dad's and we went as his guest, or vice versa. Often, when we were at a meal with Jackie, he would do his bit:
Gentiles never finish drinking, Jews never finish eating. What do you think Jews talk about for breakfast? Where to eat lunch. At lunch: "Where should we have dinner?"