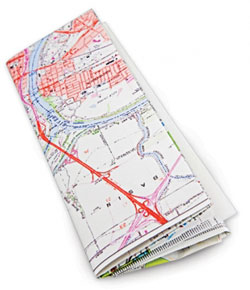 Having vowed (in writing, which makes it serious) to have a more open, less fraught relationship with my mother, I am making time at least once a week to take her to lunch and have a good talk. By that I mean that I drive, and she pays for lunch. If my mother lets me pay for lunch, and we are not sharing a meal to celebrate my new job, bonus, lottery winnings or inheritance, it's time to begin steering her gently towards a neuropsych evaluation.
So yesterday we ended up at a lovely little sushi place where I could eat sushi, and she could have something else. She had already asked me to take her to Talbot's, for me the retail equivalent of the Bataan Death March, and I had agreed; the whole point of our time together was that I would not look at my watch, think about what else I could be doing, or patronize her with my opinions of her taste in preppy shifts and cardigans. She is my mother, and it is not only unkind but backwards to assume that age and illness have rendered her a child requiring my guidance. As I dabbed a little wasabi on my spicy tuna, she made a second request: since my brother and his wife were going to New Orleans soon, could we stop by the book store so that she could buy them a map?
Before I could stop myself, before I could re-direct my automatic inner know-it-all, I said "no one uses maps, mom. I mean, I'll take you if you want to go, but they both have smart phones, and he has GPS on his phone, and I just can't see them hauling out a map." She put down her chopsticks, and narrowed her eyes.