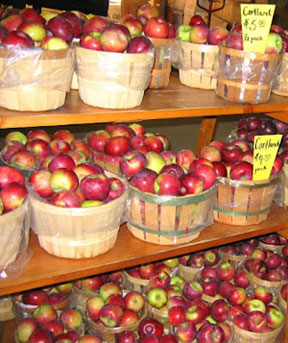 I miss apple-picking in New England. Overall the produce found in Southern California is superior to anywhere we have lived, but just like football, when it comes to apples, you simply can't beat New England.
New England has scores of picturesque orchards with rolling hills and countless trees. There are few pleasures in life as satisfying as biting into a just picked Macoun apple while standing in the warm sun on a chilly fall New England day.
The first autumn that Jeff and I lived in North Carolina, we planned our annual apple-picking day. When we arrived ready to pick, we were aghast that our treasured McIntosh, Macouns, and Cortlands were nowhere to be found. Instead we had to make due with Red Romes, Galas, and Arkansas Blacks (a hard, tart apple which became my new favorite).
Just as we got used to our apples in the Southeast, we then moved to California and had to learn an entirely new set of apples. Though crunchy, sweet Fujis are probably the most popular apple here, my local favorite is the Pink Lady.
Unlike her name, she's quite sassy, just right for an eating apple. Then there's the Winesap, which according to Riley's Farm of Oak Glen, CA, is the "Celebrity Rock Star of Apples." No wonder. It's deep crimson red, super firm and crispy, and assertively tart. Definitely not an apple for the timid.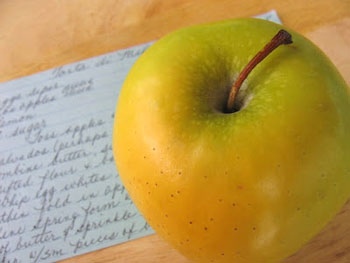 When my mom's lovely friend Anne gave me an authentic Tuscan recipe for Torta di Mele (apple cake), she said it called for Golden Delicious apples. I was stunned. Of all of the apples I have eaten in my life (and I have eaten a few pecks), I have never eaten a Golden Delicious apple. This is probably because I always associated them with Red Delicious apples -- the tasteless, waxy school cafeteria apple -- the thought of which elicits painful middle school memories.
Since downtown San Diego isn't home to any apple orchards, I went to the supermarket and purchased eight Golden Delicious apples. Expecting them to be bland and mushy, I was pleasantly surprised when my first bite (which snapped with crispness) revealed a mild, juicy sweetness.
Golden Delicious apples don't seem pale to me anymore; they seem delicate. Their soft golden skin is dotted with tiny brown specks and a shy pink blush. They are ideal for eating and maintain their shape well when baked. It's official. I'm a Golden Delicious convert; after trying this Tuscan apple cake, you will be too.
Since the egg whites are whipped and folded into the batter, it makes a lighter cake, yet it's so chock full of juicy, sweet apples that when you slice it, it looks almost custardy on the inside. It's a lovely cake to have with an afternoon tea or even a glass of wine. It's slightly sweet, exceptionally moist, and whole-heartedly satisfying.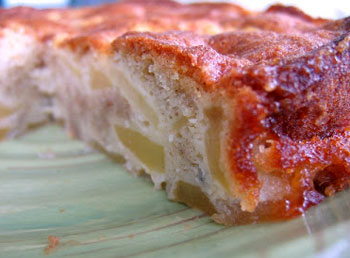 Torta di Mele (Apple Cake)
4 eggs, separated
2 lbs Golden Delicious apples, peeled and sliced (about 6 apples)
juice of 1 small lemon
1/4 cup Calvados**
1 cup sugar
12 Tbsp butter, melted
1 cup all-purpose flour, sifted
2 Tbsp baking powder (that's correct, I swear!)
1/4 tsp ground nutmeg
1/4 tsp ground ginger
1/2 tsp ground cinnamon
To coat the pan:
1 Tbsp butter
1 Tbsp sugar
Preheat the oven to 400 degrees F.
Place sliced apples in a medium bowl; add lemon juice and Calvados and toss well.
In a medium glass or metal bowl, beat egg whites on high until stiff peaks form, about 5-6 minutes.
In another medium bowl, combine butter, sugar, and egg yolks. Mix with a hand mixer until well combined. Add sifted flour, baking powder, and spices, and mix until well combined.
Fold the beaten egg whites into the batter, then fold in the apple slices.
Coat a 9-10 -inch spring form pan with cooking spray. Add 1 Tbsp of butter in small pieces to the bottom of the pan and sprinkle with 1 Tbsp sugar. Pour the batter on top, and smooth it out with a spatula.
Bake for 10 minutes at 400 degrees F. Then bake for 50-60 minutes at 325 degrees F or until a knife inserted comes out clean and the top is golden brown and puffed up.
**Calvados is an apple brandy available at liquor stores and some supermarkets.
Susan Russo is a free lance food writer in San Diego, California. She publishes stories, recipes, and photos on her cooking blog, <Food Blogga and is a regular contributor to NPR's <Kitchen Window. She is also the author of Recipes Every Man Should Know
and The Encyclopedia of Sandwiches
.