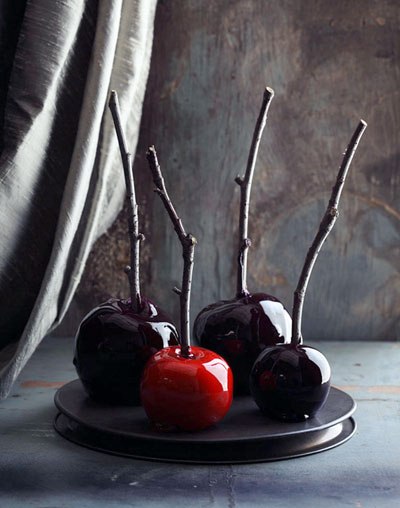 Full confession: When I was about 4 or 5 years old I was so utterly terrified of Halloween that I once ran from the dinner table to the bedroom where I locked myself inside it for 20 minutes while Trick or Treaters came to the front door of the house. I'm not sure why I did that exactly as I wasn't normally a timid or shy child; I think my dramatic exit had more to do with the fact that I enjoyed that sense of fright, darkness and mystery that rolls around every October. I like to be scared when I know nothing bad will actually happen.
This explains my interest in fright nights, scary movies, haunted houses, macabre scenarios, you name it. I think there's a part of all of us that likes that thrill…why else would we visit haunted houses, watch slasher films, and listen to Paris Hilton songs and videos?
Not that I've done the latter. Even that's too scary for me.
When I mentioned to Adam that I wanted to do my first Halloween blog post about a cocktail I tried he quickly informed me that it would neither be a) exciting b) deep enough or c) have enough pizazz. "What's so exciting about a cocktail, all by itself?" he asked. I could see his point as there are tons of others who focus on spirits and do a much better job. Besides, this drink wasn't anything exciting or thrilling but perfect for the grown-ups at any Halloween party. "Give me a few minutes and I'll help you out" said Adam.
Wow. Was my drink really that lackluster that it needed help? Apparently so.