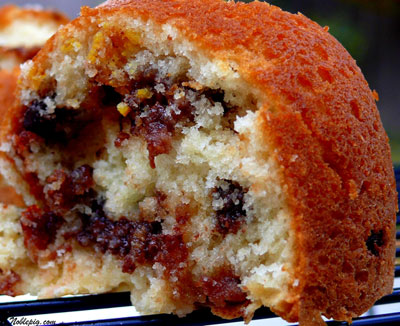 With all the leftover Halloween candy over here, it was time to do something with it, something different than just mindlessly eating piece by piece. Unfortunately my biggest motivation for getting rid of the Halloween candy is because I want to buy the same candy but in red and green Christmas packaging. It just never ends.
I saw this cake around the blogosphere and knew I had to try it. Let me just say, it is the best darned dessert, I am shocked. I was worried it would taste like a bunch of mushy candy but the flavors were very distinct and VERY GOOD. Of course my kids thought I was a hero for chopping up candy and putting it in dessert, go figure.
The best part was discovering this terrific recipe for vanilla bundt cake, it's delicious. I mean really, delicious, light, tender and moist. I can see using this cake as a vessel for many goodies from now on, I loved it.
So get your Halloween candy out, even the ones not liked very much will taste good in this cake. I promise.
I think it would be hilarious to start a new tradition at Thanksgiving of having one of the desserts be a Leftover Halloween Candy Cake. I'm pretty sure it would be the first one to be eaten and completely disappear.
Leftover Halloween Candy Vanilla Bundt Cake
Adapted from Stacey Snacks via Natalie's Killer Cuisine
2 cups all purpose flour plus more for tossing in candy
2 teaspoons baking powder
1/4 teaspoon salt
1/2 cup butter, room temperature
1 cup granulated sugar
1 egg, room temperature
2 egg whites, room temperature
3/4 cup whole milk
2 teaspoons vanilla extract
1-3/4 cup Halloween candy, chopped
Powdered sugar, optional
Here's the candy I used: Whoppers, chocolate-peanut butter eyeballs, M&M's, Butterfinger, Snowcaps, Milk Duds, Nestle Crunch Bars, Milky Way, Snickers and Reese's Peanut Butter Cups.
I chopped up all the candy with the exception of the M&M's and Snowcaps, I left those whole. I used 1-3/4 cups chopped candy. I also tossed my candy in all-purpose flour in the hopes it would help it not all sink to the bottom of the pan. I think it worked and also helped separate pieces that were stuck together.
Combine flour, baking powder and salt; set aside.
Cream butter and sugar until fluffy; about 3 minutes. Add the egg and egg whites and mix until fully combined. Add the milk and vanilla extract, continue to mix until fully combined.
Add dry ingredients and mix until incorporated but do not overmix. Fold in chopped candy.
Pour batter into a greased and floured bundt pan and bake in a 350 degree oven for 40-50 minutes or until a toothpick comes out clean.
Let the cake cool completely on a wire rack before removing from the pan.
Dust with powdered sugar if you choose.