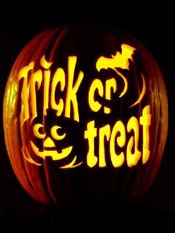 When I think of Halloween, I think hot dogs. People tend to find this association odd, some are even angered by it, but to me it feels perfectly natural. When I was younger, my mother used to grill hot dogs in our driveway for the trick or treaters and dole out beer in red plastic cups to the adults, providing a bit of a respite for parents whose kids were running around the neighborhood injected with copious amounts of sugar. I was never much of a walker and I never got off on travelling in packs (why I live in New York I don't know), but even more importantly, I loved and still adore a good hot dog. Essentially, this ritual made my Halloween quite perfect.

The ritual ended, sadly, when I moved to New York to go to college. There are very few driveways in Manhattan, and there is a bar or a Gray's Papaya on every street corner, so if people need a beer or a frank, they are basically set year round. Nobody shared my passion for hot dogs at Halloween, unless they were terribly after drunk taking too many orange jello shots at some themed downtown party, in which case that little beef wonder became something of a valuable commodity, a bonafide savior in fact. After exhaustingly pushing the merits of Halloween hot dog to countless friends, I decided the 4th of July was to blame for my defeat. Try as I might, I couldn't get anyone to disassociate the images of the American flag and the German wiener.

Last year I completely missed Halloween altogether. It was a travesty. I was living in Florence and the pagan ritual is still just catching on over there, so you're lucky to see a couple of sheet covered children on the streets past 8 o'clock, while the only other option is to go to to the American Bar and play beer pong with scantily clad college girls dressed as nurses and flight attendants. I am not into half-assed holiday celebration, and so I chose not to acknowledge the 31st.

This year is a completely different story. To me, Halloween is back in a very big way, and I will greet its arrival with what else?, hot dogs. After deconstructing all the elements of the sausage, from its texture to its shape to its color, I have come up with three Halloween inspired recipes to silence my critics and promote the union of the dish and the beloved day:

Freaky Fingers/Terrible Toes
Carve out part of a hot dog or pre-cooked sausage to look like a digit. Drop ketchup or bbq sauce into carved area to resemble a bloody toenail. Cut 1/2 inch wide strips of flour tortillas and wrap around the sausages to resemble bandages.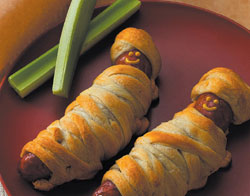 Crescent Mummy Dogs
Heat oven to 375 degrees. Using crescent rolls, unroll dough; separate at perforations, creating four rectangles. With knife, cut each rectangle lengthwise into 10 pieces, making 40 pieces of dough. Slice cheese slices into quarters. Wrap 4 pieces of dough around each hot dog and 1/4 slice of cheese to look like 'bandages'. About 1/2 inch from one end of each hot dog, separate 'bandages' so hot dog shows through for 'face.' On ungreased large cookie sheet, place wrapped hot dogs; spray dough with cooking spray. Bake 13 to 17 minutes or until dough is light golden brown and hot dogs are hot. With mustard, draw features on 'face.' (from <pilsbury.com)

The Adult Halloween Hot Dog
This twist on the hot dog is largely based on color schemes and appeals to a gourmet sensibility. Simply grill your standard hot dog to one's taste. Instead of the typical condiment toppings, try the festive blend of mango chutney, chopped red onion relish, fresh cilantro, and dijon mustard. This gives the hot dog a flavorful upgrade and a Halloween friendly motif.
Hope Stranger is the creative manager for www.celebrifantasy.com. She lives in New York City.