Evan Kleiman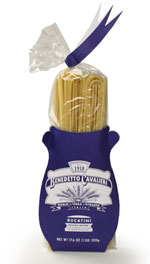 I come home from work, I'm exhausted from running around shopping and cooking, but wait! It's not over! I have to shop and cook for dear Mom. But there are those days that the thought of stepping foot in another food store / ethnic grocery / supermarket / even, yes, even a farmers market is more than I can bear. And in a really stupid move I didn't bring anything home from my restaurant Angeli in a take out box. But wait! Now I remember, I have my secret stash of it's simple stupid ingredients waiting for me in the pantry.
First I make myself (if it's over 75 deg) a Gin and Tonic or (if it's over 90 deg) a Michelada. Aside for drink recipe – Take out a big glass. Fill it with ice.  Add a healthy squeeze of fresh lime or lemon, some squirts of Tapatio or Tabasco, Worchestershire or Soy Sauce and some inexpensive light beer. Gulp and wait till your temperature drops and you feel like someone cracked an egg on your head.
Ahhh, now I feel better. It's time to make Spaghetti Aglio e Olio garbage style. I always have (or try to) a couple of pounds of Benedetto Caveliere's Spagattoni around. You can only buy it at Williams-Sonoma and it's shockingly expensive, but worth it just for moments like this.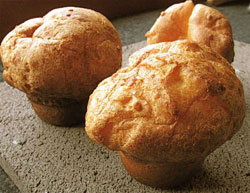 Thinking about Inauguration Day food festivities all of a sudden I realized that this can't be a beer and popcorn afternoon grazing session, or late night ice cream buffet.  No, Inauguration Day is a morning celebration.  We need to begin Tuesday morning with a bang, with a dish worthy of taking a day off to immerse ourselves in simple happiness.  The popover popped into my mind (yes, I did actually think that).   When was the last time you had a popover? 
I don't know any friends who make them regularly.  I admit to occasionally running into Neiman Marcus just to have a bite of eggy, chewy buttery goodness with a bit of butter beaten with jam.  It's that bit of jam that puts the popover into high gear.  Now's the time to take that jar of special friend made or artisanal farmers market jam or preserves and crack it open.  Lay out an assortment of jams, jellies and preserves, maybe some lemon wedges, powdered sugar and if you want to be decadent some fresh ricotta whipped with a bit of sugar till super smooth in the food processor.  Dust some cinnamon on top.  Yum, no….YUM.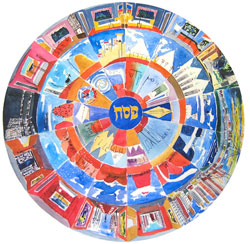 My boyfriend was a Persian Muslim. We spent a decade together starting in the mid-eighties. Neither of us came from a religiously observant household so our typical couple problems had less to do with religion and more to do with conflicts you would expect when an open-minded, American, risk-taking former hippie (me) hung with a hard-headed (yet remarkably open-minded) Persian muslim educated in Italy (him). The sharing of food was a large part of our learning about each other.

I helped him negotiate his first experience of the American menu with its infinite choices. You know the kind – Soup or Salad? What kind of dressing? Which of four entrée choices? Which dessert? The American way of eating was complicated to him. Sometimes the consternation I saw on his face confronting what should be such a simple task just slayed me.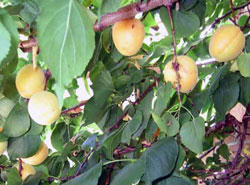 A few years ago I noticed that a tree was growing in the tiny side area between my house and my neighbor's. By the time I took notice of it the tree was 4 feet tall. Apparently I had been ignoring that side of the house. I don't know a lot about trees but it looked like it might be some kind of fruit tree. So I waited and asked my gardener. Sure enough, it turned out to be an apricot tree. Since the window above my kitchen sink is right above where the tree has taken root I figured that I must have spit an apricot seed out of the louvers.
Yeah, it was a barbarian move, what can I say? But it was a Blenheim pit, so I decided to let the tree stay even though I was told that since it wasn't a "grafted" tree and without a strong rootstock it probably woudn't bear fruit. And for 5 years it didn't, except for a few lonely guys who would appear each year on one branch. They were the few, the brave, and the delicious. Meanwhile, one year the tree trunk split nearly down to the ground. We shored it up and figured that there would be attrition, but no, the tree thrived.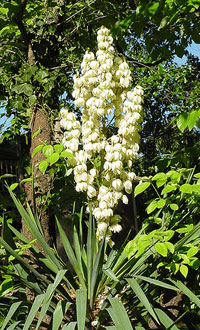 I was still in bed early one morning when I heard "scus me, scus me". When I was convinced she wasn't going to go away I staggered out on my balcony and looked down. A young Latina woman was looking up at me. Yes? I asked. In broken English she asked if she could take some of my yucca flowers. At this point I have to say I was shocked. Not shocked that she wanted the flowers, but really surprised that she asked and that this conversation was taking place in the light of day.

For years roving crews of yucca flower robbers have been plundering my 30' stands of mature yuccas in the middle of the night. I'm alerted to them when all the dogs on the street start going nuts. Typically, one guy drives the truck while another jumps out wielding a long stick with a sharp blade at the end. A long string operates the hooked blade, which chops off the 12 to 15 inch flowers. Once, I was able to look into the bed of the truck and it was filled with piles of the unique spears of white waxy flowers.