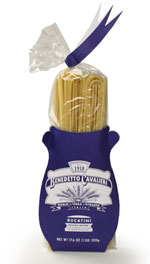 I come home from work, I'm exhausted from running around shopping and cooking, but wait! It's not over! I have to shop and cook for dear Mom. But there are those days that the thought of stepping foot in another food store / ethnic grocery / supermarket / even, yes, even a farmers market is more than I can bear. And in a really stupid move I didn't bring anything home from my restaurant Angeli in a take out box. But wait! Now I remember, I have my secret stash of it's simple stupid ingredients waiting for me in the pantry.
First I make myself (if it's over 75 deg) a Gin and Tonic or (if it's over 90 deg) a Michelada. Aside for drink recipe – Take out a big glass. Fill it with ice.  Add a healthy squeeze of fresh lime or lemon, some squirts of Tapatio or Tabasco, Worchestershire or Soy Sauce and some inexpensive light beer. Gulp and wait till your temperature drops and you feel like someone cracked an egg on your head.
Ahhh, now I feel better. It's time to make Spaghetti Aglio e Olio garbage style. I always have (or try to) a couple of pounds of Benedetto Caveliere's Spagattoni around. You can only buy it at Williams-Sonoma and it's shockingly expensive, but worth it just for moments like this.
Start the pot of water to boil. Take out skillet and pour, not drizzle, pour the best olive oil in your cupboard into the pan. Add lots of sliced garlic….for Mom and me I'll throw in about 4 to 6 cloves sliced thick. Then I add a dried whole hot pepper to the pan, or chile pepper flakes or thin slices of fresh jalapeno….whatever I have.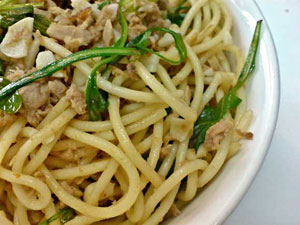 While this is very slowly starting to sizzle I look in the fridge and see if there is any protein left over. Cooked shrimp, chicken, tuna, salmon, whatever. If not, then look in the pantry. Cans of sardines? Jars of tuna in olive oil? Canned salmon? Wait until the garlic is just starting to pick up some golden color and add protein, but not too much. Add a healthy squeeze of lemon or lime and taste for salt. Wanna add some washed spinach that's wilting in the vegetable drawer? Go ahead. Toss it all together and put it in a bowl big enough to add the pasta.
Meanwhile add the expensive, delicious, super meaty textured Cavaliere pasta to the water. Cook until perfectly al dente. Before draining take 1/4 cup of water and add it to the oil-garlic mix. (if the only thing in the oil garlic mix is oil and garlic that's ok too.)
Drain pasta, add to bowl and mix very well. Add good Parmesan even though you're not supposed to.
Make another drink. Be happy.
Evan Kleiman is chef owner of Angeli Caffe, co-author of the classic cookbooks Cucina Fresca, Pasta Fresca and Cucina Rustica and host of Good Food, a radio show which airs on KCRW 89.9fm in Southern California.