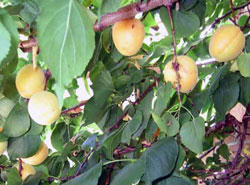 A few years ago I noticed that a tree was growing in the tiny side area between my house and my neighbor's. By the time I took notice of it the tree was 4 feet tall. Apparently I had been ignoring that side of the house. I don't know a lot about trees but it looked like it might be some kind of fruit tree. So I waited and asked my gardener. Sure enough, it turned out to be an apricot tree. Since the window above my kitchen sink is right above where the tree has taken root I figured that I must have spit an apricot seed out of the louvers.
Yeah, it was a barbarian move, what can I say? But it was a Blenheim pit, so I decided to let the tree stay even though I was told that since it wasn't a "grafted" tree and without a strong rootstock it probably woudn't bear fruit. And for 5 years it didn't, except for a few lonely guys who would appear each year on one branch. They were the few, the brave, and the delicious. Meanwhile, one year the tree trunk split nearly down to the ground. We shored it up and figured that there would be attrition, but no, the tree thrived.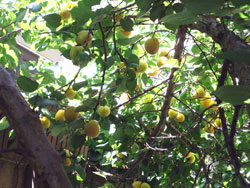 Now it is a two trunked beauty that stands nearly 20 feet tall and 20 feet wide. I let it stay because apricot leaves are particularly beautiful with their nearly triangular shape and because of the shade and privacy the tree provides for both floors of my duplex.
Meanwhile, two years ago I moved on and planted a little back yard orchard. I bought 12 bare root stone fruit trees and planted them on 3' centers and waited. Two of them were apricots.
I figured I should have a tree that bore fruit even it it was only going to be allowed to grow 5'. Well nature was happy and the big and the little cross pollinated. The big tree has about 300+ apricots decorating its limbs this year. They are especially delicious considering the wait.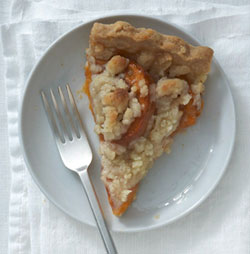 Angeli chef Kathy Ternay made a gorgeous homemade almond paste apricot gallette with the first basket of the red blushed beauties. Here is a similar recipe from Gale Gand.

This weekend I'm making Ruth Reichl's Apricot Pie adapted from her book Comfort Me with Apples. Of course, Ruth Reichl is the Editor-in-Chief of Gourmet Magazine. Here's a link to the recipe.
Evan Kleiman is chef owner of Angeli Caffe, co-author of the classic cookbooks Cucina Fresca, Pasta Fresca and Cucina Rustica and host of Good Food, a radio show which airs on KCRW 89.9fm in Southern California.