A Magical Night at Dry Creek Kitchen
by Maylynn Morales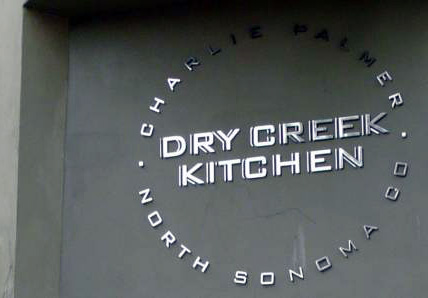 It was my 33rd birthday and I decided to treat myself to a nice trip to Sonoma Valley. Some call it the "Jesus year", but I like to call it another excuse to play in wine country! With all the choices for fine dining restaurants, I had quite a task to narrow it down to one. We are talking about one of the culinary meccas, people! While I knew I'd stay multiple days in Sonoma Valley, most nights were allocated to be spent with good friends, so that left me with one night all to myself. At the end of the day, I was extremely happy with my choice: Charlie Palmer's Dry Creek Kitchen.
Charlie Palmer has made a name for himself since the 1980s with his first restaurant Aureole in New York. Ever since then, he's won award after award, including two restaurants with Michelin stars (Aureole: New York, Las Vegas). Included in the restaurant bank of awards is Dry Creek Kitchen in Healdsburg, California, which he opened in 2001, located in the northern Sonoma Valley. From the coat check to the final escort to my taxi, I was incredibly pleased with my dining experience.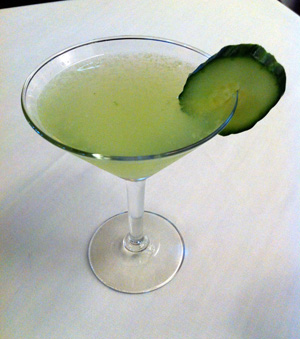 I opted for the Chef's Tasting Menu and wine pairing; when in Rome...
The decadence began with the amuse bouche: a celery root soup served in a pristine white tea cup. On top of the soup was a ribbon of arugula pea stew, which gave the soup a nice flavor accent, and color, too!
While I enjoyed my amuse bouche, I really enjoyed The Henry from the bar. The Henry is one of their specialty drinks with citrus, lime, and cucumber juice and a perfect cucumber garnish.
So begins the journey of my multiple course dinner…
My first course began with the Togarashi Crusted Ahi Tataki.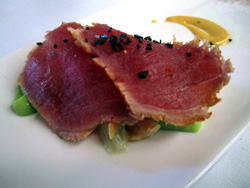 The ahi had sprinkles of what I thought was black pepper, but as I drew my eyes closer to the dish, I realized it wasn't pepper, rather black rock salt, which my server also confirmed. The ahi sat on an avocado mousseline, peanuts, and a lime slice.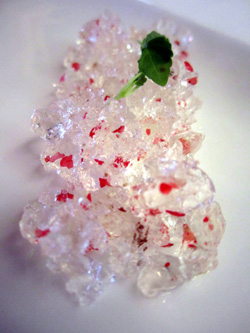 As if this wasn't enough, opposite the ahi was pink peppercorn "broken glass." In order to make this, the skin of pink peppercorns was added to clear gelatin, and this alone tasted like roses with a small kick in the back palate.
When combined with the ahi, it was magical as all the flavors blended in my mouth. Now add the J Brut Rose pairing, and we've got what I described as "I need a moment!" Not the last one I might add!>
The second course was a nice Spring Garlic Soup. First the plate came with the rock shrimp, the parsley and thyme flan, and the black garlic emulsion.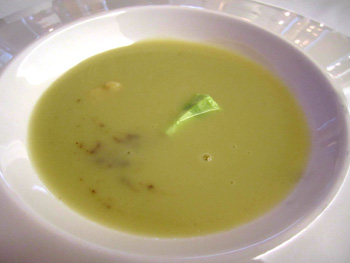 The actual broth was served over these items until they almost disappeared. The soup was paired with Leo Steen Saini Farms 2010 Chenin Blanc which created an elongated buttery finish that neither the food nor wine could create alone. This is exactly what a perfect pairing is all about! I can't help but quote Linda Richman (SNL)... "Like buttah!"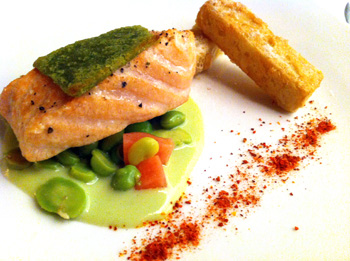 The fish course was the Fava Bean Crusted Salmon. I have to say, probably the best salmon I have ever tasted. It was perfectly cooked and remained incredibly moist.
I could have eaten the salmon alone, but I was spoiled with the wonderful textures of the chickpeas and fava bean crust. When the dish was paired with the wine, the flavors intensified beautifully.
The next course prompted a few choice words in my head to describe this food of the Gods.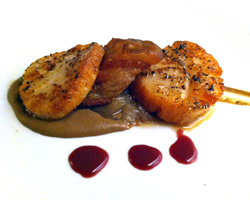 The Seared Day Boat Scallops were accompanied by a crispy smoked pork belly, porcini puree, and caramelized onions. This dish needs no description as to the flavor, but I will say that when paired with the Twomey 2009 Pinot noir, I may have shed a tear… delectable doesn't begin to describe it!
Just look at it… I mean REALLY look at it!!
Can another dish seriously top the fourth course? Apparently it can! The fifth course was an American Wagyu Flat Iron Steak, paired with the Three Sticks 2007 Cabernet Sauvignon. The steak has essence of garlic flavors and cooked perfectly.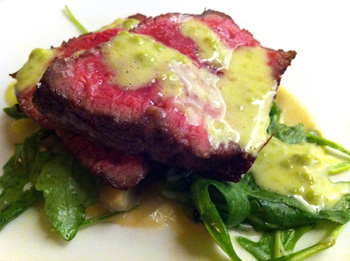 The arugula balances the parsnip mousseline and adds a nice depth to the dish. When all ingredients on the dish are combined with the wine, a wonderfully soft flavor is produced that is balanced yet rich. It's just like going on a date for dinner and a movie, and at the end of the movie, you just sit together letting the credits roll not wanting that perfect moment to end. A perfect savory end to my birthday meal; happy ending indeed!
For dessert, I chose the Chocolate and Peanut Butter Bar. The bar came with a curry, paprika, and chocolate sorbet. While I've never been a huge fan of curry, it actually worked with this dessert.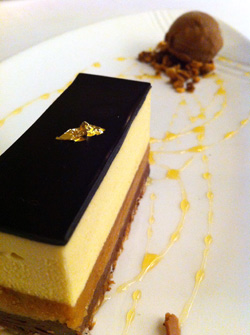 The sorbet brought a nice balance to the intensity of the bar; the bar alone may have been quite intense in sweetness without the sorbet.
I'm incredibly grateful that I was able to make the trip to Sonoma Valley and enjoy its delicious offerings. I know there are many trips in my future to this area; however, I don't know if I will be able to dine elsewhere after melting at Dry Creek Kitchen. I think I need to return and pick myself up off the floor!
The attention to detail, the service, even the music all played a part in a wonderful evening. Not to mention the large white-striped window with views of the kitchen staff creating masterpiece after masterpiece to head to the dining room in perfect white plates.
If Chef Dustin Valette continues to create this food of the Gods, I know I'll always have a great restaurant to come to when I'm visiting year after year.
Happy birthday to me!
Maylynn Morales lives and works in Los Angeles County, enjoys wine road trips, international travel, foodie outings, and is a pianist and Psychic Medium. You can follow her on Twitter: @Oenophile79, or her website: www.maylynnmorales.com and blog: http://TheM2Line.wordpress.com
Los Angeles


by

Jo Stougaard





I'm always dragging my friend Laur with me to try out new restaurants. From casual gastropubs up the street like Laurel Tavern, to "modern (molecular) cooking" at The Bazaar across town. She's...

Read more...

Mid-Atlantic


by

Scott R. Kline





The Northgate Soda Shop in Greenville, South Carolina proved an elusive target for a burger. But one can never keep a good burger seeker down.

Our trip across South Carolina continued as we...

Read more...

Northern California


by

Laraine Newman





I recently performed Celebrity Autobiography at the Wells Fargo Center For The Arts in Santa Rosa. I didn't know where Santa Rosa was nor did I realize that the Welles Fargo Center was a hip...

Read more...

Los Angeles


by

Lisa Dinsmore





Not only were we celebrating our nation's birthday this past weekend, but the birthdays of two of our closest friends as well, one born on the 4th, one on the 5th. Since nothing says summer like...

Read more...