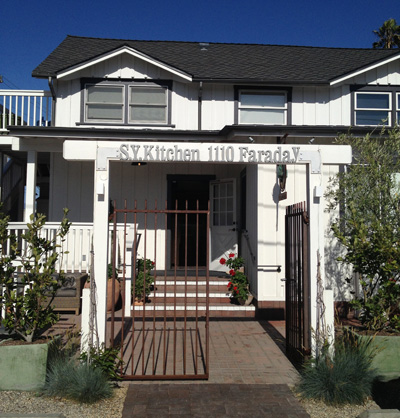 While we find ourselves in Santa Barbara wine country, also known as the Santa Ynez Valley, about every other month or so, I can honestly say I had never been to the actual town of Santa Ynez until last month. I use the word "town" quite loosely to describe this 6-block, blink-and-you'll-miss-it, gathering of small office buildings, shops and homes. I've seen it on the regional tasting map for years, but until S.Y. Kitchen moved in, there was no reason to ever go there…at least not for a tourist.
Despite its proliferation of wineries in the last decade, the restaurant scene in the Valley just has not kept up the same pace of growth. Your high-end / non-chain options are few and far between (literally), so when we heard of this place - owned and operated by the team behind Toscana in Brentwood - we figured we would give its "modern, rustic" Italian food a try. The chefs - brothers Luca and Francesco Crestanelli - are direct from Verona, bringing their expertise to fruition in this tiny corner of wine country.
Seasonal and fresh are the usual buzzwords nowadays, but that was evident from the start when the bread was brought out along with a plate of crudite - carrot, radish, celery - to start. While not usually a fan of unadorned vegetables, these were so light and crisp, I quickly turned from mindless munching to actual savoring. A simple touch that got me excited for the meal to begin in earnest.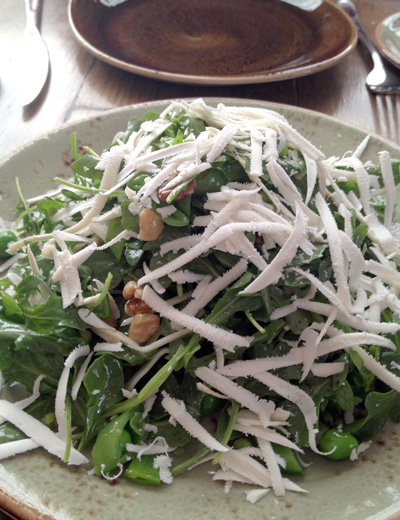 Since we were pretty much the first guests of the evening, we had our server's full attention and he gave us the rundown of the menu and wine list with knowledge and aplomb. I realize eating at 5pm seems a bit odd and grandpa-ish for many people, but I can tell you the service is always better, the food always hot and quick to appear and having the place mostly to yourself cuts down on the noise and potential annoyance of other diners. Plus then you have the whole night ahead of you for other pursuits. Who's crazy, now?
Lodged in what seems to be an old rambling house, the decor is sort of modern farmhouse - white, wood with touches of metal here and there. This is not a big space, so it does get loud and you're closer to other diners than you might like, but we didn't have an issue with that (see above.) Our first course was the Fresh Pea Salad with Arugula, Dry Ricotta, Celery Root and Walnuts. I was desperate for something fresh after our earlier, decadent wine country brunch. It was pretty and pretty tasty with several different types of peas to add crunch and the sharp bitterness of the arugula to give it depth. Fresh indeed.
Since homemade pasta is supposedly their forte, we decided to try both the nightly special - a short-rib ragu over ricotta gnocchi - and one off the regular menu - the wood-fired duck ravioli with fresh ricotta, asparagus, butter and sage. I love duck, but am scared to cook it at home, so I can't resist it when I see it on the menu. The flavors were good and worked well with each other, it was just more subtle than I anticipated. It seemed to be missing that one element (I have no idea what) that would have elevated it too a truly memorable level. Like that of the gnocchi special - the hands down winner of the night. We both wished we had had a bowl all to ourselves instead of agreeing to share. Everything about it worked from the texture to the flavors. This clearly took time and skill and we savored every melt-in-your-mouth bite. It should be on the regular menu, but then it would probably not be as special.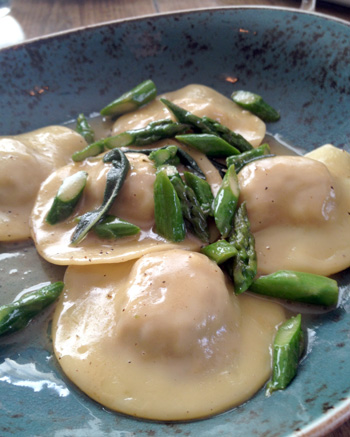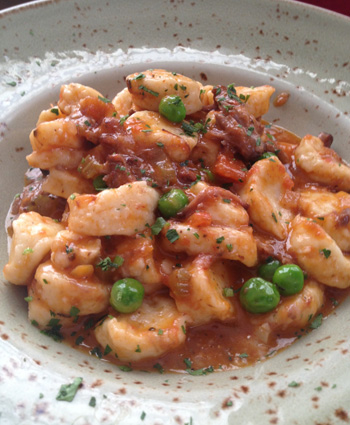 The menu also includes various meat and seafood entrees cooked on an oak-fired grill and a few wood-fired pizza selections, fairly standard fare for a place like this and not as inspiring on the page as their pastas or appetizer selections.
We are not usually dessert people, but our server was so charming that we just couldn't resist indulging in something. Unfortunately, due to technical difficulties, there was no homemade gelato that night, so we went with my old standby - panna cotta. This version was laden with caramel and something called "ladies kisses crunch" which I can only describe as a sort of chocolate and caramel crumbled toffee-like concoction sprinkled on top. It was a nice counterbalance to the smooth, vanilla creaminess underneath.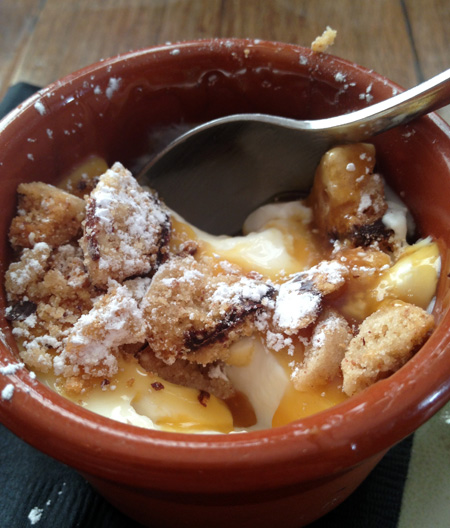 The wines by the glass list is a nice, if short, mix of both Italian and local bottlings. With only one of us drinking that night - the hubby had a 2-hour drive ahead of him - we never bothered to look at the full list. I was perfectly happy with my Pinot Grigio from Friuli which went nicely with the salad and crudite, and my second glass of pinot noir from one of my favorite, under-the-radar producers, Luminesce. Cheers to whoever chooses their wines for supporting the little guys and going off-the-beaten path a bit.
The cocktails are also a mix of classic old-school American offerings like The Mule, Sazerac and Mint Julep, along with their famous Italian counterparts, The Negroni, Aperol Spritz (a favorite) and Affogato (booze and espresso served over house made vanilla gelato for an adult milkshake. Next time.)
The cost is a bit high for the neighborhood, harkening back to more LA levels in regards to portion size for the price, but certainly on par for their Valley competition when it comes to quality. The fact that they are truly the only game in town probably has something to do with that as well. Since we aren't "fancy" people, I enjoyed the laid-back, vibrant energy of the place, but those looking for a quiet, intimate, upscale wine-country dining experience may want to head elsewhere. We will definitely be back.
S.Y. KITCHEN: 1110 Faraday St, Santa Ynez, CA 93460 / (805) 691-9794
Lisa Dinsmore is a writer, web programmer, movie and wine lover. She currently runs two review websites to share her passions: www.crazy4cinema.com and www.dailywinedispatch.com. She is also the Managing Editor of One for the Table.