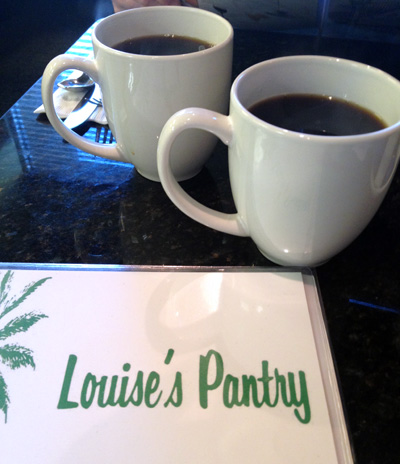 I LOVE breakfast! It's my favorite meal of the day. How anyone can skip it is a mystery to me. However, the cost of it has gotten a bit out of hand at most places in LA, so we rarely go out to eat it when we're at home. Plus this is a meal I have a firm grasp on as a cook. While I may not be Top Chef material, I can make a mean chilaquiles, egg mcMuffin or frittata to compete with most diners and dives out there. So when I find myself out of town, I do hard research on where to get the best breakfast - a place with interesting menu options without breaking the bank. It IS the most important meal of the day.
We don't go to "The Desert" (a.k.a. Palm Springs, which refers to the whole region despite the various other small cities surrounding it) very often. I mean LA is hot enough, but sometimes you just need to escape to somewhere more relaxed, where wearing a bathing suit all day is de riguer and lounging by the pool a necessity (otherwise you'd die of heat exhaustion). A quick internet search turned up Cheeky's (the menu had me at cheddar scones), but it was too far from where we were staying and we'd never be able to make it there before 9:00am, a must if you want to beat the breakfast crowd in any city. (I am officially too old to waste time waiting in line for anything, especially something so ordinary as breakfast.) So, we were thrilled when a local friend told us about Louise's Pantry. She said it was the best and locals always know.
Operating since 1946, they apparently were forced to move to their La Quinta location from Palm Springs due to the higher real estate/rental costs. I can't compare the original site to their storefront on Washington Avenue, but this new place, tucked away off the street, is open and inviting, if not overtly very original. A mix of tables and booths with B&W pics of the the various celebrities who used to live in the area in its' heyday and three flat screens playing that days sports options. Your typical breakfast joint.
We were greeted and seated right away (the early bird and all that) and the staff was friendly, informative (the restaurant makes their own jam!) and attentive without making you feel rushed. Props to them right away for bringing out the largest cups of super hot coffee I have ever seen. Not only was it delicious (hit and miss in places like this) but it managed to stay warm throughout the meal without a top-off, which believe me is unnecessary with this cup size and a bit of a breakfast miracle.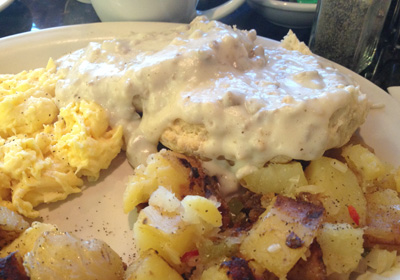 The menu is filled with the usual staples: pancakes (6 kinds), waffles, omelettes, a few scrambles, Steak & Eggs and Eggs Benedict (one of my Top 3 breakfast items), along with four "South to the Border" options (Huevos Rancheros is another in my Top 3); however, I just couldn't resist the Country Breakfast. Seriously, is there anything more deeply satisfying than homemade biscuits and gravy? If it's on the menu, there is no doubt it will be in my belly soon enough.
I never had this growing up, so I don't know where this recent devotion is coming from. The version at Louise's was just great. The firm yet flaky texture of the biscuit, the creaminess and meatiness of the gravy, it all just melted together perfectly in your mouth. I can still happily taste it. The breakfast potatoes were equally delicious with just the right crispiness on the outside and softness in the inside.
I know this meal is not good for me (can you say carb overload?) and I just don't care. Though I don't eat this that often (my waistline thanks me), Louise's was one of the better versions I've had this year. I wish they had the biscuits and gravy available as a side, because we really would have been very happy splitting that and a scramble, as the portion sizes here are quite ample.
It was hard to power down the English Muffin, but I couldn't leave without trying the homemade jam - that day's flavor was Mixed Berry - which was worth the bite. I wish I had had more room in my belly to really enjoy it. The move does not seem to have slowed them down at all, as the place was completely full by 8:30am on a Saturday. Clearly their customers know a good thing and are willing to drive to continue to get it. If you hate waiting, you better arrive early. Thankfully I don't live anywhere near this place or I'd be there once a week. It is definitely on the agenda for our next trek out to The Desert.

Open Daily 7am - 2pm
Louise's Pantry: 47-150 Washington Street, La Quinta, CA 92253
Phone: 760.771.3330