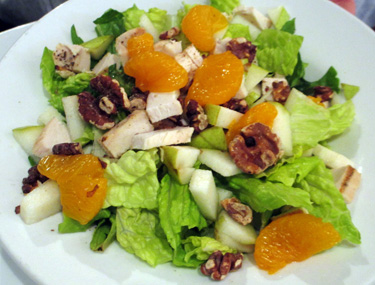 The whole Friday night crowd is out in University Heights. Good thing we reserved at Adams Avenue Grill. This is really something: they start at 8 am and serve lunch until 2 and open at 5 for dinner. They do it seven days a week and, if that isn't more than enough, they deliver. Three meals a day, seven days a week. Really. How'd we end up here? It's Michele's turn to show me and The Thin Man places we won't find on our own in San Diego.
Butcher paper and crayons are fun while we're waiting. Too bad our game of Hangman is riddled with artistically challenged and bad drawing. A painter with much better ability has a show here of fine water colors. We have flowers plus actual salt and pepper shakers on the table. (You can hardly find salt and pepper anywhere anymore. We'll uncover more about this another day.)
We're going simple. The Thin Man opts for Anjou pear, Mandarin orange and arugula salad with grilled chicken and Boston lettuce, spinach, walnuts and blue cheese. Pears are perfectly ripe and oranges are juicy. We're partial to salads with heft from cheese and nuts and if you throw in some croutons, that's great. Californians take greens for granted although we were in a Whole Foods, somewhere between Costa Mesa and La Jolla, and the greens were not what you expect. Anyway, in Boston we take lobster rolls for granted. Not beans, not ever.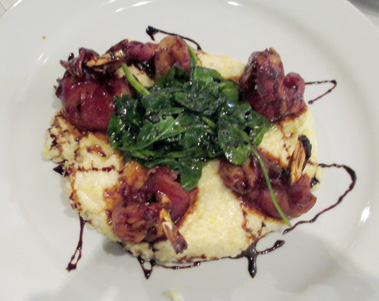 Michele's been here so we know she'll do as she always does and order the best thing on the menu. Tonight it's "low country bacon-wrapped barbecued shrimp with cheese grits and sauteed spinach." Shrimp is an Adams signature: their Twitter and Facebook photos are all about shrimp. (They don't follow a single person on Twitter; I know it shouldn't matter but it does.)
I'm sure you don't do this. When I'm planning dinner out, I look at the menu online and decide what to have the day before. I do it because it's my job but only partly. Mostly, I'm not quick enough picking what to have in a place I haven't been although when I go to a place I've been to a lot, this happens too. Mostly, I don't like to ask the waiter questions.
Anyway, here I am at the Grill, a bit the worse for wear, but I want salad too. Mine's called the chop chop: chicken, avocado, bacon, tomato and blue cheese with greens and spinach ready for the let's eat mix-up. Tomatoes are summer sweet along with perfect avocado as a reminder that I am in avocado, beach, orange, lemon, palm tree, 70-degree vacation country.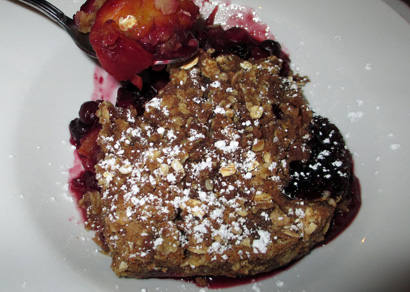 Dessert: peach and berry cobbler. It's blueberries, strawberries and blackberries with hot, hot peaches and a crumble of brown sugar, oatmeal and ginger. Even if we had it with ice cream, which we did not, you would never call this dessert bad for you. The Thin Man, who always lives up to his name, does not take dessert as a rule but here he does and he's the better for it. Southern Cal people can count on berries that have never packed a suitcase or gone through security. As fruit amalgams go, this one is tops. I was thinking I've never had cobbler that was served with chocolate and yet it seems like it would be so obvious.
I figured owner/chef Tim Klepeis might have Southern roots but no, he's from New York too. His focus is creative American with a lot of passion. I love chefs who will live-link to Yelp. Klepeis is one, a live-linker, and since I've only seen it in San Diego, it must be a California thing. Anyway, if I lived in University Heights, the Adams Avenue Grill would be my go-to. I could drop in and always find something to eat even when I don't know what I want. Everyone should have one, a place where everybody knows your drink. I used to have one, a place to fall in for a meal. The bartender had the cap off my Amstel before I was in the chair. I miss that, Jae.
Adams Avenue Grill
2201 Adams Ave (University Heights)
San Diego, CA 92116
619. 298. 8440

© Photos by Michele Gross. Kitty Kaufman is a Boston writer. See more of their food adventures @ Corporate Edge and Kitty Kaufman on Twitter