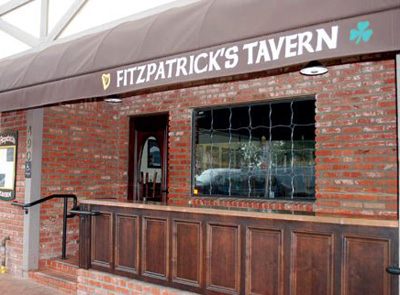 Solvang is a tourist town through and through. This quaint, Danish-themed city is located smack dab in the middle of Santa Barbara's wine country. If you aren't in town for the pastries or chocolates, you're probably visiting because of your love of wine. It sort of looks like a Disneyland version of what people imagine Denmark to be like, but we are assured by Danish friends is not really based much on reality.
Though it has a slew of winery tasting rooms the food options, post breakfast, are pretty slim. Like most wine regions it has a few high-end restaurants that require reservations (like Root 246), but after a long day on our feet we just wanted something casual and uncomplicated. Fitzpatrick's Tavern fit the bill perfectly. Open for around 6 months, it's everything an Irish bar should be and a nice change from the other mid-priced options around town (pizza, pasta, sandwiches). Chosen mostly for comfort and convenience, we sidled up to the bar, so we'd have a good view of the game.
The menu is exactly what you expect from a pub, no surprise there. Since I'm usually all about the wine, I don't often find myself in pubs, but sometimes exceptions need to be made. I was tempted by the idea of both the Shepherd's Pie or Chicken Pot Pie, but in the end I decided to keep it simple and ordered the Dubliner Burger - aged sharp cheddar, Niman Ranch bacon, grilled onions, arugula, roasted garlic aioli on a brioche bun. At that moment, it was all I needed. Our bartender was quick and sassy, full of opinions on what was best (she was partial to the Spicy Burger), and remembered everything we ordered without every having to write it down.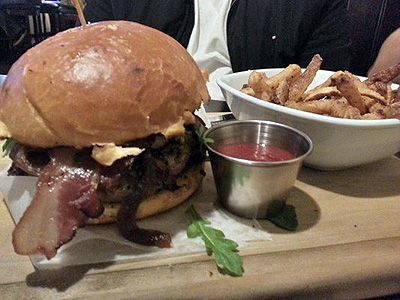 Tavern owner Patrick Hartmann is serious about the food he serves. It may be simple, humble fare, but the ingredients are sourced locally, grown organically and the best quality he can find in every category from the dry-aged beef to the best dairy. The bun for the burger is hand-made by a local baker to achieve the ideal ratio between meat and bread. I can attest to the fact that they nailed it. Soft, buttery and doughy without falling apart and leaving you with nothing but a mess on your hands - literally. All the other elements were perfectly proportioned as well. Every bite contained each ingredient contibuting to the experience. The meat was so flavorful I barely used any ketchup. And I LOVE ketchup.
I haven't enjoyed or savored a burger this much in years. Even as it cooled, it still tasted amazing. What could be just a throwaway dish showed real thought and care and it quickly became my favorite meal of the weekend. Everyone else loved their dishes, too, especially the pot pie (which comes in a specially crafted dish to again achieve the optimal crust-to-creamy chicken goodness with each mouthful), but I know exactly what I'm getting next time I visit. And there will be a next time. My mouth is watering just thinking about it.
For those of you looking for the perfectly poured pint of Guinness, you'll find that here too.
FITZPATRICK'S TAVERN
490 1st Street
Solvang, CA 93463
(805) 688-5500