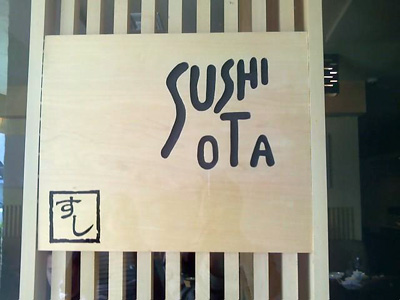 Sushi Ota modestly calls itself the "premier sushi restaurant in San Diego." They rate the number 52 spot on Yelp's Top 100 Places to Eat in the US but I didn't know this before. Their adamant fans insist they should have landed higher since the fish is gimmick-free without say, whimsical concoctions. I agree, fusion throws me too. How'd we end up destination dining? It's not easy finding just the right place and it's tough even where I live, let alone somewhere else.
How do you judge great sushi? Eat it everywhere with reason. Reason takes in authentic dining rooms that are busy, hopping even, and for me the longer the line the better. I had the best tuna that dropped from a chef's knife to my plate. We were sitting at the bar in a place whose name I no longer remember in a strip mall in Orinda where you had to show up in the morning to get a seat. Stunningly, West Coast tuna is nothing like what we get on the East Coast; ditto today's salmon and uni.
We start the day shopping for plants. After, we ask the mechanical lady to take us over to Mission Bay Drive. You have to convince her you're no longer in Boston; this takes more than a couple of whacks. Shortly, we all find Sushi Ota tucked beside a 7-Eleven in the far corner of a mini-mall that also houses Planned Parenthood. I get out first to see how it looks.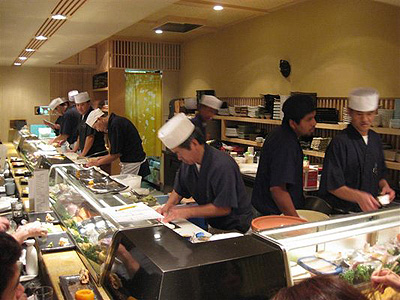 How does it look? Seven chefs behind the counter are slicing fish. It's noon, it's not a holiday, it's just Friday lunch. Our host is charming when I ask if we may sit at the bar. She wants to know if we called earlier because each seat at the bar is reserved. No, we haven't. How about if we come back later?
No, the host smiles, that will be in three weeks. I knew that because I read you should reserve if you want to sit at the bar. If you have to be let down, this is the nicest way. I mean, really, how was I to know a sushi bar would be jammed at 11:30?
As we're being seated we hear one of my favorite things, nothing, as in no music. I'm worried this meal could be a little too quiet, if you know what I mean, but soon it turns into old home week and we're not missing the bar. The Thin Man sees his pal Jeff two tables away. A man beside us visiting his mother and son chats us up; he eats here whenever he visits from Baltimore. Next to us is a woman who turns out to be my jackpot: she's an engineer who also has a degree in sushi which means she's eaten her way around San Diego. In no time we have a meeting whose only agenda is fish: where to go and what to eat now.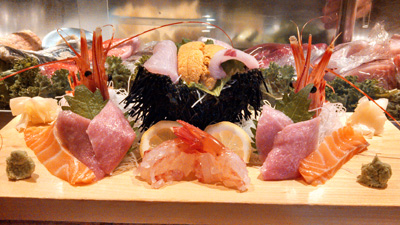 She's having chirashi: a bowl of rice with tuna, salmon, shrimp, octopus, eel, yellowtail and egg. In fact, everyone around us has chirashi. She confides that she's tried every sushi place in San Diego and "this is the best." She lists all the other must-try places which would mean my visit for a week would turn into a month. The secret here, she says, is the Seattle ten-second rule: eat sushi within ten seconds of it being cut. I should say that the ten-second rule has nothing at all to do with flying fish or anything else in or out of hand.
The Thin Man is going with a soft shell crab roll. It's artfully wrapped in pink tofu skin, something I see only on the West Coast so far, that holds crispy fish, cool avocado, crunchy cukes and roe. These rolls challenge when crab goes in all directions but you can't go wrong when it hangs together. Some of us use soy and others do not but either way, it's a keeper with crab that's still warm. He also opts for the vegetable roll. Vegetables should always be this good: avocado, what we think is carrot but turns out to be burdock root, and cucumber in a seaweed roll-up. See, it is possible for "no-raw-fish-for-me's" to eat well authentically.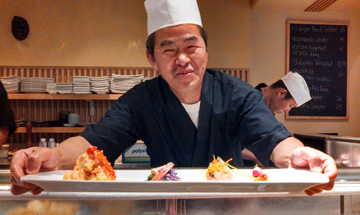 Sushi is what matters in life. It's combo A for me all beautifully laid out: octopus, shrimp, salmon, outstanding tuna, thin eel, still warm, thank you; white fish and a California roll as in "I'm having an actual California roll." My set menu has not only taken the guesswork out of what to order but I like all the choices. We know about West Coast tuna but shrimp and salmon are divine and I save them for last. My San Diego expert says the uni is caught here and trucked over from Little Italy. It's a generous lunch box and I can't finish. Really?
Ota chefs train in Japan before cutting a single piece. Then they watch and watch some more until their skills are honed. Ota San is a perfectionist and funny too. For Easter he posts a Facebook photo of sushi à la peeps, which look like marshmallow frogs or maybe they are peeps, secured to rice with a band of seaweed. His precision with sugar is immaculate but if it's all the same, I'll stick with fish.
It's a brave dude who will live-link to cringe-worthy opinionated comments to make your English teacher-turn-in-her-degree Yelp commenters. I keep checking and blithely, he has no worries. You can't outdo authentic, be it sushi, pasta, knish, kimchi, dim sum or nouvelle. After lunch, we swing over to Mission Bay beach where the sun is warm. Ota be California dreaming in San Diego today.
Sushi Ota
4529 Mission Bay Drive
San Diego, CA 92109
858. 270. 5047
- Photos by Rhiannon Buchholz and The Thin Man. Kitty Kaufman is a Boston writer. See more of their food adventures at Corporate Edge and Kitty Kaufman on Twitter.