What if your favorite restaurant was in the same state you were in but it was 9 hours away???
We really couldn't take a vacation this summer but we did run off for a week-end to Mendocino (don't laugh). It seemed like a good idea at the time. After an extensive google search of all the best restaurants in Mendocino, I discovered one that had been there forever (or at least a very long time and this was before Mark Bittman discovered it two months later....) There was something about the comments, the user reviews, the description that just made it sound like it might actually be the real deal.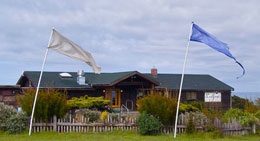 The Ledford House, tucked onto a cliff, so the views are amazing, surrounded by a weathered redwood deck on which there are always really pretty girls smoking things that don't look (or smell) at all like cigarettes, but hey it's Mendocino and no one seems to mind.
But the interior of the restaurant makes you feel as if you're in the South of France. So much so, that we almost left the first night we were there – too stodgy, we thought, too over the top. And then we glanced at the menu. In addition to home-made duck paté (they had me at the duck paté), they also had cassoulet? No one makes cassoulet any more. And cassoulet and me and Alan have a funny history.
When we went out for our first date, he'd googled me and he expected me to order bottled water (he was right), salad, dressing on the side (right again) and something silly like grilled fish or chicken (wrong). I ordered the cassoulet. And if anyone ever asks why we are together, we laugh and answer in a sentence, you could blame it on the cassoulet. (I also make cassoulet, by the way, quite well, but very rarely).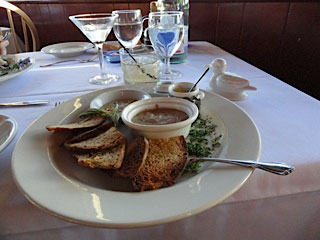 The duck paté comes in a little porcelain duck (okay, they had me again) and the cassoulet was divine. And somewhere in the middle of dinner, Alan asked me where I wanted to eat the next night...and I answered without skipping a beat. Right here.
The best thing I ate in 2011 was the duck paté at The Ledford House. And if you're lucky enough to be anywhere in shouting distance (say even four hours away) it's worth the drive. Do not skip any course. The desserts are divine!
And after the last bite of some kind of summer fruit crisp (fresh fruit, perfect crust, topped with perfect whipped creme, that was probably home-made creme fraiche), I spotted a large glass jug resting on a counter behind the bar.
"Oh my God, please tell me that you make your own Apricot Brandy."
The owner laughed, "No, that's not what it is?" Me: What is it. "Well, I just found the recipe in Sunset Magazine so I thought I'd try it – it's tequila with habenero peppers."
In all fairness to him, tequila with habenero peppers would be the California version of home-brewed apricot brandy, maybe. I had to try it. It was pretty great, too, but one caveat, have it over ice! And only take very tiny sips. Not for the faint of heart. But just for fun, I'm thinking about trying to make it for Xmas.
So, if your favorite restaurant was in the same state but it was 9 hours away – we're already planning to go back next summer!
And in the meantime, we asked a lot of our contributors to weigh in on what their favorite was in 2011 and we'd love to hear from you, too... It can be something you ate in France, a cookie from a small bakery, something you made, a perfect pastrami sandwich, but we'd love to know what it was...
The Ledford House, 3000 N. Highway One, Albion, CA 95410
Amy Ephron's latest book is "Loose Diamonds...and other things I've lost (and found) along the way."