The Perfect Sandwich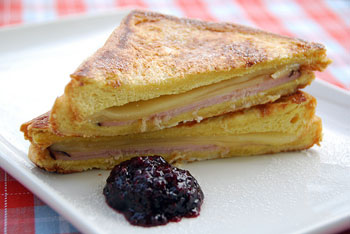 A Monte Cristo consists of ham, turkey or chicken, and Swiss cheese sandwiched between two slices of white or challah bread that is dipped in an egg batter, then grilled or fried in butter until golden brown. It is often dusted with confectioners' sugar and served with a side of red currant jelly.

The Monte Cristo is an American version of the Croque-Monsieur, the famed French grilled cheese and ham sandwich that is fried in clarified butter.
The sandwich first appeared on the menu at Gordon's, a restaurant on Wilshire Boulevard in Los Angeles, but it didn't get its big break until Disneyworld got involved. When the Blue Bayou Restaurant in the Pirates of the Caribbean put the Monte Cristo on its menu, its popularity soared.

I hadn't eaten a Monte Cristo since I was a kid, and I didn't remember particularly loving it. My, how things have changed. This sandwich has it all: it's sweet, salty, and chewy. It's addictive.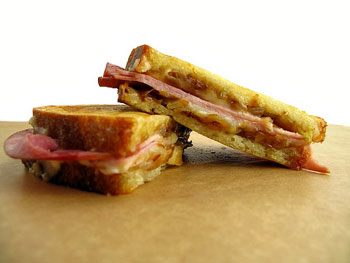 Lunches for me have been a mixed bag of sorts, I'm never sure what to eat, and I'm not always satisfied with what I get. But the sandwich shop near my workplace always seems to have the right sandwich for me. It's my standby.
'Wichcraft, pretty much a chain restaurant in New York City, in my opinion, has the best pressed sandwiches, among them the grilled Gruyère and caramelized onions. It is just mouthwateringly good with its oozy cheese and sweet caramelized onions. Whenever I need a comfort food fix, I always seem to gravitate toward this sandwich. It's simple and it always hits the spot. I've decided to come up with my own personalized version.
My version of this popular sandwich includes ham, for extra flavor. I use a panini press to make the sandwich, but you can also use a regular skillet, and just simply weight the sandwich with a foil-wrapped brick between flips. The caramelized onions can be prepared a day in advance, making this lunch come together even faster. Use either Gruyère or Emmental cheese for the best results in both flavor and texture.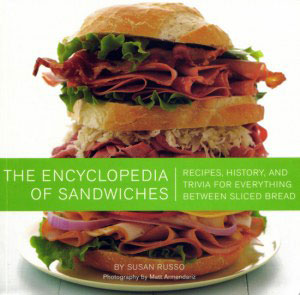 I recently gave a studio tour to 40+ photograph students from Long Beach City College. For the past few years I've been a proud member of the advisory committee for the photography department, and it tickles me to no end to meet with the students.
This year's group was particularly bright and full of insight, asking tons of valuable questions that ran the gamut from studio management and self-promotion to the logistics of photographing food. I made sure to have the books we've shot on the table for the students to see, and later someone asked me about The Encyclopedia of Sandwiches
It was at this point that I admitted, like I always do when people ask, that I actually took one or more bites of every single sandwich from this book.
Yes, you read that right. I tasted every single sandwich. Because this was actually work, I've prepared a highly scientific flow chart to show you the studio's exact process.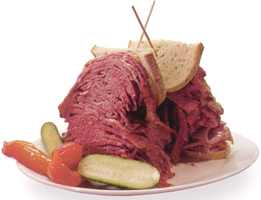 My family likes sandwiches. My present husband had his bachelor party at Langer's. The day before our wedding, while I was at a ladies' lunch thrown by my sisters, my husband, his son, my son, his daughter's boyfriend, my brother-in-law, and one of my nephews went to Langer's Deli (across the street from MacArthur Park) and ordered pastrami sandwiches, lots of them, I understand, more than one apiece. And it was further evidence to me that I was marrying the right person.
In our family, we think of sandwiches as comfort food. The slightest thing, a bad grade, a lost soccer game, a minor heartbreak can prompt any one of us to say, "How do you feel about a sandwich?" – which is code for: Let's all jump in the car and go to the fish market in Malibu, Bay Cities in Santa Monica, Bryan's Pit Barbecue in the Farmers' Market..." or any number of other places where they have a great sandwich.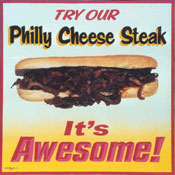 I am from Philadelphia, and when I meet someone who isn't from Philadelphia they always say "Oh! You are from Philadelphia. You must love cheese steaks," because this is the only thing people know about Philadelphia.

Cheese steaks are embedded into the national imagination as "Philly food," or "Philly phood" (mad men dreaming up ad campaigns for local Philadelphia business or sports teams love to replace "f" with "ph" whenever possible). Philadelphians bear this and other burdens patiently, but at a certain point, even the most sanguine lose their cool. How many times have I weathered cheese steak-related questions with the same bottled response, which is: the secret to a great cheese steak is the bread, and the secret to the bread is the water, and the water has to be Philadelphia water because otherwise it doesn't taste quite right.

The preeminent sandwich of my lifetime, could be found just three blocks from my parents' house. Several years ago the sub-shop inexplicably shutdown. I was devastated.

I roamed the San Fernando Valley in search of something that could take it's place. I'd find the right pickles (chopped dill), but the seasoning would be off. I'd find the right seasoning, but the bread would be off (thick sesame roll.)
I found good sandwiches, but never my sandwich. In high school I introduced a friend, to the sandwich. He shared the same yearning for Turkey Breast, Pickles, Onions, Provolone, Oil, Salt & Pepper (hold the Tomatoes.) Using "Web 2.0 skills" he asked if anyone knew where to find a spot-on replica of this sandwich.

Within an hour, he got a response. A user claimed that the sandwich existed somewhere in the depths of the West Valley.

Skepticism arose from deep inside my belly.
Whether you're an avid Grilled Cheese lover or want to whip up something totally indulgent (and worth it) with one of summer's finest foods—lobster- you'll want to make this amazing recipe courtesy of Iron Chef Marc Forgione. Forgione's unique twist on the classic grilled cheese makes the perfect mouth-watering meal.
Lobster Grilled Cheese courtesy of Marc Forgione and T-fal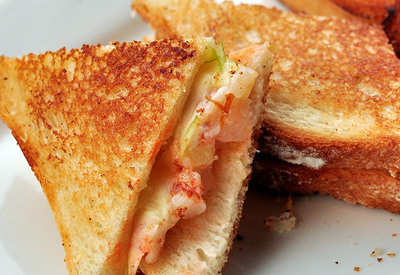 Ingredients:
For the Chili Lobster:
2 cups Lobster Stock (If you can't find Lobster Stock, get seafood stock, which should be available at Whole Foods or Fox & Obels)
4 (1 1/2 pound) lobsters, claws removed
1/4 cup Sriracha
2 tablespoons low-sodium soy sauce
Juice of 2 limes
6 ounces (12 tablespoons) unsalted butter, divided
4 tablespoons canola oil
Kosher salt
Freshly ground black pepper
2 tablespoons chopped tarragon
8 slices of fontina cheese
4 slices Pullman Loaf or other high-quality thick sliced white bread (1" thick)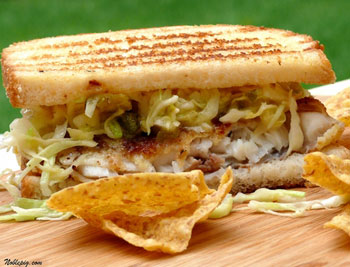 I love a good fish sandwich and it has been a while since I've had one. I came across this recipe using tilapia, a firm, forgiving and inexpensive fish. I loved the idea of piling coleslaw over the fish and using pulverized almonds as part of the crust, making it somewhat reminiscent of sole almondine.

The sandwich was crispy, sophisticated, fun and not to mention budget-friendly. It's a great addition to regular dinners around here. When we get home from working in the vineyard we are starving and this will hit the spot quite nicely without feeling like a heavy meal.

The fish remained juicy within its crust and the splash of lemon was the perfect finish. You can use any type of bread, toasting it or throwing it on the grill pan gives the sandwich a good textural contrast.

Try it out when you have some time.

We're very happy to announce the WINNERS of One for the Table's first-ever BEST GRILLED CHEESE RECIPE CONTEST. We know we're a bit late with the results, but there were so many great recipes it was hard to choose the winners. In fact, we got so excited about the entries that we added a fourth prize for Best Written.
Thanks to everyone who contributed. And a giant thank you to our amazing sponsor

Grill on!
---
FIRST PLACE: MACKENZIE SMITH
Grilled Mozzerella and Sopressata with Basil Honey & Red Pepper Flake Butter Sandwich
- 1 tablespoon of basil infus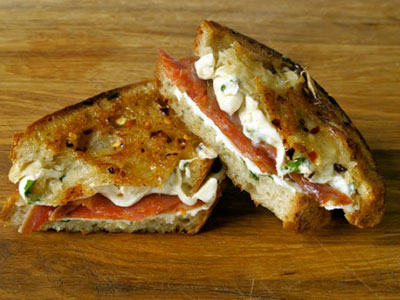 ed honey
- Fresh basil leaves and tupelo honey, OF COURSE
- about 4 slices fresh mozzarella
- 2 hearty slices of a Bâtard
- 5 slices of sopressata picante
- 1 tablespoon of red pepper flaked butter
Combine 1/4 teaspoon red pepper flakes with one tablespoon of real salted butter, MIX.
Coat one side of the bread in basil-honey, add layer using half of the mozz, add sopressata, rest of the mozz and coat one side of the remaining slice of bread with basil honey lay on top of sandwich. Coat both of the outsider sides of bread in red pepper flake butter and grill on medium-low for a few minutes until crispy, golden, and melted. Allow to sit for a minute and serve!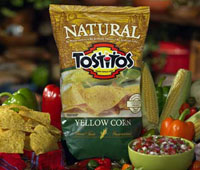 I can't help it. I really can't.

When I go into a grocery store and I put an avocado in my cart, I think "Ohmigoshwhatif someonecomesoverandwantschips too?" And so I go and buy chips. Two kinds. Because what if a friend has a craving for blue corn instead of yellow? G-d forbid I should not have blue corn tortilla chips in the house. That's thought one.

Thought two is more like "hmm, never heard of that before. Maybe it would add a nice kick to stir-fry." And so I put the odd looking, non-English labeled jar into the cart, too.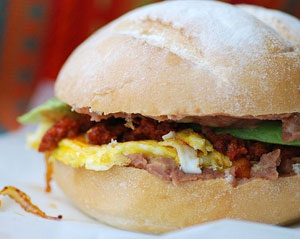 Seems the latest food trend is food trucks, more specifically gourmet food trucks. Or as one San Fransisco owner calls his, "mobile bistro." From LA to Austin to NYC, dozens of urban, hip food trucks are charming epicureans with fare ranging from duck dumplings to pavlova with red fruit gelée. Hotdogs and hamburgers have been usurped by their more politically correct cousins, organic free-range chicken and grass-fed beef.

But what about the old food trucks and carts? You know the ones -- the quintessential LA taco trucks and the hot pretzel carts run by a gruff guys named Sully or Bobby. Are they being squeezed out? Last March in East LA, Mexican food truck owners, under fire from restaurants who claim they're hurting business, began a campaign called "Save Our Taco Trucks."

Personally, I'd like to see both camps succeed. Because, let's face it, getting affordable, healthful, organic meals from a food truck is terrific. So is getting an artery clogging carne asada (marinated steak) torta when the craving strikes.