From New York Magazine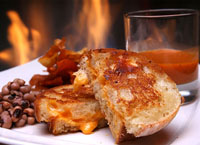 Not that anyone needs to be reminded, but April is National Grilled-Cheese Sandwich Month. In honor of this auspicious occasion, we bring you our picks for New York's best grilled cheese, from Keller-crafted high to Kraft-oozing low.
1. 'wichcraft - 397 Greenwich St., at Beach St.; 212-780-0577
Fontina with black-trumpet mushrooms and white-truffle fondue is such a grown-up grilled cheese, you should be carded at the door.
2. Eisenberg's Sandwich Shop - 174 Fifth Ave., nr. 22nd St.; 212-675-5096
This twenties coffee shop oozes so much Old New York charm that we'd happily tuck in to some Velveeta on a Ritz if that's what it was offering. The fact that the sandwiches — including the grilled cheese — are first-rate is a bonus.
3. Comfort Diner - 214 E. 45th St., nr. Second Ave.; 212-867-4555
They get ahead of themselves here, celebrating with a different grilled-cheese sandwich every day during the month of February. But you can still get a good classic any time of the year.