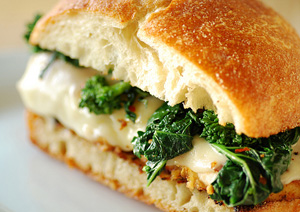 How did chicken sandwiches become so popular in the U.S.? Supply and demand. The emergence of large scale chicken processing companies such as Perdue and Tyson in the 1920's and 1930's respectively, helped propel chicken's popularity in America. With such easy availability, chicken prices decreased, consumption increased, and chicken became a steady part of the American diet.
With many families cooking whole chickens, leftovers became standard lunch fare. Sliced leftover chicken meat became a favorite filling for sandwiches (and was the original filling for the classic club sandwich).
Fast food chicken sandwiches as we know them originated in 1967, when Truett Cathy, founder of the Atlanta based restaurant chain Chick-fil-A, introduced the chicken sandwich -- a perfectly crispy-on-the-outside, juicy-on-the-inside breaded boneless breast of chicken served on a toasted buttered bun with dill pickle chips. Whether it's fact or fiction, Cathy claimed that pickles were the only condiment he had on hand, and to his delight, were a big hit with consumers. Other fast food chains quickly followed suit. Then in the late 1980's and early '90's the grilled chicken sandwich emerged as a healthier alternative to the fried original.
It seems everyone has a favorite chicken sandwich; mine is an Italian chicken cutlet sandwich with garlicky sautéed broccoli rabe (a popular Italian vegetable know for its distinctively bold and bitter flavor) and melted sharp Provolone cheese. (And, yes, it's going in my cookbook, The Field Guide to Sandwiches.) The best place to get this type of chicken sandwich is at a mom 'n pop Italian deli or pizzeria, where all the guys behind the counter are named Paulie, Joey, or Tony. If you don't have one where you live, then just make your own, because this sandwich is freakin' awesome.
Italian Chicken Cutlet Sandwich with Broccoli Rabe and Provolone
Makes 4 sandwiches

Chicken:
4 (4-6 ounces) chicken cutlets (about ½-inch thickness)
2 large eggs
2 tablespoons milk
1/8 teaspoon crushed red pepper flakes
1/8 teaspoon salt
¼ cup all-purpose flour
2/3 cup plain breadcrumbs
3 tablespoons olive oil

Broccoli Rabe:
1 bunch broccoli rabe, stems removed*
1 tablespoon olive oil
2 garlic cloves, thinly sliced
¼ teaspoon crushed red pepper flakes
½ teaspoon salt

4 torpedo rolls or ciabatta rolls
8 slices provolone cheese

1. In a wide, shallow bowl, whisk eggs, milk, crushed red pepper, and salt.

2. Place flour in a separate wide, shallow bowl. Repeat with breadcrumbs.

3. In a large skillet over medium heat, add 3 tablespoons olive oil.

4. Dip one chicken cutlet at a time in the flour, then in the egg mixture, allowing excess to drip into the bowl. Dredge in the bread crumbs, ensuring that the entire cutlet is evenly coated. Add to the skillet, and cook 3-4 minutes on each side until golden brown and crisp. Place on a paper-towel lined dish. Repeat with remaining slices.

5. Bring a large saucepan of salted water to a boil. Boil broccoli rabe for 2 minutes; drain and plunge into a bowl of ice water. "Shocking" the rabe will maintain its vivid green color.

6. In a large skillet over medium heat, add 1 tablespoon olive oil and garlic. Sauté until garlic starts to turn golden. Add broccoli rabe, crushed red pepper, and salt. Sauté 1-2 minutes more until just tender.

7. Place one split roll on a clean work surface. Place chicken cutlet on the bottom half of the roll. Top with ¼ of the broccoli rabe and 2 slices of cheese. Place under a broiler for 1-2 minutes, or until the cheese melts. Serve immediately.

*Shopping Note: Broccoli rabe, also known as rapini, rape, and broccoli raab, is a popular Italian vegetable. It looks like slender broccoli and has a sharp, slightly bitter flavor. It is available at Italian markets as well as most major supermarkets.

Variation:
Substitute veal cutlets for chicken.
Also published on Food Blogga, a blog by Susan Russo, a writer from Rhode Island now based in San Diego.