Spring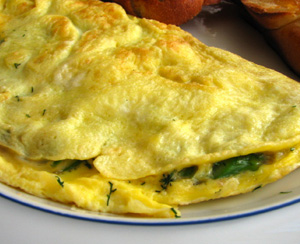 The addition of fresh herbs breathes life into dishes. Herbs are vibrant, bright and introduce flavor that is so startlingly different from dried herbs that I can never understand recipes that imply they are interchangeable.

In Italy I learned to make spaghetti with garlic, olive oil, chile flakes and parsley. It wasn't just the color contrast but the lively springiness of the parsley that made this simple dish so wonderful. Likewise sage leaves crisped up in butter or olive oil lend intensity and crunch, a handful of cilantro in a tossed green salad gives it a lemony zing and a sprinkle of chives on smoked salmon adds a delicate, almost sweet oniony flavor.

I have a little herb garden and I do mean little. A harvest of herbs from my window box is roughly equal to a generous garnish, so I have to keep raiding my mother's herb garden and buying herbs if I want to cook with them. Last week I got a chance to try Daregal fresh frozen herbs and found them to be surprisingly convenient and fresh tasting. I made a lovely omelette filled with asparagus and Jarlsberg cheese and a couple of pinches of Daregal frozen dill. This filling combination feels very Scandinavian to me though I have no idea if it really is...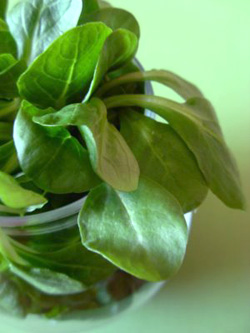 Have you seen that commercial that uses the Hall and Oats song "Baby Come Back"? The mop has been replaced by the sexy and efficient Swiffer and it's kinda stalking its erstwhile owner? I think Romaine is going to be doing the same thing. I've noticed that Mache started out as a green you could only find at the farmer's market; Kenter Canyon and the like. But now, I've seen it at Trader Joe's, Gelson's and of course, Whole Foods. The label says 'enjoy the nutty flavor'. Lettuce? Nutty? Right on!
I looked it up and saw that it's a powerhouse of nutrition and it's other and more commonly used name is 'lamb's tongue' because its shape resembles it. Isn't that adorable?
Now, lets get to the reason I'm pissing on your leg about this. My 17-year old likes it! Now I have to say, there was a very important lubricant that ushered Lena over to the land of green: Joan's on 3rd's Vinaigrette.