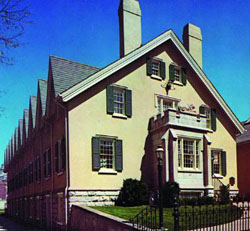 Food is the epicenter of Mormon culture, which makes it seem like people rarely show up at church events – well, any event – without the expectation of noshing. No food is virtually a mortal sin punishable by social chastisement and tantamount to cultural anarchy. And while much of the layperson Mormon culinary lexicon consists of potentially disastrous gastronomic experiments
and everything-but-the-kitchen-sink casseroles, the Lion House in Salt Lake City's Temple Square stands as the pillar of Mormon cuisine, our Le Cordon Bleu, if you will.

Formerly the residence of Brigham Young, the Lion House is part restaurant, part museum and the full-blown headquarters of the LDS (Latter-Day Saint - Mormonese for Mormon) epicurean experience. Being born and bred in the heart of West L.A. put me at somewhat of a (thankful) disadvantage for truly appreciating the subtle nuances of the cuisine of my pioneer forefathers – lime Jello with shredded cheddar cheese or shredded carrots and crushed pineapple mixed in was never quite my thing. But after my first visit to the Lion House with my grandma some 15 years ago, my heart (and stomach) were changed forever.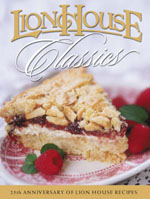 Nestled within beautifully kept gardens, this secret haven for full-fat dishes silently keeps the community together, consistently serving up the tried-and-true recipes that Mitt Romney undoubtedly grew up with, too. These recipes are standards within LDS culture, and the Lion House cookbooks are perennial gifts, especially to new brides – our own The Joy of Cooking. The fluffy dinner rolls you're able to peel apart layer by layer are to die for after being smothered with homemade honey butter. Any respectable Mormon girl (and even those, like myself, who aren't so "respectable") can whip up a classic recipe at the drop of a hat, learning the basics of LDS cooking
from the Lion House. But Mormon cooking, like Southern cooking, is constantly inventive and truly instinctual. You know it when you taste it, when it tastes just right, like you're about to have a heart attack from the conglomeration of cholesterol. C'est magnifique.

I'll be the first to admit my doubts about whether the rest of the country is ready for Utah's lime Jello and cheddar cheese, just as I'm sure the rest of the country is doubtful about whether it's ready for a Mormon president. It's definitely not ready for the Lion House to cater at the White House, but that's ok. The prospect of breaking bread, especially if they're those Lion House dinner rolls, should be reason to make that pilgrimage to Utah.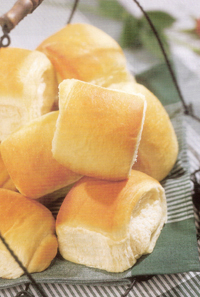 Lion House Dinner Rolls
2 cups warm water (110 to 115°F)
2/3 cup nonfat dry milk (instant or non-instant)
2 tablespoons dry yeast
¼ cup sugar
2 teaspoons salt
1/3 cup butter, shortening or margarine
1 egg
5 to 5½ cups all-purpose flour or bread flour


In large bowl of electric mixer, combine water and milk powder; stir until milk dissolves. Add yeast, then sugar, salt, butter, egg and 2 cups flour.
Mix on low speed of mixer until ingredients are wet, then for 2 minutes at medium speed. (Dough will be getting stiff and remaining flour may need to be mixed in by hand.)
Add about ½ cup flour and mix again, by hand or mixer. Dough should be soft, not overly sticky, and not stiff. (It is not necessary to use the entire amount of flour. A soft dough will produce a
lighter roll.)

Scrape dough off sides of bowl and pour about one tablespoon of vegetable oil all around sides of bowl. Turn dough over in bowl so it is covered with oil. (This helps prevent dough from drying out.) Cover with plastic and allow to rise in warm place until double in size. Sprinkle cutting board or counter with flour and place dough on floured board. Roll out and cut rolls into desired shape and size. Place on greased (or parchment-lined) baking pans. Let rise in warm place until rolls are double in size (about 1-1½ hours).

Bake at 375° for 15 to 20 minutes or until browned. Brush with melted butter while hot.
Makes 1 to 1½ dozen rolls.


Honey Butter
½ cup butter
¼ teaspoon vanilla
½ cup honey

Whip softened butter. Add vanilla and honey gradually. Beat for 20 minutes. Makes 1 cup.