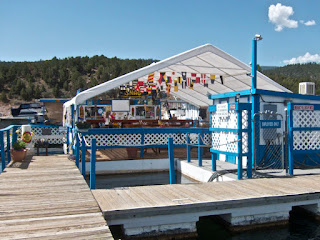 Visiting Dinosaur National Park from Salt Lake City can certainly be done in a long day trip, but if you have more time, base your stay in Vernal with half a dozen comfortable, affordable motels, or at camp sites and cabins in the collection of parks stretching from Vernal to Flaming Gorge, forty-five minutes away. The area around Vernal is home to a mix of federal and Utah state parkland recreational areas with opportunities for horseback, ATV and dirt bike riding, hiking, fishing, river rafting and boating.
Or you can go sight-seeing to enjoy the magnificent landscape by driving into the Flaming Gorge Recreation Area. Stand on the top of the mesa above Red Canyon and look down into the gorge created by the Green River as it cuts through the mountains, widening into a reservoir behind the Flaming Gorge Dam, a mini-sized dam that created a maxi-sized body of water stretching across three states (Utah, Wyoming and Colorado).
If you want to just hang out, doing nothing more strenuous than having a nice lunch, drinking a beer or two and watching the power boats scoot around the lake behind Flaming Gorge Dam, stop at the Snag Bar & Grill at the Cedar Springs Marina and kick back.
The only floating restaurant and full service bar in the area, Snag, as it is known locally, is a throw back. You'll swear you are in a 1950s time warp and, any minute now, Happy Days' Fonzie will come water-skiing around the bend. The kitchen is a converted house boat. The dining room is built on pontoons.
The menu is old-school American café and bar food. Hamburgers, tacos, salads, jalapeño poppers, fries, onions rings for lunch with weekly dinner specials added that could include steaks, prime rib, grilled salmon or mahi mahi tacos.
I stumbled on Snag by accident. We were really hungry so for lunch we tried two popular dishes suggested by our waitress Claire (known locally by her necklace nickname, "Hot Stuff"): the pork taco and the Dam Big Burger.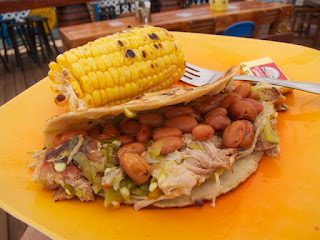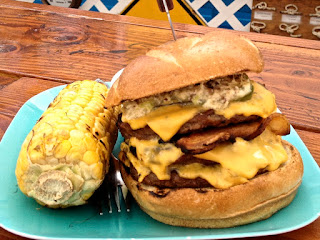 Both dishes have innovative features. The taco combines the best of hard and soft tacos. The tortilla is griddle charred on the outside to create a nice crispness. Inside the soft part of the tortilla presses against moist-pulled pork mixed with soft whole pinto beans seasoned by the heat of grilled jalapenos.
The cheeseburger, as Claire told us, was held together with a steak knife, "because a toothpick isn't big enough." Three ¼ pound patties with three slices of American cheese are joined by several slices of crisp bacon and salty pastrami. If that isn't enough to satisfy your craving for fat and spiciness, a cheese filled jalapeno popper is hidden under the bun. Quite a mouthful. Definitely dinosaur-sized and big enough to share.
David Latt is an Emmy-award winning television producer who turns to cooking to alleviate stress. He shares his experiences with food and his favorite recipes on his blog Men Who Like To Cook.