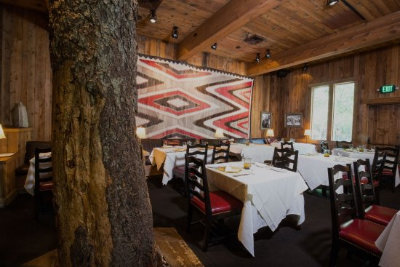 Chef Mark Shoup knows about cold weather. The executive chef at Robert Redford's Sundance Resort in Utah serves up a lot of hot comfort food when hungry skiers sit down in the main dining room, the Foundry Grill. High on his list of favorites is hot pear cobbler topped with ice cream. If you're counting calories, use whipped cream or yogurt instead. Perfect by itself for a cold-weather afternoon snack or to end a meal, the cobbler can be prepared a day ahead, kept in the refrigerator, and popped in the oven just thirty minutes before serving.
4 ounces almond paste
2 sticks sweet (unsalted) butter
1 cup light brown sugar
1 teaspoon lemon zest
1/2 teaspoon salt
2½ cups flour
1 1/3 cups oats
1 1/3 cups raw almonds, sliced
4 cups Bartlett pears, washed, cored, peeled, cut into cubes
¼ cup white sugar
2 tablespoons cornstarch
Use a mixer to beat the almond paste until smooth. To the mixer, add the butter and brown sugar and cream until well-blended. Stir in by hand the lemon zest, salt, oats, and almonds. When mixed well, add in the flour. Avoid over-working the flour. You want crumble not dough.
Preheat oven to 375°F. Toss the cut up pears with the white sugar and cornstarch. Portion the pears into 4 ovenproof bowls. Top with the crumble and seal with aluminum foil. Bake, covered with foil, 12-14 minutes. Remove foil and bake an additional 12-14 minutes until the crumble is lightly browned.
-Recipe courtesy of Men Who Like to Cook