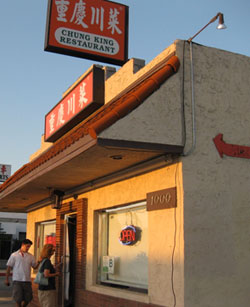 Finding a great restaurant isn't easy. I read hundreds of reviews and clip the best ones but they usually just languish in a file. I would never have gone to Chung King but for Jonas Goodman. Foremost on his list of must-try-restaurants is Chung King, recommended to him by his friend, the wonderful novelist, Nicole Mones, an expert in all things-Chinese.
Not all Chung King's are created equally. The only one to try, according to Nicole is the one run by Linda Huang's at her address at 1000 S. San Gabriel Blvd, San Gabriel, CA 91776 (626/286-0298). The restaurant inhabits a cinderblock building on a non-descript block in San Gabriel. The exterior doesn't invite you in, which is why the recommendation of a noted author and respected authority on Chinese cooking is needed.
Our visit was completely serendipitous. We had driven out to Banning to pay our respects to my mom who is buried there. If you have ever gone to Palm Springs, you have passed through Banning, which sits at the foot of the Idyllwild road. My parents moved there when I was in High School and I don't have fond memories of the town but that's where my mother is buried, so we make the trip there to spend a quiet moment with her.
My mom used to joke that the most beautiful place in Banning was the cemetery and our last trip there proved her correct on that score. Blissfully quiet, the graves are placed on a broad plateau that sits high above the desert floor. No freeway or town noise reaches this far up into the mountains. Eventhough the dry heat bakes the landscape, the well-watered grass is green around the graves and the trees that surround the plateau stand straight and tall. We shared a peaceful moment with my mom, had a group hug, and then headed back to LA.
We were tired and hungry and debated whether or not we should take the time to stop and eat or just go straight home. We realized that we would drive through San Gabriel so we decided we shouldn't miss the opportunity to finally try out Chung King.
The advantage of eating with a large group is being able to sample more of the menu. With four of us, we stayed close to familiar dishes: Kung Pao Chicken (#59), Green Beans (#105), Wonton Soup (#31), and Szechwan Shredded Pork (#53). I took a chance with a dish I hadn't seen before, something called Crispy Rice Crust with Shrimp (#77). Frank discovered the pickled Szechwan vegetables on the cold table; he picked the bean sprouts and sea weed. We ordered steamed rice for the table and now we waited to see if the restaurant deserved the rave given to it by Nicole and Jonas.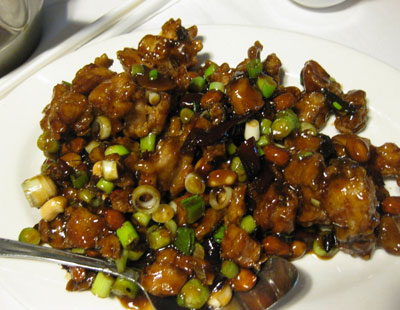 The first dish was the Szechwan Flavors Cold Dishes. Perfectly seasoned with just the right amount of heat, the sea weed and bean sprouts (with a few slices of carrots and shredded scallions thrown in for contrast) were delicious. I ate them as a topping to the steaming rice. We had barely gotten half way through the large serving when the Kung Pao Chicken arrived, Michael's favorite. The outside of the chicken was crispy, the inside moist. The caramelized sauce was counter-balanced by the heat of the Szechwan peppers and the barely cooked scallions.
Then the Shredded Pork arrived. Again, the flavors were perfectly balanced, the meat succulent. After our time in the desert and almost four hours driving, the meal was starting to revive us. Then came two revelations: the Crispy Rice Crust with Shrimp and the Won Ton Soup.
Actually called Broth Wonton, the soup was a minimalist version of a won ton soup. No carrots, bamboo shoots, mushrooms, bok choy, or chicken, the soup was as advertised, broth + wontons with a sprinkling of chopped scallions. The soup was lightly spiced with black pepper but was otherwise fat free and clear.
The pork inside the won tons was sweet and lightly seasoned. This was soup and won ton wrapper and pork, pure and simple. Each ingredient as fresh as possible, each complimening the other with simplicity. In her novels and food articles, Nicole Mones speaks eloquently about the sophistication of Chinese cooking. The soup was such a good example of what she describes.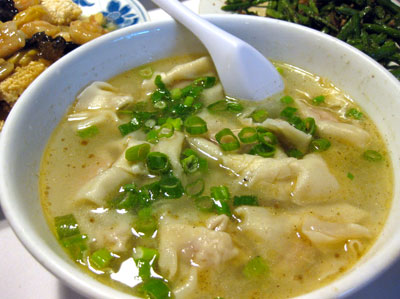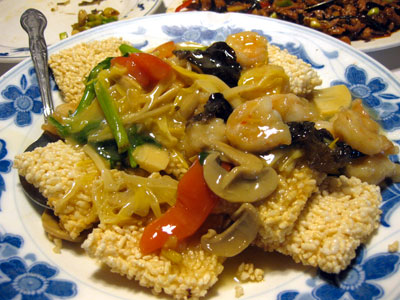 And then there was the Crispy Rice. I thought this might be like a Korean rice dish I'd had before with the rice crisped on the bottom of a hot stone pot, but this was something else entirely. A clear sauce, stir fried vegetables—bok choy, carrots, onions, tree mushrooms, fresh bamboo shoots--and shrimp were ladled on top of half a dozen crispy rice cakes. Where the sauce had touched the rice cakes, they had begun to soften, but where they were still separate from the sauce, they retained their crunchy, smoky flavor.
We ate and talked and ate again, the food reviving us after a long, hot day. The meal was perfect for the occasion, because we were hungry and because my mother was famously a lover of Asian food: Chinese, Japanese, and Vietnamese (her favorite). It was appropriate that we had visited her just before and then eaten at Chung King. She would have enjoyed the meal.
Chung King: 1000 S San Gabriel Blvd., San Gabriel, CA 91776 / (626) 286-0298
David Latt is an Emmy-award winning television producer who turns to cooking to alleviate stress. He shares his experiences with food and his favorite recipes on his blog Men Who Like To Cook.