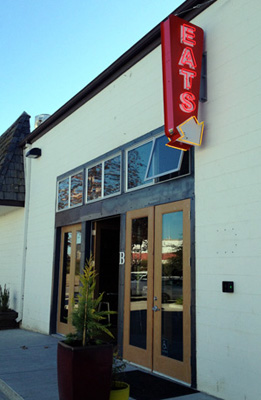 I just love the food and wine community on social media. They find all the coolest and latest places to go when you head out on the road. While our trips to wine country always center on finding the best new wineries and visiting old favorites, ballast - in the way of great eats - is equally important if you want to survive a day in the tasting rooms. The Santa Ynez Valley (also know as Santa Barbara Wine Country even though it's 30 minutes north) is home to over 100 wineries, but the towns are pretty small. This leaves your lunch options a bit slim especially in the Buellton area, unless you're looking for fast food or are hankering for a bowl of pea soup. So when I heard about a new place called Industrial Eats, I just had to check it out. Well, I actually saw a picture of one of their pizzas on Facebook and it made my mouth water. So on our next foray up the coast I made it our lunch destination.
Open for about a month or so, there isn't much info out there about it, so it was not the easiest place to find. I have to admit we initially drove right by it, finding ourselves at the end of the road and out of luck. There was only one option and that was to turn around and look up the address again. This is something that happens quite a lot in wine country, as many of the best places are not on the map, so to speak.
Located on Industrial Way (which I guess has something to do with the name), it's sort of tucked in behind the owner's main business, New West Catering. Jeff and Janet Olsson have been putting their 30 years of restaurant experience to good use in the Vally for over a decade and this is a clear expansion of their efforts. Why not put your catering kitchen to a secondary use during the week and bring your talent to the public at large?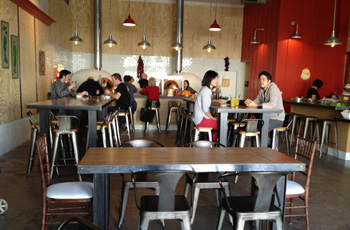 They've done a nice job making what was clearly an empty warehouse space feel both modern and comfortable. It's bright and airy, a place with mostly communal tables where you're encouraged to chat up your neighbors. Even though it was pretty bust when we were there it wasn't super loud either, which was a big plus for us. Originally East-Coasters, they have clearly fully embraced the California lifestyle, brining fresh and seasonal twists to old lunch-time standards. Two massive wood-burning pizza ovens dominate the back wall and a case filled with hand-made delights, along with the best charcuterie and cheese greets you as you walk in.
The menu is hand-written on large sheets of brown butcher paper and hung along the back wall. Kudos to the person who has handwriting that quaint and legible. It's short and sweet with about 5-6 sandwiches ($8-$15) and pizza ($10-$15) options. If you're looking for traditional combinations at a bargain price, I would stick with Subway or Dominos. They are using high-quality ingredients on their own freshly baked bread and pizza dough, so you can expect that to be reflected in the price.
They hit both of our sweet spots. The Man is a sucker for a good Reuben sandwich. Am pretty sure he would not have eaten one made of beef tongue a few years ago. Now, he didn't bat an eye. Nothing else would do. Knowing we had a long day of tasting ahead I decided on a pizza. Nothing soaks up wine like bread. I was intrigued by all of their choices but I can't resist anything with truffles, so I opted for the Mushroom, Lamb Chopper (like I said high-quality) and Truffle. I was a bit disappointed to learn, when I place my order, that their truffle was stuck on the East Coast, so they would be using truffle oil instead of the real deal. They adjusted the price, after all there is nothing like the real thing, which I thought was cool. I was craving the flavor so there was no going back.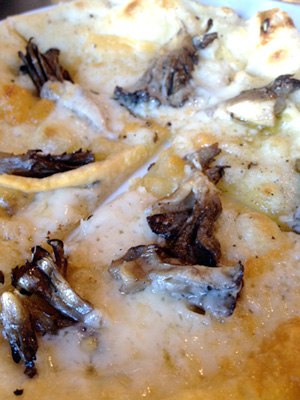 I'm glad I stuck firm. There's nothing like the chew of a perfectly cooked pizza crust. Not too thin, not too thick, not too burnt. I usually care for a ton of cheese on my pizza, but this one had just the right balance between all of the flavors and textures. We had a big meal planned for dinner, so I wasn't going to eat the whole thing. Could not help myself. It was a great size for one person looking for a hearty lunch. I am not a fan of the Reuben experience, so I did not try the sandwich, but I can say, it was clearly grilled in the pizza oven, and it looked delicious. The Man was quiet for quite some time and it disappeared in a flash, so I'm going to infer that it was just right.
Service was relatively quick (they are making everything on the spot) and very friendly. I have a feeling as news gets out about this place it will be even busier than when we were there, which might make getting a seat a bit of a challenge. It's first come, first-served, but they have seating for about 30 people and most guests seemed to be eating and leaving instead of hanging out, so I'm guessing the tables will turn over pretty quickly. They also have a nice selection of local beer AND wine on tap, which is a nice touch, if you aren't already wined out.
While it's not actually that far from the bulk of wineries, having to drive through Solvang is a real pain in the butt if you're coming West. I would suggest driving up the 101 and making it your first stop of the day to avoid the lunch crowds and the stop-and-go traffic found at every hour in the popular Danish Village. That way you can start your wine tasting day with a full belly and a sense of satisfaction. It worked for us.
I have a feeling this place will not be everyone's cup of tea, but personally I'm looking forward to my next visit. Finding quality eats in wine country for a fair price is not easy. As with any new business there are bound to be a few kinks, but hopefully their years of experience in the region and the food industry will help them thrive.
INDUSTRIAL EATS
181 B Industrial Way
Buellton, CA 93427
805-688-8807
Open Daily 10am-9pm