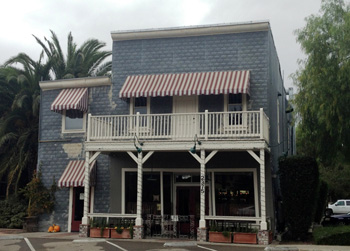 We love going to wine country. It's our favorite place to vacation. It's peaceful and beautiful and you can drink during the day without having to be in a bathing suit….or anyone judging you. While the Santa Barbara wine region is technically closer to us, we spend most of our time in Paso Robles.
Driving up the 101 is much prettier than the flatlands of the I5 and the central valley, so we usually head up along the coast and make a pitstop in Los Olivos, one of the quaintest towns you'll ever see. If you're into wine, it's nirvana. For good or ill - it's a hot button issue for residents - wine is king here, with over 25 tasting rooms lining both sides of this close-your-eyes-and-you-might-miss-it Main Street. Good food is a necessity when wine tasting and you'll get some great grub at Sides Hardware and Shoes.
Yes, it's an odd name for an American wine bistro, but the owners - chefs Jeff and Matt Nichols - are long time residents of the town and wanted to keep the location's history alive. After years developing their culinary talents separately, they went into business together in 1996. Their first joint venture was the refurbishing of Mattei's Tavern, one of the Central Coast's original stagecoach stops built in 1886. They opened their "dinner-only" The Brothers Restaurant in that historical space which had been vacant since 1974. They had great success in this building, giving visitors a first-class, elegant dining experience that's a bit unexpected for this sleepy, little town.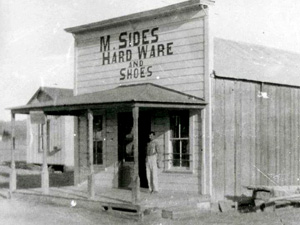 When their lease came up in early 2012, the search was on for another location and there was no question of them leaving Los Olivos. Lucky for the town and its many visitors and residents they were able to lease the old Sides Hardware and Shoes building that was originally erected in 1901. History is important to the brothers and when they saw an old photo of the building with that name on it, they decided to carry on the tradition, despite some potential confusion from customers. The pressed tin ceiling, dark wood tables, the wainscoting and fixtures all harken back to a simpler time, while still being comfortable and inviting. The patio is the place to be in the summer, but it fills up quickly.
While this location is half the size of their old dining room, they are now serving three meals a day, so the influx of customers remains about the same. The menu features American classics with seasonal twists, hearty fare at a good price. Being smack-dab in the middle of wine country, their list is all local and well-selected, featuring wineries both big and small and every grape grown in the Valley. Their selections by the glass are served from a built-in keg system which guarantees freshness with every pour. A great touch for those of us who like to sample more than one.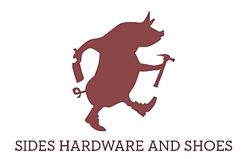 Breakfast and lunch are first-come, first-served so you want to get their early before all the seats are taken. There aren't a lot of options in town. Reservations are suggested for dinner. Having never been in Los Olivos past sundown, I have no idea how necessary that recommendation is. It's clear from their logo - a running pig holding a cleaver and hammer - that they have a deep affinity for pork and a quirky sense of humor. I have not had the pleasure yet of eating breakfast here, but I've heard from the locals that the Breakfast Sandwich - that comes on a homemade biscuit with house made sausage, egg and cheddar - is to die for. I think I would have a hard time choosing between that and the Eggs Benedict with the Bacon Steak. You read that right. Bacon steak. Well, more like, extra thick slabs of smoked pork belly. Oh yeah.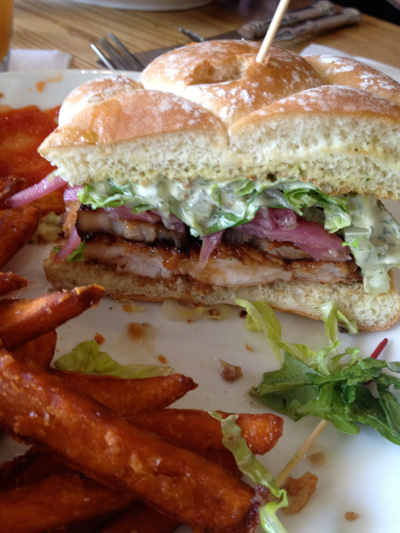 We had the pleasure of eating some of that on the Best Chicken Sandwich ever. It happened to be one of the lunch specials the day we visited and was so amazing I don't know why it's not on the permanent menu. We had the Hammered Pig - fried pork tenderloin with apple & mustard seed slaw - on our first visit and it was impressive, but this was something else.
Buttermilk fried chicken with a generous slab of their "bacon steak", pickled onions, mustard slaw, garlic aioli on a house made brioche bun. Every bite was a flavor explosion, yet all the elements perfectly balanced each other. The minute I took my first bite, I wished I didn't have to share it. The sweet potatoes fries are worth the upgrade. Crisp on the outside, tender on the inside with just the right amount of salt.
They have 5 burgers on the regular menu made from Snake River Farms American Kobe beef. While we were tempted by the Mushroom Burger - Swiss cheese, sautéed mushrooms and truffle oil - which we could smell at the table next to us, we decided to go with the other special - Burratta, Pesto Aioli and Arugula. Though the burger wasn't red in the middle it was one of the moistest, beefy versions I've had in a long time. It didn't even need ketchup. I'd never have thought to use burrate on a burger, but the creamy texture melted into the beef with every bite. So unexpectedly delicious. When it comes to sandwiches, these guys know how to bring just the right flavors together.
The Fish Tacos look amazing, but I'm just not sure I'll be able to resist ordering another burger the next time we drive through. Whether it's the Bacon, The Bleu or The Mushroom we will have to see. I find it hard to resist truffle. The good thing is the Husband doesn't mind splitting, so we should get through the whole list in no time. If we hadn't been so full I would definitely have ordered the Caramel Panna Cotta with Peanut Butter Whipped Cream and Crushed Peanut Brittle. I'm not usually a dessert eater, but I just love the combination of caramel and cream.
It gives us something to look forward to on our next visit. My mouth is watering already.
SIDES HARDWARE AND SHOES
2375 Alamo Pintado Avenue
Los Olivos, CA 93441
805-688-4820
Breakfast Fri-Sun only. Lunch and Dinner daily.