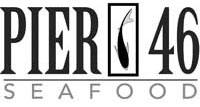 Though I'm not a betting person, I would have put my small stash of savings on the line if anyone had told me a year ago that I would become a seafood lover. While still not on the sushi bandwagon, I have to say that 2009 changed my mind about how good fish can be. Of course, that is, when prepared by professionals using the freshest fish available. Chef Ludo Lefebvre prepared the best seafood dish I have ever had at LudoBites 3.0, one that I instantly wanted more of, much to my husband's disbelief. When we go out to dinner, one bite of his fish is usually enough for me. However, I know I wouldn't have enjoyed it as much if I hadn't discovered Pier 46 Seafood first.
They are located in Templeton, CA, a small town just south of our favorite wine region – Paso Robles. We go to Paso a lot, but I had never heard of Pier 46 until I joined Twitter last March. Their name came up time and again between my winery tweeps when discussions about lunch were bandied about. Everyone claimed they had the BEST fish tacos in the region. Since our regular lunch place – The Art Cafe & Bakery – was closed for remodelling, we needed a new haunt where we could get some ballast before our usual all-day, wine-tasting adventures. Despite the overwhelmingly positive tweets, I was still nervous, but figured at the very least I could get the fish and chips. I'll eat anything that's fried.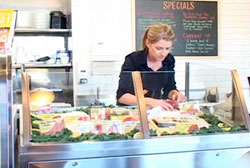 Pier 46 Seafood is co-owned by Tony DeGarimore and Eric Gonzales, who both have fathers who work in the seafood business and helped their sons develop their love for all things fishy. Tony and Eric met at Central Coast Seafood, an export company that provides sustainable, eco-friendly seafood items owned by Tony's father. In September 2008, they struck out on their own and opened their dream market – one that delivered sushi-grade fish and first-rate shellfish to the seafood-deprived, meat-and-potatoes market of San Luis Obispo County. They took a chance and it's paid off, for them and their customers. Their experience and contacts allows them to buy direct from the fisherman and importers, so you know you're getting the best product out there. What began as a market has evolved into a market/cafe with a few tables inside and out, as well as a bar along the back wall, for in store dining. It's not fancy, but it's not supposed to be. It's a joint in the best sense of the word.
Before our first visit, I told Jo (Tony's wife) via Twitter, that we'd be in for lunch and that I wasn't really a seafood lover. She was sure they could change my mind. We were both excited to meet in person, since our only contact up until then was in 140 character tweets. She couldn't have been more friendly or gracious, taking time out to explain the shop's philosophy, which is not only to provide quality seafood but to teach their customers how to prepare it perfectly themselves. She gave me one more reason to move there. With their help I'm sure I could conquer my fear of cooking fish at home.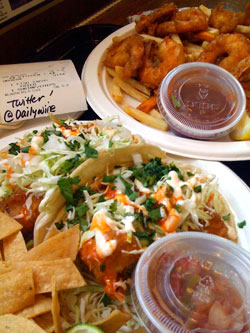 Since all the Twitter buzz was about the Fish Tacos, the Man had to give them a try. They were enormous and made with red snapper (your choice of grilled of crunchy) topped with cabbage, Pepper Jack cheese, cilantro, lime and a special spicy red sauce he just loved. We tried to find out what it was, but Jo claimed it was a restaurant secret and refused to divulge its origins. Not feeling adventurous, I chose the Breaded Shrimp and Chips. The meal appeared simple, but was full of flavor. The shrimp were large, crispy, yet juicy and perfectly seasoned. I wasn't even going to eat the fries because I'm trying to watch my weight, but the half regular/half sweet potato fries were covered in Truffle Salt. Oh my god, they were so good. I ate every single one of them. Well, I did share some with the Man.
After three visits, they've almost made a convert out of me. The food is delivered quick, fresh and hot – along with a smile no matter how busy they usually are. If you want to eat in for lunch you better get there early as the 10 tables fill up fast. Want seafood for dinner? No problem. They'll prepare whatever you want and have it ready to go when you arrive. You could cook it yourself, but why bother? They have freshly made sushi on Friday & Saturday and their crab cakes are worth every penny. We're heading up to Paso next month and I'm already trying to figure out how we're going to fit them in. I must have the secret special "Donati Burrito" I just heard about. Don't even know what's in it, but if it's anything like their tacos I know it's going to be amazing.
Pier 46 Seafood
1131 Rossi Road, Templeton CA – 805-434-1950
Open: 10-7 Monday through Saturday, and Sundays 11-5
Lisa Dinsmore is a writer, web programmer, movie and wine lover. She currently runs two review websites to share her passions: www.crazy4cinema.com and www.dailywinedispatch.com. She is also the Managing Editor of One for the Table.